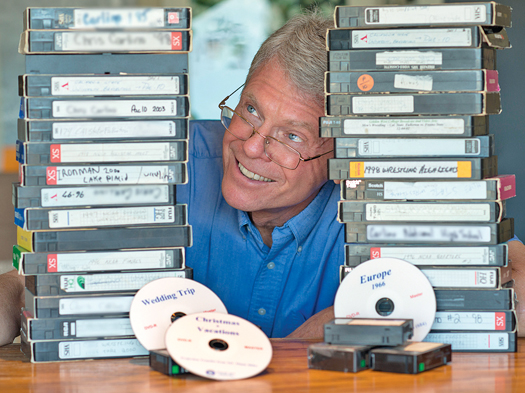 After a varied and colorful career spanning everything from environmental activism to running a passport photo business, Marty Nelson opened Video Lab Multimedia, now located at 2630 Arden Way. Since 1985, as he tells it, he's been in the business of saving memories.
In fact, Nelson is confident that Video Lab provides the most comprehensive source for saving memories in Sacramento and possibly Northern California.
In short, customers bring in everything from VHS tapes, audiotapes, vinyl records, old photos and negatives, professional format video, 8 and 16mm film and just about everything else out there and Nelson transfers, duplicates or even edits them into a more contemporary, durable, longer lasting digital format, including DVDs and hard drives. Memories saved!
And what sorts of memories is Nelson saving? Everything from irreplaceable home movies to slides of precious family vacations to old ¼ inch audiotape reels. Simply put, if it exists on video, audio, photographs or film, they can handle it.
"How many times have you watched the news where people stricken by fire or flood say the same thing…the most important possessions to save are the family movies and photo albums?" asked Nelson.
People flock to Video Lab to have Nelson restore old photos, transfer photo albums and even salvage pictures that are permanently stuck to glass. They can even rewrite history. "We can digitally remove unwanted individuals in a group shot or after the fact, even add people who were late to the event," said Nelson.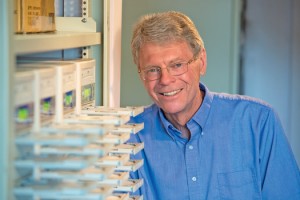 In addition to the aforementioned services, besides transferring and saving just about any format of moving and still images a customer brings in, Video Lab also offers full production services to clients. They videotape, edit and produce videos commissioned by their clients, like memorial videos, anniversary videos, retirement parties and corporate events requiring a quick turn-around.
Business portraits are a specialty here, and they provide a wide range of media services to the legal community.
Just some of Nelson's brushes with greatness:
There was the college student/future Oscar winner Tom Hanks, who, like Senator Diane Feinstein, were pleased with their passport photos.
Or the fragile 16mm film transfer showing Al Capone arriving at a wedding in Chicago.
Or actor Ned Beatty, starring as Governor Brown, Senior, needing a quick turnaround portrait for a film being shot in Sacramento.
Video Lab also contracts wholesale services with photo labs, frame shops and camera shops all over Northern California.
"What I think sets our business apart from the big box chains is that when you come here, you're talking to a real human being, who'll give you the confidence that we'll take great care of your irreplaceable family treasures. All of our work is done in-house, never sent out," said Nelson.
And Nelson offers this surprising caveat. "8mm Kodachrome movies from the 40's are in better viewing condition now than VHS videotapes from the 80's. Video loses a bit of magnetism every day and the playback decks are becoming harder to get and maintain. Transfer the family memories of the kids growing up ASAP or risk losing them forever."