Thirty members of the C.K. McClatchy High School baseball team and 40 others, including members of the rugby team, celebrated St. Patrick's the bald way by having their heads shaved to help conquer kids' cancer on Sunday, March 10 at Giovanni's Pizza in Land Park. Four of the shavees were knighted for participating in St. Baldrick's for seven years.
The team has participated in St. Baldrick's year after year since 2008 when Jake Luigi was a freshman on the team. His younger brother Tino had undergone several months of aggressive treatments including chemotherapy, surgeries, a stem cell transplant, and radiation after he was diagnosed with Stage IV neuroblastoma cancer (a cancer of the nervous system).
Tino had a large tumor wrapped around his adrenal gland and many of his vital organs. There were cancerous lesions all over his body and his bone marrow was 90 percent cancer cells. Things did not look good for him.
The treatment Tino received had just recently been approved by the Children's Oncology Group and though it was life threatening, it was the only chance he had to beat this disease.
"By the grace of God he made it through and he is a thriving 17 year old today– cancer free for 11 years," says his mother Jean Luigi.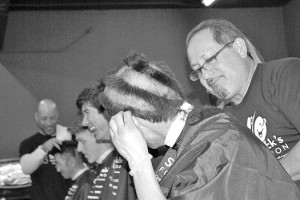 "My son is alive today because of the advancements made through research. I will be forever grateful to St. Baldrick's and the doctors and nurses who dedicate their lives to finding a cure for childhood cancer."
Tino's oncologist, Dr. Douglas Taylor from UC Davis, performed the knighting ceremony. Taylor thanked everybody for being a part of the St. Baldrick's event because more research is needed and he mentioned that pediatrics is an underfunded branch of medicine.
To Jean, having Dr. Taylor knight the shavees gave a face to the cause. "We tell the boys that the sacrifice they make will give funds to doctors researching promising treatments for childhood cancers. Now they get to meet one of these doctors," she said before the event.
Jean admires the courage of the team every year. "I know it is not an easy decision to shave your head, especially at this age. But year after year, they sign up to support this cause. I admire their courage and willingness to make this sacrifice on behalf of children they don't even know," she said.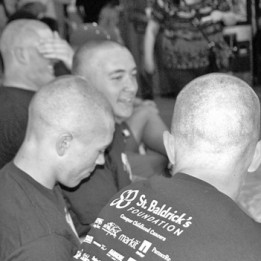 Head Varsity Baseball Coach at C.K. McClatchy, Mike de Necochea, said when Jean brought the idea of having the team participate in 2008 he was willing to do anything the Luigi's asked.
Why? Because the Luigi family is more involved in the community than any other family he's met in Land Park, he said, recalling when Perry Luigi (Espanol Resturant) would donate and cook the annual spaghetti dinner for Crocker-Riverside Elementary school for nearly 15 years.  "This is a huge under taking and the school benefited greatly from their efforts. The Luigi's were also involved with the local little league and rugby club.  Always lending a hand where needed and helping raise funds for the teams and community," de Necochea said.
Jean Luigi said the first year, a private event was held right on the varsity baseball field and just about every player and coach shaved their head, raising more than $7,000.  Since 2008, C.K. McClatchy baseball has been helping to "Strike Out Childhood Cancer" every year.  Over the past five years, the team has helped raise more than $47,000 dollars for childhood cancer research, she said.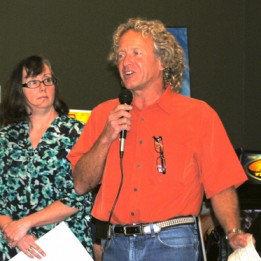 De Necochea said being a good teammate is putting the good of the team before oneself.  "When one of your players says: 'My little brother is a cancer survivor thanks to current research and medical developments. We should help other kids with cancer by shaving our heads in exchange for donations and awareness to this worthy cause,' it speaks volumes. This is what Jake Luigi did in 2008 when speaking about his little brother, Tino."
So the entire team and coaches joined in the effort and it was an emotional and team bonding experience for everyone.
"The first time it was nerve racking and fun. I think it's a sacrifice and a very brave act. The awareness a shaved head (especially by someone who usually sports a full head of hair) brings is inspiring.
"The first few years I participated, I found myself explaining the reason behind my bald head to clients, neighbors and friends. Now, it's kinda of old hat. I get more of 'Oh you did that cancer benefit thing again.'"
According to the St. Baldrick's Foundation website, events of all sizes are held across the country and around the world throughout the year, but March, especially St. Patrick's Day, is the busiest fundraising season for the Foundation. Funds raised at each event allow the Foundation to award research and infrastructure grants to some of the most brilliant childhood cancer researchers in the world to find cures and improve the quality of life for patients and survivors.
On the Web: www.stbaldricks.org