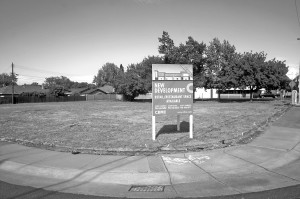 This future development site at the northeast corner of Folsom Boulevard and 58th Street is the former location of the longtime operating businesses, East Sacramento Nursery and El Dorado Savings. / Photo by Lance Armstrong
A vacant parcel of land at the northeast corner of Folsom Boulevard and 58th Street was once an active place. And rumor has it that it may become active again sometime soon.
Regarding the property, which is located between the Espanol Resturant and Camellia Cleaners, and across the street from Corti Bros. Italian grocery store, Espanol Restaurant co-owner Perry Luigi said, "I was talking to Mr. Cole. He's part of the corporation that owns that property now and he kind of gave me a little heads up that something is in the works of going in there – five or six little businesses. I think they're all food things, like a small donut shop, a small pizza place. I think they all have to deal with food, but I'm not sure."
Presently, signage on the property, in part, reads: "New East Sacramento development coming soon. New development. Retail/restaurant space available. CBRE (commercial real estate services)."
Although CBRE retail team representatives did not respond to requests for further information regarding this Folsom Boulevard property by deadline, details pertaining to the site will be presented in this paper once additional information becomes available.
As for the history of the property, this corner of the boulevard was for many years home to East Sacramento Nursery.
That business, which was originally owned by Kusunosuke Miyai (1878-1972), began operating at this site in about 1929.
East Sacramento Nursery previously operated under the same ownership at its first location at 4746 Folsom Blvd. from about 1927 to about 1929.
It is mentioned on a city building permit record, dated Nov. 4, 1927, that arrangements were then made for a nursery greenhouse to be built at 5801 Folsom Blvd.
According to that document, the property's owner was then Jeannette Miyai.
A 1928 advertisement for the East Sacramento Nursery recognizes the place as a supplier of "shrubbery and all kinds of plants, florists" at 4746 Folsom Blvd. The phone number of the business at that time was Main 6980-J.
Although several people who resided in that area during the late 1920s and 1930s were contacted regarding the nursery, only one of those people could recall having seen that business's original location.
And when it came to the nursery's existence at the featured address of 5801 Folsom Blvd., the majority of those people recalled the business, but had very little to say about the place.
East Sacramento native Willie DaPrato, a former owner of Espanol Restaurant, remembers seeing the business at that site for many years.
In commenting about the nursery, DaPrato said, "I vaguely knew the people that owned it. They would come in (the Espanol) once in a while, but I didn't know them and I didn't have any conversations with them. They didn't really participate in the neighborhood as far as I knew."
The 1930 U.S. federal census recognizes the then-52-year-old Kusunosuke as then residing at 1425 58th St. with his then-43-year-old wife, Sumiye; his sons, Akira, 16, Kiyoshi, 14, and Ben, 6; and his 14-year-old daughter, Hanna.
The same census recognizes Kusunosuke and Sumiye (1886-1968) as natives of Japan and U.S. citizens, and their children as having been born in California.
In the 1936 city directory, an Arthur Miyai is listed as the nursery's manager and a George Miyai is recognized as the nursery's assistant manager. Kusunosuke was still the business's proprietor at that time.
The 1940 census listing for the Miyai family shows few changes when compared to the aforementioned 1930 census.
Although the entire family had aged 10 years, they continued to reside together at 1425 58th St.
Another change in the 1940 census is that each family member, with the exception of Ben, are recognized as "owner-operator" of the nursery.
Additionally, the 1930 census' spelling of "Hanna" was altered to "Hannah" in the 1940 census. The latter spelling appears to be the correct spelling, based on the fact that in nearly every discovered reference to this person, her name is spelled, "Hannah."
The 1941 city directory recognizes George as a clerk at the nursery, Hannah as the bookkeeper, and Arthur as a nurseryman.
As a result of the Japanese evacuation of World War II, the Miyai family is not listed in the following year's directory, and the nursery building had become vacant.
Following the war, Arthur Miyai and his wife, Amy, reopened East Sacramento Nursery at 5801 Folsom Blvd. and began residing at the aforementioned address of 1425 58th St.
An advertisement in the Dec. 14, 1945 edition of The Sacramento Bee reads: "Announcement: Now open for business – East Sacramento Nursery and Florists, corner 58th (Street) and Folsom (Boulevard). Dial 5-8298. Potted plants, cut flowers."
Arthur was involved in a two-car automobile accident at 8th and N streets on Nov. 20, 1951. He suffered a knee abrasion and injured ribs.
The Miyais' misfortunes continued as Ben was struck by a car while he walking at 58th Street and Folsom Boulevard on March 19, 1952.
But both Arthur and Ben experienced some fortune, as their injuries were relatively mild, considering the nature of the accidents.
An East Sacramento Nursery and Florists advertisement in the May 7, 1954 edition of The Bee encouraged readers at that time to give their mothers a potted plant for Mother's Day.
The selection of potted flowers available at that time included African violets, azaleas, caladium, calceolaria, fuchsia, gloxinia, hydrangeas, rhododendrons, roses and bonsai – "Japanese dwarf trees in dishes."
Additionally, the advertisement notes that the business was also offering cut flowers and corsages.
In 1955, an addition to the nursery was completed at a cost of about $3,360.
About 12 years later, the business's name was shortened to East Sacramento Florists, presumably based on its offerings at that time. The place continued to use its previously established slogan, "Flowers for all occasions."
Arthur and Amy maintained the operation of their business until about 1980, and by 1982, an El Dorado Savings and Loan branch was operating on the site.
El Dorado Savings and Loan ceased operations at 5801 Folsom Blvd. on Friday, June 3, 2011 and reopened at its then-new and present location at 5500 Folsom Blvd. three days later. The building at the latter address had previously housed World Savings and Wachovia bank branches.
After the Wachovia Corporation was purchased by Wells Fargo in 2008, the 5500 Folsom Blvd. building became available on the market, since Wells Fargo was already operating its nearby Camellia City Center branch at 5700 Folsom Blvd.
During his interview for this article, DaPrato recalled another former detail about the featured old nursery site.
"There was a house right behind (the nursery building) – a two-story house," DaPrato said. "The house was there when the bank was there, too."
As previously mentioned in this article, this paper will provide details about the former nursery site at 58th Street and Folsom Boulevard once additional information becomes available.