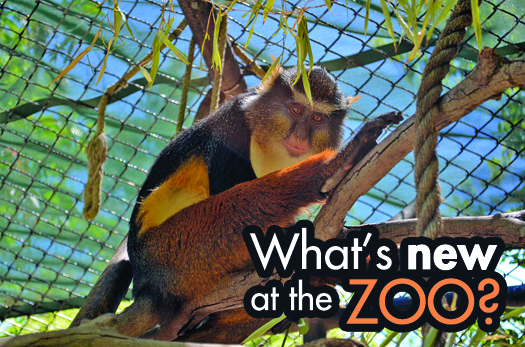 Simon and Garfunkel once said, "It's all happening at the zoo."
That certainly seems to be the case at the Sacramento Zoo, which this year is celebrating its 85th anniversary with many new attractions.
Small Wonders
The zoo's main focus right now is on its capitol improvement project called Small Wonders, for which the zoo is currently working on construction plans and permits, according to director Mary Healy.
Healy says the new exhibit will be located across from the zoo's giraffe exhibit, aptly named Tall Wonders, and will feature four new species of animals – a pair of African monkeys called Wolf's Guenon, an African bat called a Straw-Colored Fruit Bat, an aardvark and a mongoose.
The zoo has already acquired the Wolf's Guenon and will acquire the other animals as the project moves forward, Healy said.
Healy said the Small Wonders exhibit will help complete an area of the zoo where consistent improvements have been made to make the animals much more visible to guests.
She also said bringing in new species of animals provides new educational opportunities.
"We've never had any bats on exhibit," Healy said. "We used to have one in the education department, but we've never had any on exhibit, and that's going to be a fun opportunity. Kids like bats, they're not intimidated by them. Some adults tend to still think they're kind of creepy, so it's kind of fun to bring in something like that that the kids are into."
Wild affair
Although there is currently no opening date set yet for Small Wonders, Healy hopes the zoo will be able to give a timetable update to guests at the upcoming Wild Affair fund raising event on Oct. 6.
According to marketing coordinator Marisa Hicks, Wild Affair is the zoo's annual black tie gala dinner and auction.
"It's our grandest event focused on adults and just raising as much money as possible for the zoo, and this year that money is going toward Small Wonders," she said.
During this year's event, attendees will start the evening with appetizers and cocktails, plus the chance to take special behind-the-scenes tours of zoo exhibits.
"That includes behind-the-scenes in the primate area (and) the carnivore area, the lions and tigers," Hicks said.
Wild Affair attendees will enjoy a plated dinner by Mulvaney's B&L, a live auction hosted by Dave Bender from CBS13 and a show put on by zoo staff.
"The show is put on by the very same staff that has done tours, so somebody who was just showing you behind-the-scenes in the primate area may now be on stage in costume," Hicks said. "There is no end to what our passionate zoo staff will do to raise money for our exhibits here."
For the community
In addition to Wild Affair, the zoo has a number of events coming up to help benefit its surrounding community.
For example, now until the end of August, zoo guests can bring in a new, unwrapped school supply for a school supply drive and receive $1 off general admission.
Hicks said the supplies will be donated to a school in need in the local community. In November and December, patrons can bring in a donation for either Toys for Tots or the Sacramento Food Bank & Family Services and again receive $1 off general admission.
In October, the zoo's popular Boo at the Zoo will return for two days, Oct. 30 and 31. Here kids can come in costume, visit 17 different candy stations and take rides on the "spooky" train and "creepy" carousel.
"Generally what people do on Halloween is they come to Boo at the Zoo and then they go out into Land Park and do the rest of their trick-or-treating, so it's a real fun night," Hicks said.
Additionally, the zoo has been hosting a number of nonprofits through different programming. For example, each night of the zoo's summer Twilight Thursdays series gave a different nonprofit an opportunity to share its information with patrons.
Healy feels it's important for the zoo to help out their fellow community nonprofits.
"We're in kind of a unique position since we do get a half-million visitors to our zoo and we feel that we are in a position, kind of like the big brother, to help out some of the other organizations," she said. "We just try to be a good partner and feel like we're all in this together and a lot of the nonprofits are struggling."
The next 85
As the Sacramento Zoo celebrates its 85th birthday, what's in store for the next 85 years?
Healy says part of it will be focusing on offering more intimate experiences for zoo patrons.
"We know we're limited with the 14 acre site (and) we want to make sure when people come here, they can see the animals up close and have interactions," she said.
The zoo has already been moving in that direction with the all-glass river otter exhibit that allows kids to come "nose-to-nose" with the animals, the Tall Wonders giraffe exhibit that features supervised feedings twice a day and a window in the tiger exhibit where guests can sit next to the tigers.
"We just want to keep creating those kinds of special, up close experiences that make our zoo unique," Healy said.
And Hicks says the zoo will continue to work on its main mission, which is to educate the next generation on conservation.
"They're not going to conserve what they have today without being educated on what there is," she said. "All of our programs (are) aimed toward engaging our audience and getting them to pay attention to conservation and observing that education so they carry it with them. And hopefully we're creating that connection with wildlife that a lot of urban city kids don't have."
corrie@valcomnews.com