The Ronald McDonald House is expecting to open a 20-room building expansion on Saturday from 10 to noon. To celebrate, there will be a ribbon cutting, kids activities, free hot dogs, face painting and Ronald McDonald will be there visiting with children. During the celebration, the public is welcome to tour the two-story, 18,000-square-foot facility, which has the capacity to serve 18 families a night, doubling the space of the current location. In addition to the 20 rooms, are four kitchens, a communal dining room, three communal living room spaces, indoor playroom, video game room, computer room, accessible restrooms, laundry rooms and a fitness center. The expansion broke ground on Thursday, July 10, 2014.



Each room has at least two queen beds; six rooms have an additional twin bed. Each has its own bathroom, A/C, flat screen television, access to laundry, mini fridge and food locker, enabling visitors to make their meals on their timeline. (Even though the Ronald McDonald House doesn't provide meals, food donations are requested.)
"Our goal is that when you stay in the Ronald McDonald House, you are staying in a home away from home. We want to help take away stress of hospital visits," Stacey Hodge, Director of Community Relations, said in an interview with the East Sacramento News. Located near the UC Davis Medical Center, at 2555 49th St., the house currently serves about 650 children and families a year who need a place to stay while receiving medical care in Sacramento. Before the expansion, the house was turning away almost 1,300 families a year due to a lack of space. This new expansion is expected to serve approximately 750 more families a year. The expansion faces the existing Ronald McDonald House buildings (two eight-plexes and one duplex), which all share a common courtyard area. "We were turning away two families for every family we were serving," Hodge said.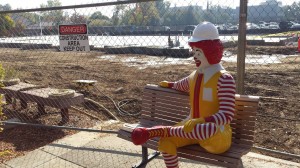 Echoing the importance of this new development, Steve Stuck, Board President of Ronald McDonald House Charities Northern California, said "This has been a major undertaking for the charity. It is the result of hard work and fundraising from the community, volunteers and donors who recognized the need for temporary housing for seriously ill and injured children. We couldn't be more proud of this huge accomplishment."
Explaining in more detail about the community's help getting the expansion built and furnished, Hodge said Ronald McDonald House Charities received recliners donated by La-Z-Boy, mattresses donated by Tempur-Pedic, and artwork donated by The Sacramento Bee.
Most of the guests come from UC Davis Medical Center and Shriners Hospital and the average stay is about 10 nights. The house is not just for the patients; Hodge explained family members get to stay as well. "Any child that comes to Sacramento and that has a medical illness or injury can stay at the Ronald McDonald House; and the family or anyone who might be a support person for the child, can stay with us, too. Studies show that when family is near the child, (he or she) heals faster. It speeds the recovery time."
Nestled into the landscape of the UC Davis Medical Center campus, the Ronald McDonald House is easily overlooked. And perhaps that's a good thing, explains Hodge.
"If you have children and never heard of the Ronald McDonald House, that's not a bad thing. It means you have never had to stay at one. It means you have healthy kids."
Ronald McDonald House Charities constantly is raising money for its programs and Hodge encourages those who wish to help take a look at the wish list. "We rely on the community for those things," she said.
The expansion originally was going to break ground in 2007, but due to the economy at the time, the house decided to take pause and focus on fundraising. Since then, one of the main fundraising events has been the annual Dream House raffle, which this year alone raised about $650,000. In addition to supporting Ronald McDonald House Charities, the raffle gave away more than 1,000 prizes, of which the grand prize is a Granite Bay dream house or $1.4 million in cash.
The cost of the expansion has been $6 million with $4 million of the total going toward the construction and $2 million toward furnishing, as well as five years of additional operating expenses. "We know it will cost us more and we want to make sure that's taken into consideration and make sure that's planned for future fundraisers."
Ronald McDonald Charities of Northern California has seven full time staff members, which oversee two major programs – Ronald McDonald House and programs at Camp Ronald McDonald, which is located on the shores of Eagle Lake (16 miles north of Susanville). In operation from Memorial Day to Labor Day, programs are geared to a specific disability at a time.
With seven full time staff running the camp and house, the help from volunteers has and continues to be greatly appreciated. Hodge said about 1,200 hours of active volunteerism goes into operating the two programs over the course of a year. Volunteers are seen working special events, pulling weeds, washing windows, cleaning ovens or partaking in an odd job activity once a month. "We have groups that come, individuals that come. We have two grandmas that come five days a week and make cookies – Grandma Loyce and Grandma Deana. They have been coming since we opened the doors in '98. They've had to have made hundreds of thousands of cookies. What's so nice is when families come in, they smell nice cookies, always knowing there is a cookie waiting for them. We consider (the grandmas) family. They get to know the families. Along with cookie baking, they are reading stories. We have other volunteers that want to bake cookies. Under the guidance of the grandmas, they bake cookies together."
The cookies baked courtesy of the two grandmas is another example of how volunteers and have made the Ronald McDonald House truly a home away from home.