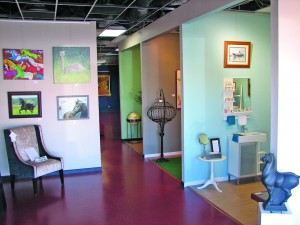 Family owned and operated, Artistic Edge Custom Framing & Gallery, defies the economic odds and continues to grow. What started with a passion and a vision has evolved into a quality custom framing shop and a unique forum for local artists.

It all started with a vision. As a wife, mother and entrepreneur at heart, Kathy Caitano has a talent for creating success in her business ventures.  By 2007, she had already grown and sold two businesses and was ready to invest into a business that connected to her passion for art.  It was in the energetic atmosphere of an art auction, and encouragement from her husband, the idea transformed into action that Kathy Caitano decided to buy her first custom framing and gallery store.  

With her investment made, Kathy's vision was to transform a 2300 sq. ft. local framing and print shop into a unique platform for original art and quality custom framing.  To Kathy, quality can be affordable and "the bitterness of poor quality remains long after the sweetness of low price is forgotten".   

This is what she shares everyday with her local community. 

Today, Kathy's vision has become a reality.  In just 6 years of business, Artistic Edge Custom Framing and Gallery has expanded into 8000 sq. ft. of showroom space and has built a strong connection with the community she serves.  Artistic Edge's now vast showrooms offer individuals the opportunity to experience original art from local and national artists, find unique and original gifts, and connect to a nostalgic quality of a family owned and operated business.

With continued growth in mind, Artistic Edge moves into their final stage of the transformation with the addition of six individual artist studio spaces.  Here, independent local artists can create and sell their art on site, and become a bigger part of the Artistic Edge family.

"It's been a slow work in progress and this January we took on more space and have been working so hard.  It's 85 percent complete and my artist studio spaces will be complete by December," Caitano told the Arden-Carmichael News.