A citywide campaign to keep local residents, especially seniors, safely on their feet moved to Sacramento's south area this month with a four-hour "Stand Up to Falls" seminar at the South Land Park Community Center.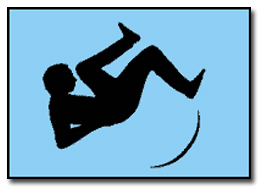 slip-Good muscle tone can help an individual respond quickly when he or she trips to head off an actual fall.
Thirty seniors, including me and wife Phoebe, were on hand along with just one other married couple—south area residents William and Penn Yee. The remaining 26 seminar participants were all women, creating a sex imbalance that seemed to defy normal odds.
"Is there any explanation for this 28 to 2 breakdown among women and men?" I asked Kim Metcalf, the city's 50+ Wellness coordinator, and Kelly Ward, a certified fitness trainer and Sac State graduate student in gerontology, who handled most of the anti-fall exercise program, inspiring us to devote three hours to constant calisthenics. Both shook their heads and said they had no explanation for the attendance imbalance.
In my case, the danger from falling has long been a no-brainer. Five years ago, while strolling down on 24th Street after a Runaway Stage production of "The Music Man," I tripped and fell on an uneven sidewalk. My left femur was broken and an earlier hip replacement was dislocated and had to be redone. I've never forgotten the advice of South Area Kaiser orthopedist James Sehr after all the harm was done and repaired: "Don't Fall Again!" he admonished.
That's easier said than done. I've fallen at least twice since the big thigh bone break of 2005, but lucked out both times with no further damage. It's clear, however, that getting a free ride down when you have a fall can't be counted upon forever. A show of hands in reply to Metcalf's question about how many have fallen during the past year indicated a "yes" reply from about half the attendees. Audience members were not invited, however, to describe their own experiences involving falls. Coordinator Metcalf told the audience that the "Stand Up to Falls" program was devised by the city's Older Adult Services division with support from Kaiser Permanente's South Sacramento Community Benefit service. In addition to the South Land Park seminar, similar programs are being offered at five other sites around Sacramento and Elk Grove through March 6. So far, Metcalf added, the free programs have been filled to capacity and reservations to attend future dates must be made in advance by contacting her at 808-1593.
In contrast to my own concern with tripping and falling outdoors, Metcalf and Ward agreed that most falling accidents happen in the home. Bathrooms are viewed as especially vulnerable falling sites. Slippery, wet floors and glass shower doors are considered special hazards. Stairs inside and outside the home are other prime accident sites. Metcalf also advised the seniors to watch out for loose throw rugs and to steer clear of small pets that may run underfoot.
At one point, Metcalf introduced David Grantham, a project manager for Rebuilding Together, a non-profit service using volunteers who install safety improvements for low-income seniors without charge. Other seniors are charged a small fee, he added, if they can afford to pay. Offerings include grab bars, railings and banisters, stools where needed, fire alarms, safe electrical switches and other needs. Rebuilding Together can be contacted at 455-1880.
Most of the four-hour session was devoted to an exercise program led by Kelly Ward, who provided each participant with two elastic bands that were used to challenge muscles on various parts of the body, including arms, legs, neck and stomach. Good muscle tone, she said, can help an individual respond quickly when he or she trips to head off an actual fall. And if a fall does occur, she added, the victim needs to respond carefully to make certain there were no serious injuries.
"There's no need to hurry," she said. "Remain at first on the ground. Then roll over on to your stomach, and then pause before your use your hands to get back on your feet."
She urged her audience to set up a daily exercise regimen, drink at least five glasses of waters, which she described as "like what oil is to a car" and then get plenty of rest. At the end, all hands were treated to a free and delicious picnic lunch provided by Hannibal's Catering.
E-mail Art German at reporter@valcomnews.com.