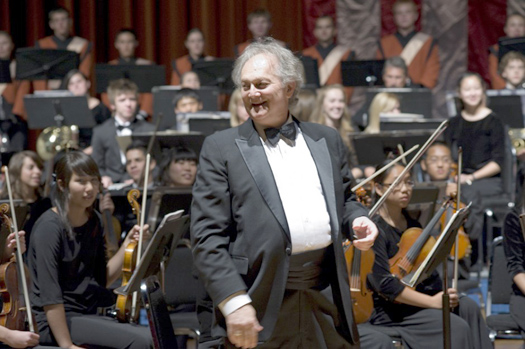 Curtis Park resident Michael Neumann is a deep gentleman of many talents.
Neumann is the artistic director and conductor for both the Sacramento Youth Symphony and the Folsom Symphony.
For the past nine years, the latter symphony has grown in quality to the delight of audiences throughout the region. Musicians from the symphony hail from every neighborhood in Sacramento: Pocket-Greenhaven, Land Park, Arden, East Sacramento and elsewhere.
Neumann puts a great deal of time into considering each work the symphony will perform. A fine artist himself, he carefully develops concerts of depth and complexity that delight both the newcomer and the jaded audiophile.
This December's winter concerts are a perfect case in point. The Folsom Symphony will host two holiday concerts that will gladden hearts on Dec. 15 and Dec. 16. The repertoire for "Of Fate & Joy" ranges from contemplative to festive to joyous.
According to Webster's Common School Dictionary of 1892, "fate" is considered to be "a decree; (an) inevitable necessity…supposed by the ancients to determine the course of human life."
Few would argue that, in its strictest definition, all mortal life is "fated" to have a beginning and an end. Not a jot can be changed about it. Somber, indeed.
Between those fixed points in time are all the things that go into life: good and evil, happiness and sadness.
And that, according to the sages, is where mere mortals have true power and freedom. Because happiness is a choice humans can make along the way.
Composers and poets throughout the ages struggled with these weighty matters. Many chose "Joy" as a personal statement of faith, and as a testimony to freely choosing the good in life. Such choices, they felt, bring out the best in the human spirit. They are heroic.
Appropriately enough, the concerts kick off with Ludwig van Beethoven's "Fidelio Overture." First performed in 1805 Vienna, this opera was risky, given Beethoven's political outlook. After all, the Napoleonic Wars were scarcely two years old. "Fidelio" musically tells a tale of personal sacrifice, heroism and eventual triumph…with an underlying struggle for liberty and justice. Ludwig could have lost his head – literally.
Next on the program is George Frederic Handel's "Music for the Royal Fireworks." A secular piece of music, it was commissioned by England's King George II to celebrate a great hope for peace: the 1749 signing of the Treaty of Aix-la-Chappelle. The music is Handel at his most spectacular.
The treaty? It didn't quite pan out the way the crowned heads of Europe had hoped. Little was accomplished in the end. Fate stepped in.
The evening continues with powerful works by Rimsky-Korsakov ("Capriccio Espagnol"), Brahms ("Schicksalslied," accompanied by the Folsom High School Chamber Singers), Johann Strauss Sr. ("Radetzky March") and his son ("Tritsch Tratsch Polka"). Popular composer Leroy Anderson's work "Christmas Festival" will put audiences in the holiday mood.
Handel makes another appearance with his magnificent work from "Messiah" – the "Hallelujah" chorus.
Happiness, it is said, is not a destination. It is something one encounters along the way. One can choose to be joyful, or to be otherwise. In celebration of this fact, each member of the audience is invited to sing along to traditional carols near the conclusion of each concert.
Webster's little dictionary from 1892 defines "joy" as "gladness, delight, exultation…bliss." Intangible delights that the Folsom Symphony and Neumann specialize in every December.
"Of Fate & Joy" will be performed two days only, on Saturday, Dec. 15 at 7:30 p.m., and Sunday, Dec. 16 at 2 p.m. Performances are held at Folsom Lake College's Three Stages Theater. Get your tickets soon…these concerts sell out every year. Call (916) 916-608-6888 or visit  www.threestages.net. Also visit  www.folsomsymphony.com.