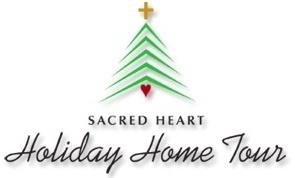 One of Northern California's most loved holiday home tours returns this December with five elegantly decorated homes in East Sacramento's historic Fabulous Forties neighborhood.
For 40 years, this popular tour has grown to include nearly 5,000 patrons from throughout northern and central California. The homes showcase elaborate renovation while preserving historic detail, custom interior design and creative holiday decor that is sure to ignite the spirit of the season. Homes on the tour this year range in style from a stately Tudor to a beautifully remodeled plantation home that was at one time a duplex.
The home tour begins on 38th Street between M and Stockton Streets and winds its way through East Sacramento, ending on 47th Street. You may start at either end for an enjoyable, self-guided walking tour, which takes approximately two hours to complete.
When you complete the home tour, don't miss the boutique and cafe located at Sacred Heart Parish School. Delicious food, lovely gifts and holiday decorations are available for purchase.
You may use your ticket for a one-time admittance to each house any time during the home tour weekend. Tickets are $25 in advance and $30 the day of the event. Children over the age of one must have a ticket. Advance tickets can be purchased online or at a number of fine local retailers until Dec. 5. The Holiday Home Tour is a fundraiser that benefits Sacred Heart Parish School, and is organized by the parents of Sacred Heart School. On home tour days, tickets can be purchased at Sacred Heart School, 856 39th St. Cash or checks are accepted. They may also be purchased on the tour at the house located on 45th Street.
Tickets are available at the following retailers and at the Sacred Heart School office 456-1576:
Collected Works, 4524 Freeport Blvd., 737-8188
Pottery World, 4419 Granite Dr, Rocklin, 624-8080
Hoshall's Salon & Spa , 6608 Folsom-Auburn Blvd. No. 4 , 987-1995
Haus Home Decor and Specialty Gift, 5601 H St., 448-4100
East Sacramento Hardware, 4800 Folsom Blvd., 457-7558, accepts credit cards
Calico Corner, 5255 Sunrise Blvd., Fair Oaks, 962-0281
Beyond the Garden Gate, 1015 Olive Drive, Davis, 530-756-6698
Talini's Garden Center & Nursery, 5601 Folsom Blvd., Sacramento, 451-8150
Emigh Hardware, 3555 El Camino Ave., 482-1900
Emigh Casual Living, 3535 El Camino Ave., 486-9500
Pink House, 1462 33rd St., 737-7465
Pottery World, 1006 White Rock Rd, El Dorado Hills, 358-8788
Summer Porch, 3254 J St., 444-2900
For general questions, please email us at shhometour@gmail.com
If you go:
What: 40th Sacred Heart Holiday Home Tour
When: Friday, Dec. 6 from 11 a.m. to 8 p.m., Saturday, Dec. 7 from 10 a.m. to 7 p.m., and Sunday, Dec. 8 from 11 a.m. to 5 p.m.
Where: Homes through out the Fabulous Forties neighborhood
Cost: Tickets are $25 in advance and $30 the day of the event. Buy online at www.sacredhearthometour.com or at local shops. (See list above.)