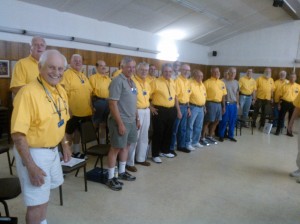 Dick Van Dyke, Groucho Marx, Bing Crosby, as well as President Harry Truman have all been members of the Barbershop Harmony Society. Even Justin Timberlake sang some barbershop harmony on Late Night with Jimmy Fallon. Timberlake and a Barbershop troupe sang "Bringing Sexy Back" a cappella all decked out in multi-colored striped coats bow ties and boater hats.
The Sacramento Capitolaires, one of the original Barbershop Harmony Society chapters, has been singing four-part harmony since 1946. The Capitolaires were founded by Joe Trousdale who sang 'til he died at the age of 95. Joe always said, "Singing makes you feel good when you hit the right note. You can forget about your cares. Like they say, you can't be unhappy when you're singing".
The current Sacramento Capitolaires are a group of happy older gentlemen led diligently by their new director Ray Rhymer. The Capitolaires get together every Tuesday evening at Pilgrim Hall behind the Sierra Arden Church. When I walked up to the group they were already harmonizing outside of the hall. It was their "warm up time". They start off with some humming, it actually sounds like a harmonious beehive. They were getting ready for their big show at the Celtic Cross Presbyterian Church. The Capitolaires sing at churches during the summer when their respective choirs take a summer break.
The Capitolaires also sing at funerals, bar mitzvahs, weddings, special events and even in elevators. One of the barbershoppers, Joe Samora, told me they actually got a gig while waiting in an elevator. Now that's what I call elevator music!
The Capitolaires have also performed the National Anthem at Sacramento Kings games as well as the River Cats games. Les Cudworth, a longtime barbershopper told me, "we also sang for the Governator". The City Of Sacramento officially declared it Sacramento Capitolaires Week in June of 2011. They'll be busy in October competing in the Far Western District Convention in Bakersfield. They'll also be performing at Brews and Boos in observance of Octoberfest and Halloween. It will be held at the Citrus Heights Community Center.
The week I attended the group sang an upbeat happy version of Consider Yourself from the Broadway musical Oliver! Other harmonious toe tappers performed were Just in Time from the 1956 musical Bells Are Ringing and the old 20's standard Side By Side. They sounded flawless. Not too bad for a practice. They have a schedule of songs they sing every week.
Before they started on Amazing Grace, the most famous of folk hymns, choir director Ray Rhymer told the group "whether you're religious or not you can be spiritual if you choose to be. I'm not asking for religion but spirituality really works good on this one".
Amazing grace. (how sweet the sound)
That sav'd a wretch like me.
I once was lost, but now am found,
Was blind, but now I see.
Religious or spiritual. It was the highlight of the night. Perfect. These guys should put out a record. I applauded at the end and asked, "Do you take requests?" The barber shoppers all laughed. I said, "I'm not kidding. My Old Kentucky Home!" Clark Abramson, the President of the Capitolaires said, "I wish we did that." I told them, "You gotta put it on the play list."
I lived in Louisville, Kentucky where met my wife so that's why I'm partial to the tune. Would be a great barbershop chorus song. Worth putting in their repertoire.
Les Cudworth, one of the longest serving Capitolaires told me he likes the camaraderie of the group. "It's like a big family." Sometimes after weekly practice they head on over to Sam's Hof Brau for a beer and a bite to eat. Occasionally they'll even break out in song for the Hof Brau customers. Les told me, "Sometimes guys go bowling to get a 300 and they get disappointed. Some guys golf and the ball goes in the water. I go to chapter meetings because I love it. I win every time".
I even got involved in some of the singing. During a break, barber shopper Larry Womack convinced me to sing with them. A few got together for a barbershop tag. Tags are characterized by heightening the dramatic tension of the song, frequently including a sustained note against which the other singers carry the rhythm.
It was Wild Irish Rose. I harmonized with the group by singing "Rooooossse". I was now an honorary Capitolaire!
The Sacramento Capitolaires welcome men of all ages. They are a fun, friendly group of guys who just love to sing. If you're interested in checking it out come to one of their weekly meetings. They are held every Tuesday evening from 7:00 to 10:00 at the Sierra Arden Church on Morse Ave. The meetings are held inside Pilgrim Hall. Just listen for the harmonizing and you'll find them. For more information go to www.capitolaires.org