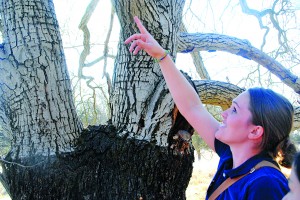 Effie Yeaw guide Melanie DuBoce spoke about the trees of Deterding Woods on Sunday, Jan. 5, 2014 as part of the New Year's walk along the river event. Effie Yeaw participated in this year's Big Day of Giving, which was held on Tuesday, May 5. / Photo by Monica Stark
The Sacramento region did it again for this year's Big Day of Giving, which was held on May 5. With a regional goal of raising $5 million for local nonprofits, that target amount was smashed, totaling $5,613,799.; 36,531 donations were accepted and 529 local nonprofits participated. The folks at Big DOG are in the process of verifying all gifts and incentives for participating organizations (dollars, transactions, households, etc.). They anticipate this to be completed by June 30. Once their verification process is complete, they will announce the final numbers. What follows are Arden-Carmichael area results from the Big DOG website, which are still subject to final review and verification.
The American River Natural History Association and the Effie Yeaw Nature Center,
2850 San Lorenzo Way, Carmichael, are dedicated to bringing awareness of the beauty and diversity of the natural world to children, families and the community through education initiatives that foster appreciation, enjoyment and stewardship of the unique wildlife. There were 210 donations, totaling $20,010.
It is the mission of
St. Michael's Episcopal Day School,
2140 Mission Ave., Carmichael, to provide a learning environment where students are inspired to think critically; act responsibly; lead compassionately; and innovate wisely in seeking scholastic, artistic and physical achievement. There were 15 donations, totaling $10,985.
Sacramento Fine Arts Center,
5330B Gibbons Dr., Carmichael, encourages the creation and presentation of original visual arts, to support the cultural life of the community, and to encourage all artists to fulfill their potential. There were 61 donations, totaling $5,500.
Women's Wisdom ART,
5230 Whitney Ave., Carmichael, is dedicated to transforming the lives of women by inviting them to engage in a community dedicated to participating in the arts.  We believe that the images and words women create to express their lives enrich not only themselves and their families, but our entire community. There were 86 donations, totaling $7,890.
Eskaton Foundation,
5105 Manzanita Ave., Carmichael, funds essential projects and innovative programs in order to enhance the quality of life of seniors. The older adults we serve enjoy greater independence, dignity and health, whether they are living in an Eskaton retirement community, residing in Eskaton's affordable housing. There were 40 donations, totaling $3,475.
The mission of
Chautauqua Playhouse,
5325 Engle Road Suite 110, is to actively develop and promote educational and cultural involvement and awareness in the performing arts by offering the general public a wide-variety of high quality, affordable performing art opportunities that encourage diversity, and original works. There were 47 donations, totaling $7,210.
Atkinson Family Services,
4718 Engle Road, Carmichael, protects, nurtures, and inspires children, adults, and families to be successful through residential, behavioral health, educational, and vocational programs promoting personal growth and development. There were 13 donations, totaling $725.
American River Parkway Foundation,
5700 Arden Way, Carmichael, established in 1983, serves the Sacramento community with programs that span a 23 mile, 4,800 acre expanse of land, water and nature. The vision is to conserve and improve the parkway as a sustainable natural resource to all. There were 175 donations, totaling $16,045.
Sacramento Valley Conservancy's
mission is to preserve the beauty, character and diversity of the Sacramento Valley landscape by working with citizens, property owners, developers, public agencies and other nonprofit organizations. It preserves dedicated open space by the acceptance of gifts, private purchase, facilitation of public acquisition, conservation easements and by cooperative efforts. In 2012, it added the old Boy Scout camp, Camp Pollock to the heart of the American River Parkway, making recreation for youth, parkway users and community events the main goals of the acquisition. There were 121 donations, totaling $13,065.