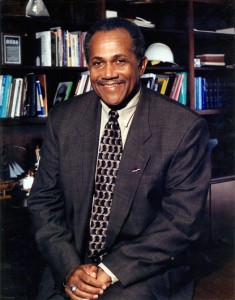 During a special meeting held tonight, the San Juan Unified School District's Board of Education appointed Dr. General Davie, Jr. as the District's acting Superintendent. His appointment is effective immediately.
Davie is a familiar face in San Juan Unified, and the Sacramento region, as the former superintendent of the District from 1998 through 2005. Since leaving San Juan, Davie has remained active in the education community serving as the interim superintendent in a number of school districts, consulting on education issues and maintaining an active role in the San Juan Education Foundation which raises funds to support San Juan Unified schools.
"We are pleased General Davie has agreed to help provide leadership as we prepare for the start of a new school year," said Board of Education President Dr. Larry Masuoka. "General's familiarity with the District and community will help ensure a smooth start to the year and a continued focus on our community-developed strategic plan."
"San Juan Unified has always been my home and I am pleased to be able to continue being of service to the students, families and staff of the District," said Davie. "We have world-class teachers and staff who have spent their summers studying, learning and growing and are ready to hit the ground running this August when students return."
Current Superintendent Glynn Thompson has been on paid administrative leave since May 15 when the Board of Education launched an independent investigation into complaints filed with the Department of Fair Employment and Housing. That investigation remains ongoing and Superintendent Thompson remains on leave.
"Our action today is solely about providing stability and leadership to our schools as we prepare for the 2013-14 school year. We eagerly await the outcome of the pending independent investigation and being able to take the appropriate actions to move forward permanently," said Dr. Masuoka.
Davie's contract calls for him to receive $850 a day in compensation up to a maximum of 46 days. He will not be provided any health and welfare benefits, paid vacation or sick days.