Girl Scouts Heart of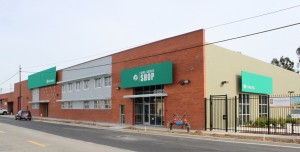 Central California (GSHCC), home to nearly 30,000 members, has moved its Program Center.
The new Program Center – the headquarters for the organization's staff and home to its membership support services, volunteer quarters for training, outreach activities, Girl Scout shop, and history display – can now be found at 6601 Elvas Avenue in Sacramento. The location is centrally located near public transportation and the crossroads of highways 50 and 99, making the organization more accessible to more of its members.
Over the past five years the membership of the council has grown by 13 percent. The newly remodeled 25,000 square-foot building will help the council to meet its goal of reaching every girl who wants to be a Girl Scout.
In past years, the organization had to limit the number of participants in girls' programs, such as day camps and in volunteer training, or seek off-site accommodations.
"For the past five years, we have been researching the area and preparing for this move," said Pam Saltenberger, CEO of GSHCC. "The 65th street corridor was specifically chosen for the new location because of its up-and-coming potential. It's important that we use our resources to keep girls interested and motivated because as we grow the community around us will thrive."
"The council's new building is located in an area that the city of Sacramento has placed on a priority list because it is viewed as an area with economic opportunity," said Dean Peckham, senior project manager for the City of Sacramento's Economic Development Department. "The city is putting a lot of staff time and resources toward improving circulation in this area to increase foot traffic and support financial investment."
The council is excited to be a part of the city's efforts to revitalize this sector of East Sacramento.
Girl Scouts Heart of Central California offers leadership opportunities for girls to build "Courage, Confidence and Character."
To offset the costs of the new building and maintain funding for all its programs, the council has kicked-off a capital campaign, which is currently in the "friends and family" stage.
"We're confident we can fund the majority of the building with the capital campaign and the support of our community," said Catherine Cardoza Conner, GSHCC board chair.