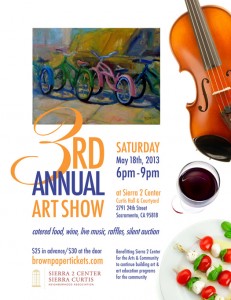 Sierra 2 will be celebrating the 90th anniversary of the Sierra School building on Saturday, April 27 from 10 a.m. to 4 p.m. Every half hour a video of the history of the school will be shown in room 9. In room 10, there will be historic exhibits and photos of the school including its rescue from demolition in the 1970s by the newly formed Sierra Curtis Neighborhood Association. At 2 p.m., there will be a ceremonial unveiling of the historic landmark plaques at the front entry facing 3rd Avenue, followed by a 90th anniversary cake celebration in the garden room.
The Sierra 2 Center is working to restore some of the light fixtures to provide a more historically accurate representation of the original design. The center is looking for potential donors to help fund the project. Every $200 tax-deductible donation will purchase one light fixture. Each donor will be named on a commemorative plaque to be hung at Sierra 2 Center.
The following history and photos accompanying this article have been provided by Sierra 2.
When World War I ended Sacramento had great pent up demand for homes and schools. The Curtis Park neighborhood had only Highland Park School, a wooden structure first erected in 1888. A bond issue paved the way for new schools and Sierra School was opened for the spring term in 1923. Alumnus Philip Watkins who became a United States  District Judge recalled moving day from Highland Park School across the street: "We got in line and marched, two by two, down the steps of the old school and then across the street to our new home," recalled the judge.
"Mrs. Rowe (the principal) led the way. It was the biggest thrill of our school life to that point."
Much of the design of the school was accomplished by Curtis Park's landmark architects Charles and James Dean. The school is Andalusian Spanish Style and inspired Spanish Revival Style homes in the nearby 1920s subdivisions. The auditorium was added in 1929. The campus was designated a Sacramento historic landmark in 2005.
Sierra was used as an elementary school from 1923 to 1976, educating thousands of Curtis Park children.
When the Field Act, an earthquake safety measure, forced cosure the neighborhood rallied to save the school. The successful effort led to the creation of the Sierra Curtis Neighborhood Association. Since it was saved, SCNA has run the Sierra School campus as the Sierra 2 Center for Arts and the Community. The first decade of that stewardship entailed a major restoration and rehabilitation project. Over the years the Home and Garden Tour has been a major source of revenue to continue the tradition of stewardship of this historic landmark and social and cultural resource.
Sierra 2 is located at 2791 24th St. For more information, call 452-3005.