There are many memorials that can be found in various places throughout the capital city. But one of the most hidden and less known memorials is that of former East Sacramento resident Ray Bertolucci (1911-2011).
At the end of a cul-de-sac on 37th Street, just south of P Street, is an area, which is rich with trees, ivy and other plants.
Although it is necessary to do some investigating on the southeast side of that area to locate Ray's memorial, with relatively little effort, one can find that memorial, as well as memorials to his wife, Dorothy M. (Herbert) Bertolucci (1915-1997), and Jamil D. Nammour, a professor at Sacramento State University from 1969 to 1986.
Nammour, who taught philosophy for many years and was honored through the naming of Sacramento State's annual Nammour (philosophy) Symposium, resided at 1633 37th Street from about 1978 to about 1985.
The plaque for Nammour, who was born in Backline, Lebanon on Sept. 3, 1937 and died in Carmichael on Jan. 13, 1986, reads: "This tree is dedicated to the memory of Jamil Nammour by his friends on 37th St. May 1986."
The plaque honoring Dorothy, who graduated from Sacramento High School in 1933 and married Ray seven years later, reads: "In loving memory of our dear friend and neighbor Dorothy Bertolucci."
Ray's plaque has a shorter inscription, as it reads: "Raymond Bertolucci, 'The Mayor,' 1911-2011."
With a glance at a listing of mayors who have served Sacramento, one would not find the name, Raymond Bertolucci.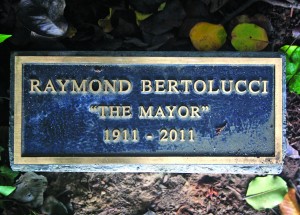 So, with that in mind, the obvious question would be: Why was this man, Ray Bertolucci, recognized as a mayor on a memorial at the end of a portion of 37th Street in East Sacramento?
Although Ray passed away three years ago in his 37th Street home, and thus would not be available for comment, the answer to that question can be easily answered by many people who remember him as having acquired that title.
In an interview with this publication last week, Larry Bertolucci, who was Ray and Dorothy's only child, said that his father began to be referred to as "the mayor" by his neighborhood friends in the 1980s.
"(Ray) was just very active in terms of when they closed 37th Street off (south of P Street, near the old freight train tracks/light rail tracks) and made it a cul-de-sac (in the mid-1980s), and he was just a real advocate for that general location," said Larry, who graduated from Sacramento High School in 1962, and later graduated from Stanford University. "When people would move in, he would welcome them. If anybody was doing any nonsense, he was not afraid to confront them and say, 'That's kind of unacceptable for this area.' And everybody just kind of rallied around him. I think it was partly because of age, partly because of his personality and partly because of his tenure of living there. So, you know, it just kind of came into fruition if anybody needed any answers about the area, (they would ask for his assistance). The guy had phenomenal recall. It was amazing that he could put the dates and names to places. He could tell you in Old (Sacramento) what store was there on what corner, what they did, who owned it. He would meet a guy in a store, at Corti Bros. or maybe at Safeway, and he would say, 'Larry, I know that guy.' He wasn't afraid to go up and (talk to) the person and say, 'I know you, tell me your name,' or 'I think your name is this. You were related to this guy.' And the next thing you know, they were carrying on a conversation. He was absolutely uncanny."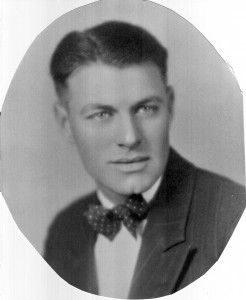 In speaking about his father's approach to helping his friends, Larry, 69, said, "His friends that were close to him, whatever help (they needed), he gave it to them. Whether it was financial – he didn't have much, but he would give it to them. And he never expected anything in return. My dad said, 'If you loan money to that person, just pretend you're not going to get it back. You give it to them, because you know they need it for a reason.'"
Larry added that his father, along with Ray's close friend Jack Peterson and others, played an active role in establishing the East Sacramento Little League in 1951.
"He was just an advocate for the kids," Larry said. "Every kid in the neighborhood loved him. He tolerated absolutely no nonsense. He was old school. He would give them hell, then he would put his arm around them and love them. All practices in Little League ran an hour and a half. They were run like a major league practice. Everything was done drills, drills, no nonsense. We got our work done and then we went home."
In regard to Ray's aforementioned longevity as a resident of the neighborhood, he moved into his home at 1641 37th St. with Dorothy in 1941 and continued to live there for 70 years.
Ray, who was born in McCloud, Calif., was raised with his brother, Lorenzo (1904-1979), by his parents, Luigi and Matilda (Dini) Bertolucci, who were natives of Lucca, Italy.
In about 1920, Luigi acquired work as a laborer for the Southern Pacific Co. in Sacramento, and the Bertolucci family moved to 916 33rd St. in about 1920.
During his youth, Ray enjoyed playing baseball and later in his life, he played fast pitch softball.
When he was 16 years old, Ray abandoned his studies at Sacramento High School and began working for the Southern Pacific as a sheet metal worker, a position he would hold, except for brief periods of time, until his retirement 41 years later.
On one occasion when he was not employed by the Southern Pacific, Ray, who served for many years as the vice president of the Sheet Metal Workers Union No. 162, drove a hearse for the local funeral director George L. Klumpp.
Ray also spent some time working on a surveying crew in the Mojave Desert.
Certainly, one person who knew Ray and Dorothy very well was Dorothy's sister, Lois (Herbert) Lindstrom.
In speaking about Ray, who married Dorothy in 1940, she said, "He did so much for his neighbors. On street pickup days, if there were tree branches laying in the street that they had put out to be picked up and they weren't cut up in little pieces, Ray would take his chainsaw and go down and cut them up and pile them up for them."
Additionally, both Ray and Dorothy would often take many of their neighbors' garbage cans back to their neighbors' properties after they had been emptied.
Lois described Ray and Dorothy as "the most hospital people you would ever want to meet."
And after being asked to speak about Ray's recognition as the "mayor of 37th Street," Lois said, "They just sort of tagged that (title) on him, because if there was a problem of any kind in the neighborhood – sidewalks, trees or whatever – he was the one that went to the county. He knew all the county supervisors, he knew the assemblymen, he knew everybody that was connected to East Sacramento, and they were all on a first name basis. He would call their offices and they would say, 'Oh, hi, Ray.' And he was the one that got action, so they sort of tied that mayor name onto him."
Lois named several people who recognized Ray as the "mayor of 37th Street." Those people included his good friends, Dr. Tim Tautz and fireman Mike Taylor.
Larry added that he believes that Nammour was among the people who referred to his father as the "mayor of 37th Street."
Both Lois and Larry mentioned that Ray had a sort of "open door policy," which attracted many people to his house.
In speaking about some of those people, Larry said, "Everyone would come to his house and have cocktails at 5 o'clock, especially (during) the last 10, 15 years (of his life). They would always come over to his place. But one little nuance that he had was he hated people to come when he was getting ready to eat dinner. That always bugged him. You didn't want to interrupt his dinner time."
Ray, who drove his car until he was about 98 years old, passed away less than seven months shy of his 100th birthday.
Kathryn (Casey) Peterson, 91, who formerly resided at 1311 38th St. with her husband, Jack Peterson, fondly spoke about Ray and Dorothy.
"(Ray) was a terrific guy," Kathryn said. "Even into old age, he was just somebody you could always count on. He was very clever. There wasn't anything he couldn't fix or do. And he was just a wonderful husband, and his wife was just charming.
Everybody knew him. He would be sorry if you were in the neighborhood and you didn't stop to visit him. He was just that way, and his wife was, too."
Julie Peterson, who is not related to Jack and Kathryn Peterson, presently resides in Ray's old, white, brick house, which was built in about 1928 for John B. Matthews, a teacher at Sacramento Junior College – today's Sacramento City College.
After being asked what she knew about Ray, Julie said, "I know that shortly after we moved here, a young man in his 30s or 40s came by to see him and didn't know he had passed (away). It was just really heartwarming. He said that he lived in this house (next door) many, many years ago and that Ray helped raise him and was like a father to him. I know that we're new to Sacramento, but we've met tons of people that knew (Ray) and knew our house, because they knew him. It really affected me, because I heard so much about Ray, and then for the guy to come by, I thought, 'Wow, (Ray) really did affect a lot of people.'"