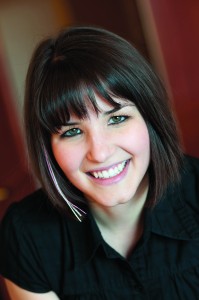 Jessica Scheimer, a Knowles Science Teaching Fellow http://kstf.org, identifies her achievement to her confidence, hard-work, and facing everyday challenges throughout the year. She was able to overcome time constraint challenges by mentoring her students during after-school hours and on weekends.  Her goal is to push students to learn physics at a deeper level and to inspire them to continue their studies in science in the future.
Jessica credits her success to her good rapport with her students and that the challenge of the AP exam is not just for the students, but for her as well. The trust that the students have instilled in Jessica is the reason that the class was able to accomplish a perfect score. Jessica also recognizes KSTF for the confidence it has given her to believe that anything is possible to achieve. KSTF has also provided Jessica with like-minded groups of colleges with whom she can collaborate and use as resources.
·How were you able to help your students achieve a 100% passing rate?
I think that I can credit a lot of my success to the fact that I have a very good rapport with my students; we are in for the challenge together.  They trust me to guide them in the right direction and I trust them to rise to the occasion. The success we enjoy is due to a lot of hard work and collaboration on both of our ends.                          
·What was the biggest challenge teaching AP courses?
The biggest challenge was probably the time constraint of the course.  We only have 100 hours of face-to-face class time to complete the instruction for the course. This means that we sometimes find it necessary to meet on weekends or after-hours at school.
·What advice would you give other teachers teaching AP courses?
The best advice that I have is: students will rise to your expectations and to the occasion. If you present them with the confidence and opportunity to know that they can succeed (and support them in this), they will, indeed, do so.                 
·Do you think you could achieve another 100% passing rate?
I certainly think that I can! The challenge will be much greater with the transition to AP physics I and II, compared to the current model of just one course of AP physics.
· Do you think being a KSTF Fellow has helped you in preparing your students for the AP tests?
KSTF has prepared me in that they have given me the confidence to know that anything is possible to achieve. They have also provided me with a like-minded group of colleagues with whom I can collaborate with and use as resources and sounding boards.