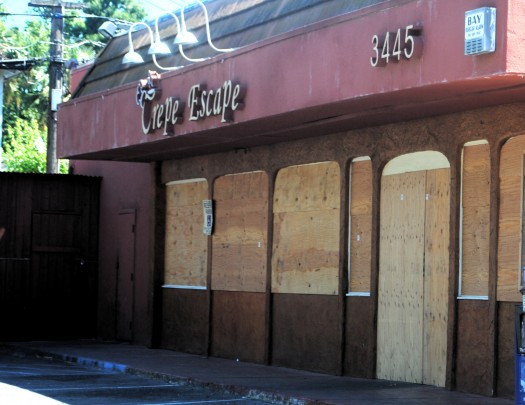 Three fire investigators are looking into what caused the fire that burned down Freeport Boulevard's Crepe Escape in the early morning hours of Monday, April 29. Restaurant owner Francesca Zawaydeh said they don't really know what happened, but said: "Arson is harder to prove than murder. There's not much hope finding the person who did it."
Zawaydeh feels remorse for not only herself and her family but for the 17 employees who worked at Crepe Escape. "We left 17 people without a job. A lot of them have families. A lot of people who worked for us cried. There were a lot of tears going on … Whoever did this didn't realize this will leave a giant hole in a lot of people's lives," she said.
Zawaydeh said her employees were like family. They were invited to Easter dinners birthday parties and other family celebrations. Zawaydeh feels an obligation to keep them in the loop.
She is currently looking for other locations in Land Park for Crepe Escape, but said it's been difficult finding a place.
"All the good spots have been taken. There's just not a whole lot in Land Park. I told one (longtime) customer we might have to leave the area and go further out. And that customer flipped out. She said, 'you can't leave. This restaurant is for the neighborhood.'"
In Zawaydeh's efforts of looking for a new location, some people have offered to help her out financially. "It's been really amazing because you see people's true character when something like this happens. When you are running a business day to day, you don't know how good people are. You don't see that in the full capacity until something like this happens," she said.
Zawaydeh's father built the business six years ago and had someone else run it, but Zawaydeh took it over in 2009 after graduating college, she said.
Zawaydeh said her parents ran three creperies in San Francisco prior to moving to Sacramento. And it wasn't until her brother was killed in Iraq that a move out of the city was needed as everywhere they looked reminded them of their son.
She said she's only seen her father cry twice – once after the death of his son and secondly after the fire burned down Crepe Escape.
Zawaydeh said it's been hard to go back to the restaurant. "I hear it's boarded up and there's an eviction sign. We had a lively business thriving and now there is nothing. My life is reduced to day-to-day activities. I don't get to go to work anymore. My life revolved around that business," she said.