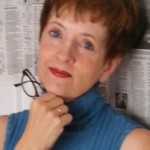 Darby Patterson
I'd planned to write an advocacy column in this issue of your excellent neighborhood newspaper. Something about our responsibility as Baby Boomers to demand respect; to refuse to be treated as diminished adults who silently accept being talked-down-to, and urging us to become actively defiant of stereotypes about aging. I became determined to cover this topic after a chipper waitress in a tiny San Francisco restaurant referred to me with the "D" word (that would be "dear"). I talked myself down with the help of my rational husband who (rationally) dislikes "scenes."
Then, in preparation for my tutorial on respect for one's elders, I discovered some disturbing information. Not only does American society stereotype people who appear older than 50, the elders among us share the damaging (and inaccurate) impression that growing older is synonymous with disturbing negatives. The problem, it seems, is endemic in our Baby Boomer population as well as in those who are our seniors. If we are to (eventually) change society's perception of aging we must begin within.
A study from a Yale University psychologist tracked a group of more than 400 adults over a span of 35 years. Their health stats, habits and blood tests were included in the analysis along with their individual attitudes about aging. Those people who had negative ideas about what it means to become older had more illnesses and heart problems than participants who held no such beliefs. There was a measurable difference in both quality of life and quantity (longevity) in participants who had no preconceptions about aging.
So, what are some of the stereotypes that accompany aging? That we are less than competent, in need of protection, lacking in the ability to think quickly and creatively, probably don't hear well and are on a steadily declining ramp to dementia and death.
According to author Elizabeth Dozois, one study showed that 90 percent of elder respondents believed they would be afflicted with dementia. The truth is that about 4 percent of the elder population suffers from severe dementia. Since simple arithmetic is my strong point I am pleased to point out that 96 percent of people remain mentally competent. By the way, I am today actually better at math than I was at the age of 15 when my mind was focused on a certain cute drummer in the high school band.
Fallacious thinking such as this pervades our society and extends to many aspects of aging. Those of us over 55 are as varied and capable as is the general population. Some of us are talented, brilliant, interesting, creative, engaging and innovative. Some of us are unmotivated, lazy, disengaged, disagreeable and (as one reader called me personally) – "crabby old ladies." We are emblematic of humanity, part of the colorful tapestry.
To be fair, the media perpetuates the stereotypes that will impact the largest single older generation that America has ever known – Baby Boomers. With the exception of certain Public Television programs, the few older characters featured in TV usually reinforce the stereotypes and, when they don't, they are instead clownish or ridiculously eccentric. They certainly do not represent those of us closer to the mainstream – working, volunteering, contributing, creating, remembering, consciously managing the aging process through being proactive and educated. The power of television to form opinions and attitudes is formidable. As participants in reality we don't have a comparable platform to counteract our cartoon characters.
Baby Boomers have an opportunity, indeed a responsibility, to contribute to a new awareness about the aging process. A recent study, for example, shows that as people age, they become happier and more satisfied. More than 340,000 individuals were surveyed and the results, published in May, overwhelming indicates that people feel less stress, worry and anger as they grow older. At the same time feelings of happiness and enjoyment increase significantly after the age of 50. 
Baby Boomers promise to be active and involved in life. We intend to take charge of our lives through education, managing our health and being engaged in business, the arts and society. It's up to us to erase the current cultural stereotype of aging, and that begins with examining and reassessing our own beliefs. 
Thus, I believe that the next time a server calls me a condescending term of endearment I will not yield to polite silence. I will share my matured wisdom with a few words of kind advice about how to prevent his or her tip from declining.
Darby Patterson is a member of the Sacramento County Adult and Aging Commission and the author of "Meow.org, The Cat-Napping Caper." Visit Darby at www.storiesandbooks.com. E-mail Darby Patterson at darby@valcomnews.com.