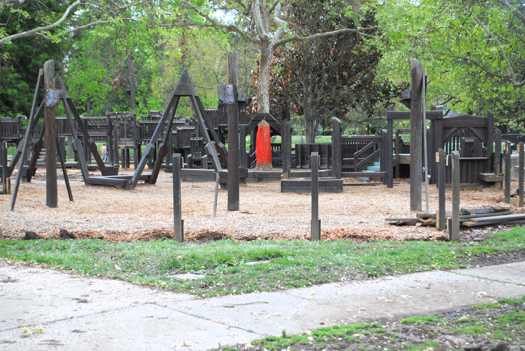 On Tuesday, April 2 bidders took a little bit of McKinley history home to their backyards as items of the playground such as slides, swings, monkey bars, pipe chimes, and even fencing were auctioned off onsite.  The auction set the stage for the quick demolition as the playground was gated off from the public that night.
One family took home five items, including the large straight slide for $25. "Almost everything was a pretty good deal," he said. "We picked up more than we were expecting, including two large slides and one small one," he chuckled nervously.
While they couple didn't grow up playing on the playground, their children have fond memories. And the couple, like many of the other bidders, has been involved in other Rebuild McKinley Playground events.
Some highlights of the deals some people got:
-$50 for bucket swings with support beam (If the bidder just wanted a swing, her or she could take the swing with or without the support beam."
-$25 for a third of the fence
- $25 for sandbox geometric sander toys.
-$120 for pipe chimes
-$25 for spaceship slide slider board.
-$150 for tick-tack-toe
What's next with the Rebuild Movement?
Well, the McKinley Playground Community Build will be held June 4-9. Organizers are in need of tools for the project and ask for your help in loaning any of the tools listed:
50- corded drills 3/8-inch or ½-inch chuck, with chuck key attached.
15- cordless impact drivers. 14 or 18 volt
4- angle grinders, corded.
20- levels, 4 foot or longer. Must be accurate.
5- Routers, ¼-inch or ½-inch shank capacity
5-laminate routers, ¼-inch shank
2- sawzalls, corded, heavy duty
4- Sliding compound miter saws, 10" blade size
4- Chop saws (miter saw), 10" blade size
15-Circular saws (skilsaw) 7 1/4" blade size. Worm drive or sidewinder
6- 10' or 12' stepladders
1 -belt sander, 4×24" belt
2- portable table saw, 10" blade with all safety guards intact.
8- orbital jig saws.
All tools will be needed from June 1 through June 11, and they ask that they be checked in from May 31 through June 2. On receipt, tools will be checked for proper operation and safety, and a retrieval receipt issued to tool owner.
Rebuild McKinley will provide all bits and blades.
Tools will be returned in good working order. If problems develop, Rebuild McKinley will repair or replace any damaged tool.
If you bring a tool to use for your work shift only, you will be responsible for that tool. Only tools loaned for the project duration and properly checked in will be the responsibility of Rebuild McKinley.
Contact Jeff Harris if you are able to loan tools for the community build at cadence@surewest.net
Even if you do not have tools to loan, you can help by making a donation and/or volunteering.  For more information on how you can help, visit www.rebuildmckinley.org