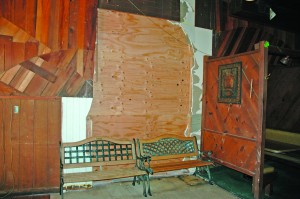 Brownie's Lounge now has a drive-through. Well, it did temporarily last week. A guy nick-named "49er Steve" barreled into the adjoining business and crashed through the wall at Brownie's. He wasn't a patron. He was wearing a foot cast and had a problem with the gas pedal of his Ford SUV. Don't wear a cast and drive people! Scott the bartender said, "It sounded like a bomb went off." He also told me "The jukebox is dead."
Nooooo! Not the jukebox. The jukebox was full of cool. It was a cavalcade of classic rock. The Who, Doors, Zeppelin to name a few. Even some of your favorite Irish tunes. They have now brought in an Internet jukebox. I'm thinking of starting a Change.org petition to protest! Bring back the old school jukebox. It played CDs. I'm in mourning. Brownie said, "The jukebox is what saved the car from going through the bar and hitting the bartender." I told Brownie, "I guess no more Clancy Brothers." Another patron piped in, "It also had Louie Prima!" The good news is nobody was injured. The jukebox actually helped prevent injury because the bar was full of regulars that night. Claire Brownie told me "We can laugh about it now but when I pulled up in front I thought Oh shit somebody might be dead in there". So next time you're at Brownie's Lounge, play some "Crash Test Dummies".
---
The Curtis Park Village project is humming along. The orange cones are everywhere in Curtis Park along Sutterville Road. Lots of men in orange, too. The backhoes and excavators are moving and digging dirt… It's Teichert-mania!
Councilmember Jay Schenirer had to be the bearer of bad news at the recent Curtis Park Neighborhood Association meeting. There will be no park in Curtis Park Village. Huh? What? Are you kidding? 4.3 acres were supposed to be used for a park and drainage. It got to the point where it was mostly drainage and not so much park. It's not so much Paul Petrovich as it is the city. The City of Sacramento is saying that the area would have to be able to take 250,000 gallons of water during a storm.
What Petrovich is considering is getting rid of the park altogether and making it a water feature. It could be 2.12 acres of water features with benches around it…and more housing. Not a very green solution.
The trade off, according to Councilmember Jay Schenirer, is because Petrovich is no longer doing a park he'll have to pay Quimby fees and housing fees: 1.9 million in Quimby fees and $2.5 million in housing fees, $4.3 all together and that could be spent on Curtis Park…the park itself.
Then Jay took questions….
One resident mentioned, "It's a serious trade-off. That $4 million will be spent but that public space will still not be there. If you spend the $4 million on Curtis Park that's still the only public space to support the new development and the existing neighborhood."
Schenirer answered by saying the water feature would be a public space with benches, just not green public space. And then the resident mentioned, "Then they'll have to spray for mosquitos." Jay retorted, "Always look at the glass half full." Jay just wanted to give everybody a head's up that this was coming. He didn't have all the details and all the answers because he had just been informed about it. Curtis Park resident Rosanna Herber said, "One thing that concerns me is that things get chipped away like the street that was in front of the park that got taken away because we want to make sure the kids have an easy way to get over to the park and play. Losing that road was a significant benefit for Petrovich but not so much to the people who will be living there. She added, "This is what bothers me. Now we have this change, now we're making another change, and it's a slow whittling away of the benefit that we're trying to keep in the development."
"I think people need to see the stuff we continue to lose as this gets dragged out."
I wonder if Paul Petrovich will suggest a gigantic metallic soaring eagle or maybe a giant silver metallic unicorn where water shoots out the horn. Stay tuned because I have a feeling this whole thing ain't over.
---
Following up on a story I mentioned last week in Over The Fence, Mexican grocer Mercado Loco is vacating their location at Franklin and Sutterville. When the lease runs out, a CVS will be moving in. A lot of neighborhood folks were caught off guard by the news. Some were outraged. It's even sparked a Change.org petition online. So far over 355 people have signed it. Will it make a difference? Some of the neighborhood locals hope so. One of the petition signers was Gretchen Steinberg who said: "I'd rather people be able to walk to their local store to get fruits and vegetables than hobble over there to get overpriced junk and medicine designed to counterbalance poor access to fruits and vegetables. C'mon Sacramento — follow through on your 'Farm to Fork' principles that you touted earlier this year!" Magic Munson added: "It is important to me because too many smaller businesses are forced out of business by these larger companies. Being a small business owner who can see Mercado Loco from my business window, I don't want to look at a CVS."
If you have any news or items of interest feel free to e-mail me. Greg@valcomnews.com.