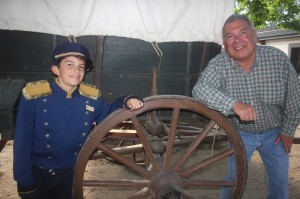 Descendants of Capt. John Sutter – Ron Sutter, right, and Connor Glasgow – were shown during their visit to the fort last week. Photo by Lance Armstrong
Among the most common questions that state employees and docents at Sutter's Fort State Historic Park at 2701 L St. regularly receive from visitors of this historic site pertain to whether there are still any Sutter family members in existence and if any Sutter relatives are living in California today. The answers to such questions are an affirmative, "yes."
But better than the knowledge that there are still living, breathing, walking, talking Sutter family members residing in the Golden State today is the fact that two descendants of the German-born, Swiss immigrant John Augustus Sutter, Sr. (1803-1880) were roaming inside the walls of the fort just last Tuesday, March 24.
The first of those descendants to be discovered by this publication on the grounds of the fort last week was 9-year-old Connor Glasgow, who was dressed in clothing reminiscent to those that were worn by his great-great-great-great-grandfather, the aforementioned John Sutter, Sr. – aka Capt. John Sutter.
John Sutter, Sr. immigrated to California during its Mexican period of 1821 to 1848, and during the summer of 1839, he made his way to the shore of the American River in an area near today's 28th and C streets, where the river flowed during that time.
Eventually, John Sutter, Sr. obtained a Mexican land grant, which was named Nueva Helvetia (New Switzerland). That grant included the area of today's Sacramento.
John Sutter, Sr. established an agricultural empire in Nueva Helvetia that would come to an end with the emergence of vast numbers of gold seekers during the great California Gold Rush.
Connor's recent presence at the fort came by way of the Environmental Living Program, which presents California fourth grade students with opportunities to "live history" at the fort through a 24-hour, educational experience, which simulates life at the fort during the 1840s. The program is additionally beneficial, since it is integrated into the students' curriculum.
Accompanied by their teachers and trained parent assistants, the schoolchildren participate in such activities as cooking in the period kitchen and in the yard's fire pits, trading, basket, rope, candle and corn husk doll making, riding in covered wagons, entertainment and other activities related to the era.
A major element of the program is the students' involvement in taking on the roles of particular characters of the era, including John Sutter, Sr., James Marshall, John Bidwell, Patty Reed and Elizabeth Patton Elliot.
And that part of ELP is the precise reason that Connor was found at the fort portraying Capt. Sutter last week.
After the arrival of the East Sacramento News at the fort, Connor left a group of 4th graders, who were participating in an activity, to dedicate time to sharing a few details about himself, his family and his visit to the fort.
Connor, who was born in Walnut Creek and resides in Pleasant Hill, said that because of his ancestry, he received a special invitation to attend this year's ELP.
"I go to Valhalla (Elementary School in Pleasant Hill)," said Connor, whose ELP experience also included giving a welcome speech. "I just got to go (with students from Pleasant Hill's Strandwood Elementary School), because I'm related (to both John Sutters)."
In speaking about his family, Connor said that he has four other members in his family, his father, Jack, his mother, Amber, and his sisters, Addison and Kate.
Connor, who enjoys playing baseball and swimming, added that his mother, who was born Amber Lynn Sutter, changed her middle name from Lynn to Sutter after she was married, so that she could maintain the Sutter name.
After being asked what he enjoys about Sutter's Fort, Connor said, "I like how everything is like old. Like you don't see (electric) signs that say like, 'open,' that are flashing."
A few minutes following Connor's interview with this paper, a meeting of the Friends of Sutter's Fort ended on the grounds of the fort.
Connor's grandfather, Ron J. Sutter, who, until recently, had served as chairman of that organization during the past four years, was among those who emerged from that meeting.
Ron, who was born in San Francisco and graduated from San Francisco Polytechnic High School in 1966, had also arranged to be interviewed for this article.
During that interview, Ron spoke for a while about his Sutter family history.
"I come from John Sutter, Jr. (and his second wife, Nicolasa Solis Sutter)," Ron said. "John Sutter (Sr.) had four children, and (John, Jr.) was the one that came to California and developed the city of Sacramento. He (made) plans for the streets and the parks and so on.
"And, of course, everything changed (with the Gold Rush). People were coming in and taking what belonged to (John, Sr.), and so on. So, he went to Congress to fight it and try to get his grant back.
"John Sutter (Sr.) and his wife, Anna, (eventually permanently) moved back to Pennsylvania.
"John Sutter, Jr., (who had various children, including Reginald Sutter, Sr.), became the U.S. consulate from Mexico and went to Acapulco. That's the Mexican side of our family.
"My father was heavily involved with Sutter's Fort. His name was Reginald Sutter, (Jr.). When I came to the fort as a little child, I got involved in all the functions and the parties and so on.
"My father and his sister, (Gloria), had to leave (Acapulco), Mexico during the revolution. They had to leave the country. Otherwise they would have been killed. So, they came over here and they had children. And my (grandmother, Guadalupe Sutter) took care of them, and that's how they got to the Bay Area. And most of our family is from the Bay Area right now. I live in Rio Vista right now."
Ron, after being asked to describe the pride he has for being a descendant of the two John Sutters, said, "I'm a little proud of being this way, being a Sutter. There are a lot of stories that come with it, and then you hear different sides and you read different types of books. But it is unbelievable how a man could travel from Switzerland and come all the way over here, and make a settlement. I just find that unbelievable. You know, we complain today about a six-hour plane flight, and he took five years to get here."
In further speaking about the Sutter family, Ron said, "There are people who can't believe that there is still a Sutter around or Sutters. We have a very large family. I would say (there are) at least 200 Sutter (relatives) in California. There are quite a few cousins and so forth. There are also some back East, some in Germany and some in Mexico."
And for at least some time last week, there were also two at Sutter's Fort.