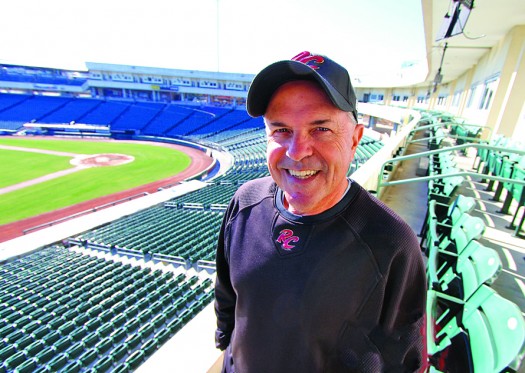 Tony Asaro isn't a teacher by trade, but in San Juan Unified, he's as recognizable on campus as school staff.
Entering his 14th year overseeing community relations for the Sacramento River Cats minor league baseball club, Asaro spends the bulk of his time working to improve the lives of children and families throughout the region.
That work began in San Juan Unified schools, from which Asaro, his wife and four children all graduated and where he began his career.
Today, he's an enthusiastic and constant figure in schools, preaching the importance of strong character, attendance and academic success to scores of students.
"San Juan schools are fortunate to have such a committed community leader in Tony," said Superintendent Glynn Thompson. "Tony's dedication to our students, unwavering energy and positive attitude are an inspiration."
from Asaro in his own words:
…on how Asaro blends passion for baseball with teaching and inspiring students:
"To be able to take what my passion is, which is baseball, and use that as the teaching element, that's so powerful. … I believe that we teach our children through the games we play. And I love the game of baseball because if you're the greatest player that ever played the game, you're a .300 hitter, you fail seven out of 10 times. There's no game that we teach our children or play that you fail that often and yet, you're the best. It's through those failures that you learn.
"That (relates) to the whole 'attendance, attitude and academics' (message): You've got be there every day for your teammates and bring what you have to bring. You have to have a positive attitude no matter how many times you get knocked down, no matter how many times you fail, you've got to get up one more time than that. Those are the kind of things we talk to kids about."
… on how his visits to schools motivate him:
"I've been very, very fortunate. That's the inspiration. When I go to a school at 8:30 in the morning, and I put on an assembly, and that starts my day, I'm sure I've jazzed them up, I've gotten them excited, but I am so pumped. So that when I do one at noon and 2, and then go and give a speaking engagement that night to a Rotary club, that excitement just builds and builds and builds."
… on how one San Juan Unified leader – his sixth grade teacher – shaped who he is today:
"I was very shy. I could not speak in front of people; I could not make a presentation. (My teacher) brought that out. He said 'You're going to be our emcee at our talent show.' I said, 'I can't do that.' He said, 'I see you doing impressions of Ed Sullivan and John Wayne for your friends. You can do this.' He then entered me in a Rotary speaking contest and helped me with that as a sixth grader. It's one of the two trophies I own in life. … It changed who I was."
… his thoughts on the meaning of leadership:
"I was asked as a junior in high school to be the captain of the baseball team. I was not the best player on the team. I was able to help motivate the team to be good, but I knew I was not the best player. And there was a reason they asked me to do that.
"And I think that leadership can be someone who stands up and motivates – inspires – but I also think leadership is (being a) role model that people want to follow. I believe that we all have a reputation – those are other people's ideas of who we are. I believe that the character of who we are makes a difference. And what I urge young people to do, what I urge everyone to do, is to look to the character within themselves. That's how you become a leader. You are a role model no matter where you are in whatever you do, whether you're the CEO or the person cleaning the place up, you can show leadership.
"I can't tell you how many schools I've been into, where the multipurpose room looks immaculate. These schools were built in the 1940s, 50s, 60s. That person who's controlling that, who's the person of influence there, can't teach English, can't teach science or math. But he can make those kids feel good about where they're at, make that staff feel good about where they're at. And that's what they're contributing.
"The scale is not north to south, the scale goes east to west. We're all leaders. Step up and be the best you can be at whatever you do."