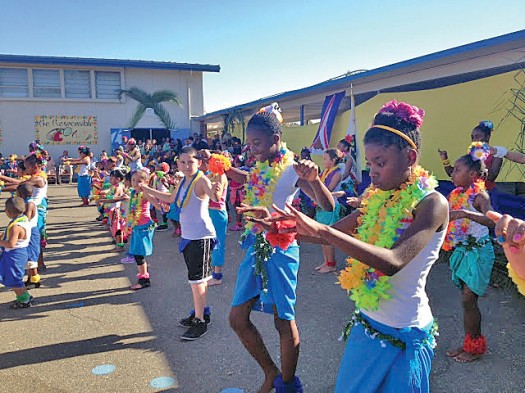 "Hi Miss Tata," is all you hear as a grandmotherly figure wearing a pink apron and her hair in a bun makes her way through streams of students and teachers at what was until recently known as Jedediah Smith Elementary School.
With almost every other step, Miss Tata stops for a hug or handshake as she makes her way towards the school's cafeteria to start the tutoring program she runs for about 70 of the school's students every day for the past 10 years. As long as students have been getting their homework done, Miss Tata engages them with a Polynesian dance program.
At the Sept. 6 Sacramento City Unified School District Board of Trustees meeting, board members voted in favor of changing the school's name to Leataata Floyd Elementary to pay tribute to Miss Tata. The school community officially celebrated the name change on Sunday, Oct. 20 with a block party at the school – complete with Polynesian dance routines by both a professional group lead by her nephew and Tata Floyd's students.
A Name Change
According to the school's Principal Billy Aydlett, the idea for changing the name of the school to Leataata Floyd Elementary came about organically and as a way to make the school more relevant.
"Jedediah Smith was a very important figure in the history of America and exploring the Western United States, but he was definitely not relevant to the eyes of the families and our students," Aydlett says. "The most important piece among many pieces to our redesign is making sure that our kids like school and that it's relevant to them."
Aydlett says a parent suggested finding a way to recognize Floyd for support and contributions she had made to the school and surrounding community throughout the years. "She never wants any attention, she never wants any recognition, but we thought about how we could best start the process of getting her some recognition, and the idea of renaming the school came up," he says.
When Aydlett proposed the idea to Floyd, her first reaction was a firm 'no'. After support from her family and community members, Floyd finally gave her blessing, allowing Aydlett and supporters of the name change to petition the SCUSD Board and ultimately have it pass.
Now with all the media attention surrounding this decision – including reporters from as far away as Australia calling for interviews – she says all she wants to do is "lay low" and do things with the students she teaches, whom she affectionately refers to as "my kids."
"If it wasn't for (the kids), nothing like this (would) happen," Floyd explains. "Without their participation in what I'm doing, I wouldn't be doing (this) and what I'm doing now (would not have) made (it) this far because it was never about me – it was always about (the) kids, always."
To Tutoring…
Although not a professional educator herself, teaching is definitely in Floyd's blood. Born and raised in Samoa, both her mother and father were teachers. She recalls when she was in second grade, her father would travel to each island via canoe to teach Algebra. And three of her siblings are teachers in Samoa, including a brother that is the head of all high schools in the country.
About 28 years ago Floyd moved her family to Sealey Circle across from the elementary school, which her children attended and her grandchildren currently attend. During that time, she says she volunteered off and on for the school, and now is there every day running the tutoring and Polynesian dance programs.
When the school bell rings at 3 p.m., about 70 students each day filter into the school's cafeteria for the tutoring program. Floyd says the tutoring program takes about one hour and she has assistance from about 20 McClatchy High School students who come by twice a week to provide homework help. "They come full force when they come," Floyd says.
On this particular Wednesday, every seat in the cafeteria was taken by students actively working on their homework because they know if they don't complete it, they can't dance.
"When they miss three homework (assignments), they cannot dance … until (they) catch up with those three homework (assignments)," Floyd says. She works with the school's teachers to make sure the students in her tutoring and dance programs have turned in their homework assignments.
One such teacher is Lanie Cabanlit, a second and third grade teacher at Leataata Floyd Elementary who has been at the school for four years. She believes the tutoring program has really helped her students by giving the kids a positive tutoring experience they actually look forward to. "Sometimes you think tutoring, eh, but since it's her running the program, they get really excited about going," she explains.
Cabanlit says the program helps the school by providing homework assistance to kids who need the extra help. "If somebody's there every day after school, then that helps us teachers a lot," she adds.
… To Dancing
Once the tutoring portion of the afternoon is over, it's on to the Polynesian dancing.
Floyd cultivated her dancing skills after coming from Samoa to San Francisco in 1961 to attend college. She said to help pay for books and other school needs, she and her sister would perform Polynesian dance numbers at a local venue on Friday and Saturday evenings.
After not dancing for a long time, Floyd was given the opportunity to start a Polynesian dance class at the school, which includes girls and boys from preschool to sixth grade. "Even though I'm strict with them, they all like it, they all love it," she says.
Two of those students taking the Polynesian dance class are the 6-year-old daughter and 7-year-old son of Melissa Segura, who lives across the street from Leataata Floyd Elementary. She says the dancing, which both her children started this year, gives them inspiration. "It gives them something to look forward to after their homework," she adds.
And Aydlett feels the Polynesian dance is very relevant to many of the cultures the student body represents, and it provides an opportunity for students to do something that is artistic and performance based. "This is a great extension and enrichment opportunity for our kids," he adds. "And like in anything if kids are having fun and kids are feeling positive at school, that's going to translate into them being more successful in the classroom."

The "Perfect Choice"
Cabanlit believes the school renaming was the "perfect choice" because Floyd is a permanent fixture at the school the students can relate to, plus she brings a positive attitude and hope for the students. "I think all she wants is for the kids to be successful with whatever they want to do, and she would give whatever she can to push these kids to success," she adds. "I think that's what's really great about her."
Aydlett says having a community member take such a role and interest in the success of his school and students has been a "humbling expression of service" and an inspiration to him. "It's just so amazing when she gives so much, it makes me want to work harder and give more in service for some of the families with the biggest obstacles in our entire city," he says.
And for her part, Floyd would like to see Leataata Floyd Elementary specialize in teaching math and English. And she plans on doing everything she can to help her namesake and those who attend it succeed.
"They don't know what's coming because I told (Mr. Aydlett) … since the school is going to be in my name, I'm not going to let it slide," she adds. "I'm going to make sure that this is going to be the school."