This Halloween if you are responding to the throngs of children seeking a candy hand-out, you might want to be prepared for what karate kids from Zen Martial Arts in Sacramento will be asking for this year. T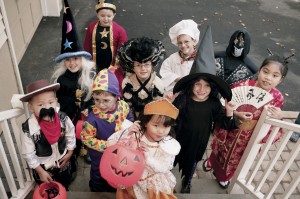 he students are teaming up with the Sacramento Food Bank and Family Services by staging a Trick-or-Treat Food Drive in local communities.
The idea for a trick-or-treat food drive came from Zen Martial Arts instructor, Mike Oliver.
"The martial arts have always been about kindness and compassion," Oliver said. "Now we are taking those lessons out of the dojo (school) and into the world."
"Sacramento Food Bank & Family Services is thankful that some of our tiniest donors are thinking of others in our community on Halloween," said Kelly Siefkin, director of communications at the food bank. "Donations of non-perishable food times go a long way during the holiday season to help families in need."
The kids will be dressed in their costumes like everyone else, but don't worry; students will be practicing their leadership skills by asking residents directly for canned food item donation.
"These kids are as young as three years old so doing a project like this will do wonders for their self esteem and speaking skills," Oliver said. "It's good for the kids, and the community."
All collected donations will be delivered to Zen Martial Arts at the Coloma Community Center for collection and delivery to Sacramento Food Bank and Family Services on Monday, Nov. 1 and Tuesday, Nov. 2.
The Coloma Community Center is located at 4623 T Street, in the UCD Medical Center area in Sacramento.