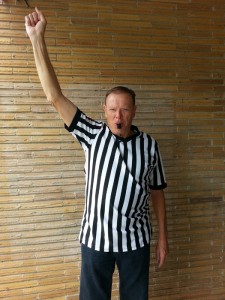 One night I was officiating a high school boys basketball game between Vanden and Vallejo with partner Bill Frisby. Frisby was a bit surly and the kind of guy you would want on your side in a bar fight. (Names have been changed to protect the guilty.)
Before the game, as referee, he announced that he didn't want me to make any calls in front of him (to make him look bad). That meant that within the first two minutes, I helped him with a foul that he missed right in front of him.
The first half was uggggggly. We probably called well over 30 fouls, as there was a lot of testosterone in the building that night. We had called intentional fouls and technical fouls and Bill was struggling. When the half ended he stormed into the locker room, took his whistle that he carried in his hand (most officials have their whistle on a lanyard attached to their shirt) and fired it on to the coach's desk He then spent the next five minutes yelling and ranting about how bad the game was using every curse word I had ever heard.
Finally when he was done, I said, "Relax Bill, everybody is in foul trouble, even some of the cheerleaders, a vice principal and the band director. The coaches will clamp down at half and we will have a great second half. " Bill mumbled some more about how bad the game was and we went out to do the second half.
As referee, Bill put the ball into play at half court and on the game went. It might have been the best 4 minutes and 22 seconds ever played in the history of high school basketball and Bill was nails making "no calls" on many blocked shots. Finally the ball rolled out of bounds in front of me, and I blew the first whistle of the 3rd quarter with 3:38 left.
Bill came ambling toward me as fast as he could move with a funny look on his face and said "Coombs, Coombs, have you got a spare whistle? I left mine in the locker room at half time." I laughed so hard I almost wet my pants. I blew my whistle and signaled a time out. The coaches both were confused and came up to me wanting to know why I had granted a time out. When I told them that Bill had to go to the locker room to get his whistle, one coach said, "Have him leave it there; that was the best I have ever seen him officiate."
My name is Jim Coombs and I have been a basketball official for 45 years. I have probably refereed over 4,200 basketball games. I have officiated boys and girls high school, men's and women's college, recreational, Asian league, summer leagues, athletic club, and semi-pro games in the Sacramento and Northern California area.
I always said when it was no fun or when I got yelled at too much, I would quit. I did this only one time. One Saturday afternoon I was working a summer league game with "wannabe" semi professionals and some members of the Sacramento Kings.
It was 110 degrees in the gym and one team had only five players while the other team had 10. I said this should be a blow-out, thinking that the team with 10 would win easily. Not true! The team with five never missed a shot and won 150 to 100. For 40 minutes, in 110-degree heat, I had to listen to ten lousy, frustrated, bad basketball players tell me how bad I was. When the game was over, I said to my partner, "do you want my last five games this summer?" He was only too happy to take them, and I was only too happy to give them up.
As a high school coach in 1967, I had hoped to move to the new high school as head varsity coach after coaching the junior varsity at C. K. McClatchy High School in Sacramento. My teams had two second places and two championships in four years, and I was ready to move up. Instead the job was given to the Superintendent's secretary's husband, a junior high school PE teacher who had never coached basketball before.
Frustrated, I thought, I never missed a call from the bench as coach; maybe I will become an official. Once I started I was hooked and 4,200 games later at 74 I am still going strong. I move a lot slower now, and some nights it really hurts to run for three hours in three games at the athletic club, but I love almost every minute I am between the lines.
I thought I had seen almost everything one could see on a basketball court in 4,200 games, but on March 6, I had two players (in their 20's and 30's) on the same team get into a fight with each other-cursing and shoving each other just five minutes into the game. As head arbiter, I told them they could not be on the court at the same time the rest of the game.
In the next game with less than two minutes to go and behind by 18 points one team began fouling to stop the clock. When I didn't call a couple of swipes at players, they became angry with me. I said, "You scored only 47 points in 39 minutes, you are not going to score 15 in 1 minute and 10 seconds." After some more discussion and a question about my manhood, I stopped the game. Another fun night on the basketball court.
When I got home, I thought, maybe I should write my memoirs. I have had some really strange and funny things happen to me over 45 years with my black and white striped shirt on. Here we go.