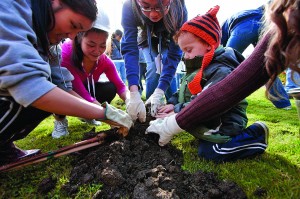 Photo by Jerry McIntire and courtesy Sacramento Tree Foundation.
This year the Sacramento Tree Foundation is celebrating 30 years of planting and educating in the Sacramento region.
According to Ray Tretheway, executive director of the Sacramento Tree Foundation, their mission is to build healthy and livable communities by building the best urban forest in the nation. "So it's equal community building, equal economic prosperity, and equal healthy environment," he adds.
Out On a Limb
According to Meredith King, education/volunteer coordinator of the Sacramento Tree Foundation, they aim to plant, protect and educate community members about the importance and benefits of trees in the community, and to do so look to engage people in one of four ways – planting, volunteering, educating, or joining as a member.
In regards to planting, King said that can be through their Sacramento Shade Tree Program, which provides free shade trees to SMUD customers. "(It's) easy, it's one phone call," she explains. "We have a forester come out to their property, take a look at how much space they have, soil type, and then help the homeowner choose the tree that is best for them and they get to plant them on the property."
Tretheway said the Shade Tree Program has been in existence since 1990 and through SMUD customers over 5,000 shade trees have been planted purposefully for summer shading. "That program is pretty strong and it serves about 7,000 SMUD customers a year," he adds. "I think it's arguably the largest urban tree planting partnership in the world."
Then when an entire neighborhood wants to put in more trees, King said the Foundation offers their NeighborWoods program that provides free trees to an entire neighborhood that wishes to increase their tree canopy. "We're always looking for neighborhoods to really engage as a group and as a neighborhood say we're going to make a focused effort to increase our canopy and take care of it with best practices," she said.
Leaf It to Them
For plantings in civic areas – such as schools, parks, and open spaces – the Foundation relies on volunteer help. King said the Foundation has on average 3,000 volunteers helping them every year.
During the summer season, King said volunteers can help with tree care and maintenance, including mulching, watering and stewardship. Then during the fall season, which runs from October through March, volunteers are needed to help with plantings. To find out about upcoming volunteer events, King advises volunteers to visit their website, www.sactree.com, to visit the events calendar and sign up online.
"All they have to do on the day of the event is show up with closed toe shoes and a water bottle and we provide all the training, all the materials and tools, and they get to have a huge impact in a local place," she said.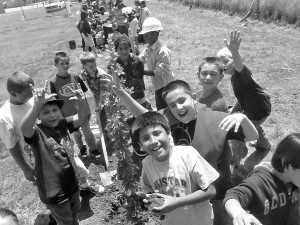 Photo by Anne Fenkner and courtesy Sacramento Tree Foundation.

Being Green
When it comes to education, King said the Foundation offers a number of free classes, from selecting the right tree to proper planting techniques to caring for the tree. Again, King advises visiting www.sactree.com for the most up-to-date list of classes.
For volunteers that would like to take on a larger leadership role, Tretheway said the Foundation offers classes that allow them to become Community Planting Leaders (CPL). "We have so many plantings that oftentimes we run out of staff, so we can train volunteers to go out and they literally run the planting by teaching the volunteers, coordinating the shovels, stakes, ties and trees, and working with the local sponsor," he said.
And for those that wish to help out the Sacramento Tree Foundation but do not have time to commit, King said they can help by becoming a member. She said the www.sactree.com has a full list of all the different membership levels available.
Branching Out
So what does the Sacramento Tree Foundation have in store for the next 30 years?
Tretheway said the Foundation has recently launched an effort to plant 5 million trees in the greater Sacramento region by 2025. He said right now the region's tree canopy is at 17 percent, and a good tree canopy should be at 35 percent.
"We're just carrying on a long tradition and attempting to initiate the second legacy so we can green not only Sacramento, but the entire region," Tretheway adds. "We're working with the development community, business community, and local government, just trying to lift the importance of our trees in people's minds and decision making."
According to King, those that wish to help can visit www.5milliontrees.com and pledge online how many trees they plan to plant to help reach the 5 million goal. "It's going to take more than just our staff in reaching that goal, so our hope is to engage the community again through planting, volunteering and becoming more educated about trees to reach that goal," she adds.
Additionally, Tretheway says the Foundation will continue to help raise the tree literacy of everyone in Sacramento to make sure they understand the importance of planting and maintaining trees in the community. "We just need to bring it up a notch or two so we can continue to be a City of Trees only second to Paris, France," he said. "And if we don't do it, I think we're going to have unhealthier places to live. I think this is one of the best opportunities to help lift up your neighborhood or community or city or county."