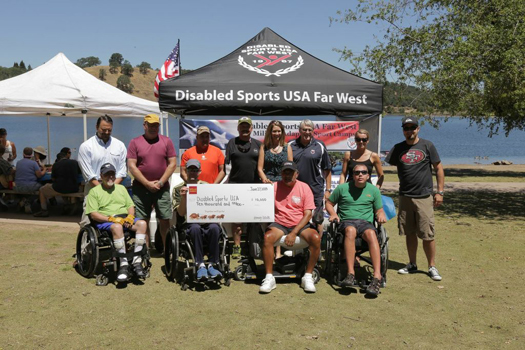 Fifteen veterans of the United States military made their way to Sacramento June 25-29 for the Wounded Warriors Sports Camp. The camp was put on by Disabled Sports USA Far West, and 2013  marked the eighth annual camp, which is designed to show the wounded vets that they can live normal, productive lives with their injuries.
Five of the 15 participants at this year's event (Steven Holston, Shelby Hatch, Steve Mendick, Johnny Comilang and Chad Hansen) hailed from the Sacramento area, while the other 10 make their homes in Oregon, Washington, Nevada and southern California. Haakon Lang-Ree, Executive Director of Disabled Sports USA Far West, talked about this year's crop of warriors.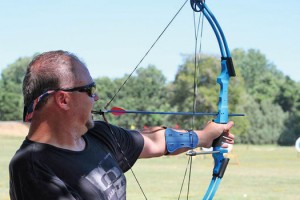 "I thought the chemistry between all the guests was good," Lang-Ree said. "This year's participants varied in age by quite a bit."
The camp is set up to introduce new sports to the wounded veterans. And while the activities are solely recreational in nature, Lang-Ree said that a bit of friendly competition does arise between the Army and Marines when they get together for the annual sled hockey game.
"The sled hockey game is always fun," Lang-Ree said. "None of them have ever done it before and there's a real team aspect."
Sled hockey was just one of many events in which the wounded warriors took part. Also included was water skiing, whitewater rafting, paddle sports, fly fishing, archery, bowling, horseshoes and adapted cycling. Specialized trainers were on hand to teach the guests how to do some of the things that they had never attempted before.
The weekend of the event produced temperatures well over 100 degrees, but the spirit of the camp was not dampened by the blistering heat. "Most of the activities were water-based, so everyone found a way to keep cool," said Lang-Ree.
Most water events were held at the Sac State Aquatic Center on Lake Natoma, except for the white water rafting which took place in the south fork of the American River. Archery and horseshoes were taught at Discovery Park and the sled hockey game was played at Skatetown in Roseville. Also included in the festivities was a trip to a River Cats game.
Lang-Ree went on to say that only one of the 15 wounded warriors was still on active duty. As the years have gone on, he explained, injuries like the ones suffered by the guests of the camp have become less common, as the wars in Iraq and Afghanistan have wound down.
Not all in attendance were wounded in combat, however. Lang-Ree said that about half of them were servicemembers who suffered heart attacks and strokes.
The camp ended with a fundraiser/awards dinner at the Hyatt Regency. Roughly $15,000 was raised, according to Lang-Ree. The money will help ensure that there will be a ninth annual camp in 2014.