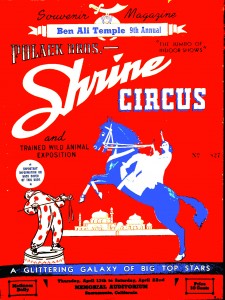 The thought of attending a circus in East Sacramento may seem a bit odd to many locals today.
But in the long history of circuses in the capital city, people once arrived to the area in large numbers to attend circuses.
In September 1907, for instance, the Ringling Bros. Circus – half of the predecessors to the legendary Ringling Bros. and Barnum & Bailey Circus – brought their show to 31st (later Alhambra Boulevard) and M (present day Capitol Avenue) streets. On this 12-acre site, a 14,000-seat circus tent was pitched.
Among those participating in this circus were 1,300 men, women and children, more than half the elephants in America and 658 horses.
A 1914 article in The Sacramento Bee mentioned that Barnum and Bailey pitched their tent at 31st Street, between M and P streets for a then-upcoming circus.
Upon arriving in Sacramento, this circus' animals, which included elephants, horses and camels, were unloaded from nearby trains prior to daylight and walked to the circus grounds.
Another circus was held at 31st and M streets on Wednesday, Aug. 30, 1922.
On these leased grounds, the Ringling Brothers and Barnum & Bailey Combined Circus presented its first Sacramento shows since the joining of these two notable circus companies. This emergence occurred in 1919.
Local media exposure
Announcements for the upcoming afternoon and night shows began appearing in local newspapers during the earlier part of the month in order to increase the awareness and anticipation for the event.
The Sacramento Star, for instance, ran an article about the circus in its Aug. 8, 1922 edition.
The article's headline was directed toward younger Sacramentans, as it read: "Good news for youngsters; circus is coming to town."
Trained animals
Among the trained animals described in the article were 200 Hungarian stallions, six herds of elephants, "the largest Bengal tigers ever exhibited in America," African lions, black panthers, leopards, polar bears, geese, pigeons, pigs, dogs and even skating bears.
Another notable animal performer at this 1922 circus was a baby hippopotamus named "Tiny Toddles."
Other performers mentioned in the article were aerialist Lillian Leitzel, whose act featured turning somersaults from the end of a rope while suspended above spectators, tumblers from Arabia, people who would enter barred cages "to defy death at the claws and teeth of jungle beasts," and the famous horse trainers and riders Adolph Hess, Manuel Herzog and Lillian Compton.
An added draw to most early circuses in Sacramento was their accompanying street parades.
Street parades
After the circus trains arrived in the city, the animals and other performers would parade to the circus grounds to the delight of many spectators who would line city streets.
To the disappointment of many Sacramentans, two days prior to this 1922 circus, The Bee announced that "due to the great amount of work in making ready for the afternoon performance, the street parade feature has been eliminated by the Ringling Brothers and Barnum & Bailey circus."
Sacramento native Dr. Pat Melarkey, a former county supervisor, said that he has fond memories of seeing circus parades in Sacramento during his grammar school years at Newton Booth School at 2630 V St. in the 1930s.
"They always parked the circus train at 24th and R (streets) and they let all the animals out," Melarkey said. "They would walk down 24th Street and clear out to Fruitridge (Road), because all that was vacant (land) and that's where they put up the circus tents. I remember seeing all kinds of animals. There were elephants holding each others tails with their trunks, giraffes, tigers, lions, monkeys, dogs, horses with people standing on their backs, as well as a steam kaleidoscope and circus music. It was a great parade and it was also great advertising."
And in reminiscing about the circus itself, Melarkey said, "I remember seeing a lady who would suspend in the air by holding onto a little red ball with her teeth when I was about 12 years old."
With a chuckle, Melarkey added, "It was at that moment I knew I was going to be a dentist."
The previously referred to 1907 Ringling Bros. Circus also presented a circus parade.
This parade included floats, hand-carved chariots with golden finishes, animals in open lairs, orchestras, a pipe organ, sirens and mounted and military bands.
Additionally, the aforementioned 1914 Barnum and Bailey Circus presented a circus parade, which had a route traveling from M Street to 28th Street, then to J Street to 2nd Street, then from K Street to 15th Street and back to M Street to the circus grounds.
Despite the lack of a street parade for the 1922 Ringling Brothers and Barnum & Bailey Combined Circus, The Bee reported that "truant children and interested adults" made their way to the 31st and M streets circus grounds for a different pre-circus experience on Aug. 28, 1922.
The pre-circus
On that day, they observed the hoisting of the "big top" and other preparations for the 2 and 8 p.m. shows.
Preparing for this circus was undoubtedly a large task, when considering that the circus trains consisted of 100 double-length cars extending one and a third mile.
The number of people aboard these cars alone numbered 1,500, 100 of whom were clowns. The circus also included many foreign acts.
Advanced tickets for the Aug. 30, 1922 shows were sold at the Sherman Clay Piano Co. at 831 J St. Tickets were also available on the circus grounds on the day of the shows.
Another circus company brought their show to 31st and K streets on Thursday, Sept. 16, 1926, when Miller Bros. presented their 101 Ranch Real Wild West and Circus.
In introducing this circus, The Bee presented the following words: "East is east and west is west and tomorrow the twain shall meet in Sacramento."
These unique shows presented entertainment with 1,400 people, including 300 cowboys and cowgirls, 300 Indians and troupes from the Far East.

Performance groups
More specific details about most of the circus' performance groups were presented in an article in The Bee on the day of the 101 Ranch's afternoon and 8 p.m. shows.
The article presented the following descriptions: "Indians in war headdress, cowboys in chaps and spurs, Cossacks in red boots, vaqueros in peaked sombreros and Arabs in white burnooses.
This circus, which included rodeos, Far East displays, a "Russian Cossack band" and an opening drama pageant with lighting effects, was held under a 540-foot-long by 200-foot-wide tent, which was large enough to accommodate 14,000 people.
Unlike the 1922 circus, a circus street parade was associated with the 1926 101 Ranch circus.
Included in the parade, which advertised itself as the largest circus parade showing at that time, were elephants, camels, buffalo and other animals, floats, covered wagons and stagecoaches.
The circus in Sacramento
Circuses have made many stops in Sacramento throughout the years, including circuses held prior to and after the ones mentioned in this article.
One of the earliest, if not the earliest circus to be presented in Sacramento was the Olympic Circus, which was held on lots on K Street, between 3rd and 4th streets, in April 1851.
Another early circus held in Sacramento was Circus Maximus. This circus debuted at the Pavilion in Capitol Park in September 1893.
After many years of absence, Circus Maximus was revived in Sacramento in June 1915, but it eventually ceased its operation in the city once again.
Among the most notable circuses in the capital city was the Polack Bros. Shrine Circus, which was first held at the Memorial Auditorium in 1936.
Other circus companies that presented circuses in Sacramento during various eras included Forepaugh & Sells Bros., Gentry Bros., Mumpitz Bros. and Norris & Rowe.
And adding to the continuously expanding history of circuses in Sacramento will be the Ringling Bros. and Barnum & Bailey Circus' upcoming presentations, which will be held Sept. 6-9 at Power Balance Pavilion.
Lance@valcomnews.com