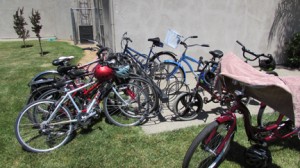 Pocket Area Churches Together held its Second Annual Bike or Walk to Church event Sunday, May 25. Everyone was encouraged to ride their bike or walk to church for exercise and to do their part as good stewards of the environment and also a time to meet and have fellowship between church members in the Pocket-Greenhaven area, according to P.A.C.T. chairperson Rich Fowler. Following Sunday worship services, a progressive lunch was served beginning at Riverside Wesleyan Church for appetizers. The more than 100 attendees then moved to Greenhaven Lutheran Church for a variety of salads; then they were off to Faith Presbyterian Church for the main course of barbecue cheeseburgers. The day culminated with a visit to St. Anthony Parish for dessert where they enjoyed ice cream on a mid-90-degree afternoon.
P.A.C.T. was created by pastors from the various Pocket-Greenhaven churches to bring people of faith together to do various community projects like picking up litter along the Sacramento River and Garcia Bend Park, collect used furniture and distribute to those in need through a non-profit- Love, Inc. (Love in the Name of Christ) and collectively gather food for the South Sacramento Interfaith Partnership (S.S.I.P.) food bank, among other projects.
Planning is already underway for Bike or Walk to Church Sunday 2015, again on Memorial Day weekend.