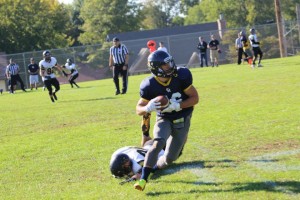 Photo courtesy Alex Gomes is a new assistant coach for Kennedy's football program. He played football under head coach Matt Costa when both of them were at Mira Loma a few years ago.
As the new Cougar stadium at John F. Kennedy High School symbolizes a sense of pride among athletes, the football program itself has seen great changes, including the hiring of some great coaches like Alex Gomes, an all-time leading receiver in the National Association of Intercollegiate Athletics and former California State University, Sacramento quarterback Blake Mori as well as former Sac State line coach Jason Cutone and a few Kennedy alumni.
Head coach Matt Costa spoke with the Pocket News about the football program as it gears up for the third annual rib dinner and auction to be held on Friday, May 1 inside the new stadium. The dinner and auction, which will go from 6 to 9 p.m. will include dinner, raffle, door prizes (must be present to win!) and Games! Tickets are $25 for adults and $15 for children and students. Dinner will include a plate of ribs or chicken, side dishes, a roll and desert. Bottled water or can of soda is included in the ticket price. There will be additional drinks on hand for purchase. Contact Head Football Coach Matt Costa for questions or additional tickets at 508-7831 or email jfk.cougarfootball@gmail.com.
Costa simply loves football. "As a fan there really is nothing like it," he says, "especially at the college level. The pageantry and the effort put in to the game by these athletes at the high school and college level amazes me. As a player I loved hitting people. It's a lot of fun to know that on any given Friday or Saturday you can be a hero to your friends. As a coach, I really love the preparation. The games are fun but it's Monday through Thursday that I enjoy the most. I do miss playing, but I love coaching more."
Costa graduated in 1999 from El Camino High School and in 2000 from American River College, and in 2003 from the University of Saint Mary. He played four years at El Camino High School, two years at American River College, and two years at The University of Saint Mary. He also played one season for the Northern Valley Lions, and one season for the Woodland Wolf Pack.
Costa began his coaching career as a student assistant at the University of Saint Mary. Then he was the defensive coordinator at Immaculata High School in Kansas during a state title run. After that, he moved back home to Sacramento and started coaching at Mira Loma High School as a junior varsity assistant. He left Mira Loma and became the junior varsity head coach at C.K. McClatchy for two seasons, after which time he left CKM to become the first athletic director and head football coach at Cristo Rey High School, where he started the Athletic Program at Cristo Rey. In 2009, he left to become the head football coach at Mira Loma, taking the team to the playoffs for the first time in more than 15 years before coming to Kennedy. Costa also did stints at the semi-pro level with the Northern Valley Lions as their defensive coordinator and with the River City Gators as a linebackers' coach.
Asked what he enjoys most about coaching specifically at JFK, Costa couldn't name just one thing. "I love teaching and coaching at JFK for a multitude of reasons. First, I work for the best principal in the Sacramento area. I am not saying that because he is my boss, I am saying it because it's the truth. The guy holds people to a high standard which I respect. He is as down to earth and as real as it gets. He is definitely a great guy to work for. Second, I love the students and athletes at JFK. A large percentage of my ball players really a working hard at this thing. They have allowed us as coaches to coach them up and as a result each year we have gotten better. The players are buying in to what we are doing. Now I would really like to see the community buy in to the program as much as the kids have. You could really see that buy in from the school when we beat CKM 30-28. Third, the facilities are amazing. Last, I just really love the JFK community, teachers, staff, admin, kids, really all of it. They bought into me when I took this program over at its worst. I mean it doesn't get any lower than it was three years ago. They allowed me to do what needed to be done to get it going again. They bought into me, so I have bought into the JFK community. I love getting up and coming to work."
From making playoffs at Mira Loma to coaching in the Kansas playoffs, Costa has experienced many successes along his career thus far, but beating C.K. McClathcy last year trumps all of that. Speaking about that monumental game, Costa said, "There is a huge rivalry between the two schools and it has seemed to really have been extremely negative since the fight. We were down three scores and came back to win the game. That's tough to do in high school football. That to me was a big turning point in our program. It just shows that we as a staff have spent three years now talking about doing the right thing and it is paying off huge."
There has been a few players over the years that have stood out as star athletes. Defensive tackle Chigoze Nnoruka , "was just one heck of a ball player," Costa says, and Damonte Jones is another off this year's squad. "Your defense plays a lot better with a 4.0-GPA PACE kid running the show," Costa said. Last year, Floyd Hillis-Cooper was by far the most underrated offensive threat in the area. "Him along with Silencio Raktowski at Line Backer my first two years here really helped to keep things going when success was measured in just being able to put a squad on the field all season.
"Prior to coming to Kennedy I would have to say Alex Gomes, now my assistant coach, was by far the one that stands out I my mind. He was simply amazing. He made more plays in bad situations than anyone I have ever coached. By far the best overall football player I have ever been around. He was one of those guys that would take an entire team on his back and force them all to win a game. He is by far the best overall competitor I have ever coached. If someone put him in a circle drawing competition he would figure out a way to win that too."
Alex also spoke with the Pocket News about playing under Costa at Mira Loma and his current position as assistant coach. "The relationship is different. He's still my boss. I get a little bit more say now. It's good because we both trust each other. It's a healthy environemnt. We're able to talk out what we are thinking, always end up coming to a conclusion as team," he said.
Recalling what playing football was like before Costa came to Mira Loma High School, Alex said the team hadn't had a lot of success. Alex said he never had much control over the field, but Costa was able to bring out that strength out of Alex. "With Matt, it was the best season I ever played and I would do anything he asked."
Including coaching for him. Alex always wanted to get into coaching, so when Costa asked if Alex would be his assistant coach, Alex took the job (which was back in November) with open arms. "It's a good opportunity for me and I'm glad to help out."
Alex graduated with a bachelor's degree in history and earned his social studies teaching credential. He has been substitute teaching at JFK.
If you go:
What:
Third annual rib dinner and auction
When:
Friday, May 1 at 6 p.m.
Where:
Cougar Stadium at John F. Kennedy High School, 6715 Gloria Dr.