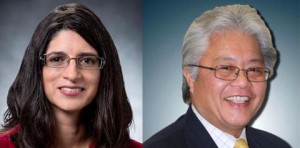 Dear readers: In an effort to help get out the vote and provide the public with relevant information regarding our area's school board candidates, the following is our question and answer special, featuring incumbent Darrel Woo and challenger Maria Haro-Sullivan. Also, the Pocket News has teamed up with NextDoor Pocket to provide the public the opportunity to witness a debate between the two school board candidates.
Set to begin at 3 p.m. at the gymnasium at Genevieve Didion School on Sunday, Oct. 5, the debate will be moderated by California State University, Sacramento debate team coach Jared Anderson. Following introductions, the debate will start with a question will be asked to candidate one (which will be determined by a coin toss). That candidate will have four minutes to answer. Then, candidate two has two minutes to cross examine candidate one, after which time candidate two has four minutes to answer that same question. That format repeats but candidates take turns answering the question first. There will be time for six questions. The debate will last approximately one hour.
Sincerely, Monica Stark
PLEASE PROVIDE A SHORT BIOGRAPHY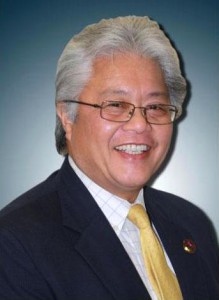 Darrel Woo has been putting our kids and community first for over 38 years. He has served as a teacher, school board member, public official and community volunteer. For 10 years Darrel taught law classes at Lincoln Law School where he helped students develop critical thinking skills and obtain degrees in higher education. He continues to mentor and tutor many students in Sacramento and has founded a scholarship fund to help those with financial needs.
Darrel is also a parent a longtime community volunteer. He co-founded one of the region's largest and most successful nonprofit organizations committed to helping women and children who are victims of domestic violence and abuse. Elected to the school board in 2010, Darrel drew on his extensive education and community experience to lead the district out of the worst fiscal crisis in three generations. Under Darrel's leadership the district balanced its budget, increased graduation rates, improved student achievement, and modernized classrooms with the latest technology.
Darrel has a bachelor's degree from UC Berkeley and a Law Degree from Lincoln Law School. He is married and has lived in the Pocket area for over 44 years. Both Darrel and his daughter Alyson are graduates of Kennedy High School.
Darrel graduated from UC Berkeley and later obtained a Law Degree from Lincoln Law School. He is passionate about teaching and education because his parents instilled in him the importance of giving back to others. He chose to teach classes at Lincoln because he wanted to help others learn important material that would help them advance in their careers. He chose to serve on the school board because he wanted to utilize his teaching and governance experience to make sure kids in Sacramento are getting the best education.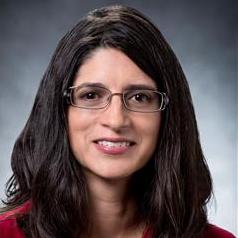 Maria Haro-Sullivan has a bachelor's degree in Economics and a minor in Environmental Studies. She is a mother of two children current enrolled in the Sacramento City Unified School District. Maria's involvement with Sacramento City Unified School District began as a parent volunteer at Genevieve Didion. She quickly realized students were not receiving basic services "due to bureaucratic red tape" and found herself advocating for parents and children before the district's central staff and the school board.
Over the years, Maria has navigated the district's bureaucracy to solve problems such as securing math books for local classrooms, securing long overdue upgrades to classroom computers, improving deficient lighting in classrooms. In addition, she has participated in the development of Bully Prevention Board Policy as well as the creation of parent training to understand school site and district budget. She developed DAC's Budget Advisory Committee (parent committee) and site council training. Through her advocacy, district financial reports are on the website and updated each month.
WHY ARE YOU RUNNING FOR SCHOOL BOARD? WHAT ARE YOUR TOP THREE PRIORITIES?
Maria Haro-Sullivan: I am running for School Board because we need a board member who is in touch with our students, parents and teachers who know how to advocate for them.
As a board member, will continue to work with students, parents, and our community to:
1. Continue to demand fiscal responsibility
2. Put more resources in the classroom
3. Ensure all stake holders have a voice by creating an environment for authentic dialogue
Darrel Woo: Four years ago I ran because I wanted to utilize my 30-plus years of experience to make sure our kids are getting the best education. I am running for re-election for the same reasons. The difference is that now I am bringing four years of experience to the job. It takes time to learn how to be the most effective board member and developing these skills only comes through actual experience on the board. The knowledge I've obtained in the past four years about the inner workings of the district and how to be an effective board member will help me do even more to help kids in my second term.
My priorities as a board member are to do the things we must do to make sure kids in SCUSD schools are getting the best education. Based on my experience on the board, those things are:
Promote high quality programs that will attract students to SCUSD and boost enrollment numbers. This is important because it helps the district generate more revenue which will result in more resources for the classroom.
Engage the community in decision-making and develop solid partnerships. The new Local Control Funding Formula will help SCUSD obtain more state funding. However, we must meet all the requirements and a key requirement is community engagement. I will draw on my 38-plus years of experience in reaching out and engaging the Sacramento community to help SCUSD meet this requirement and obtain the most state funding for our district.
Provide teachers with the training and tools they need to be successful in the classroom. New Common Core Standards require students to learn analytical and critical thinking skills. I will draw on my nine-plus years of experience in teaching critical thinking courses to make sure that the district's training materials for teachers are adequate in helping them be effective teachers for our students.
WHAT DO YOU THINK ABOUT THE SCHOOL REFORM MOVEMENT? AND, WHAT'S YOUR OPINION OF IT LOCALLY?
Darrel Woo: The term "school reform movement" means different things to different people. Teachers unions label "school reform" as the privatization and corporatization of our school system. Many civil rights activists view it as a solution for addressing dropout and failure rates among predominately low income and minority students. My view is that the school reform movement arose out of the frustration of parents who don't believe the public school system is adequately serving their children. Locally, the issue has been even more polarizing because the Mayor's wife is a national leader of the school reform movement.
I believe we shouldn't be so concerned with labels. We should all be working together to make decisions that are in the best interest of children. We should also be doing everything we can to ensure that public schools are addressing the concerns of parents. We need to remove the bias we have toward both school reformers and teachers unions. Instead, we should all be coming together to make evidence-based decisions that solve the problems our schools face. This should be the goal of both school reformers and teachers unions, to help the kids succeed.
Maria Haro-Sullivan: Unfortunately, some people have approached the development of charters as a business, and in effect, turning public schools into a privatized educational system financed by taxpayers. Independent charters cause a drain precious resources from public schools accepting only the highest achievers leaving those students with highest need to public school.
WHAT ARE THE BIGGEST ISSUES FACING POCKET-AREA SCHOOLS? HOW DO THESE ISSUES COMPARE/CONTRAST TO SCHOOLS IN OTHER NEIGHBORHOODS?
Maria Haro-Sullivan: The primary issue facing the schools in the Pocket/Greenhaven is the inequity of funding. The inequity of funding began by the previous superintendent (with board approval) to change the eligibility requirement for Title 1 allocation from 25 to 50 percent based on students who qualify for free and reduced lunch. There are approximately 54 percent children attending Pocket/Greenhaven schools that qualify for free and reduced lunch. Under the federal minimum standard for eligibility 90 percent of our schools should receive Title 1 funding. Under SCUSD current eligibility level only 60 percent of our schools receive Title 1 funds. Due to the higher qualification level this causes a financial strain on those schools who do not qualify for Title 1 under current SCUSD eligibility. School who do not receive Title 1 money are forced to find outside sources (fundraising) to make up the difference from the money received from the district.
This issue is compounded district wide. There are sites who receive too much money they cannot possible spend it all in one year leaving millions of unspent monies at the end of the school year. Many schools in Pocket/Greenhaven area end the school year with negative account balance.
Darrel Woo: The biggest issue facing Pocket-Area schools arise out of the Local Control Funding Formula ("LCFF") and the allocation of those funds via the Local Accountability and Accountability Plans ("LCAP").  The LCAP is a three year rolling spending plan addressing the additional funds provided the LCFF.  However, while the Sacramento City Unified School District is 75 percent free and reduced lunch, and many many English Language Learners, there are not many who fit that category within the Pocket/Greenhaven SCUSD, Trustee Area 6.  Thus, while some funding might be available for students falling within the three categories, not much of that money stays within the Pocket/Greenhaven area.  Therefore, parents and community will still be relied upon to provide additional funding for students in Pocket/Greenhaven.
HOW HAVE THE CLOSURES OF SCHOOLS IMPACTED THE POCKET AREA?

Maria Haro-Sullivan: The closure of seven schools will have a financial impact on Pocket/Greenhaven schools. The closure of the school will actually cost the district far more money than the initial projected saving was an estimated $1 million a year. According to SCUSD year end financials the maintenance cost of the 7 schools closed schools is over $600,000 a year. The $600,000 does not include the additional costs of the staff that were reassigned to different SCUSD schools. Plus the additional of logistical cost such as cost of buses, moving portables, installation of bathroom etc. These costs exceed the districts estimate savings. These costs are offset by funding that should be used to help students in Pocket/Greenhaven area.
Darrel Woo: This round, none of the seven schools that were closed were within the Pocket/Greenhaven area.  However, school closures affect every area as other areas absorb the children from the closed schools.  That said, three Greenhaven schools were previously closed and today serve the community; two as independent charters and one as a dependent, Waldorf Inspired Charter.  I am fighting to have those closed schools serve as community centers and not blights on their neighborhoods.
DO YOU HAVE ANYTHING ELSE TO ADD?

Darrel Woo: I look forward to earning another four years in office so that I can continue my work to help students be successful in their education and careers. I enjoy the work I'm doing and am excited about continuing to serve the kids. Nothing is more fulfilling to me than knowing the work I put into the board is resulting in a brighter future for our children.
Maria Haro-Sullivan: Budget transparency and accountability have been a top priority. I've collaborating with a core group of parents focused on analyzing the district's budget; we helped expose millions of dollars spent on unnecessary contracts to outside vendors. The media's attention to this issue forced the school board to cut millions in wasteful spending. We also helped expose how the district ends every year with millions of dollars in unspent funding at school site level. The mismanagement of school funding is a major concern to because schools in the Pocket area are continuously denied funding for basic items, forcing parents to pay for materials that should be covered by the district.