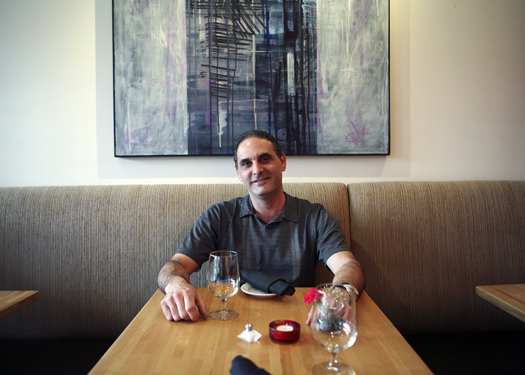 Ravenous Café owner Wade Sawaya fondly remembers the wonderful dishes his mother made for her family and the love and care she added to make each meal special.
Born in the Azores Islands in Portugal, Sawaya had his first experience in the restaurant business washing dishes at the air base where his father worked as a civilian.
"When I decided to join the Air Force years later, I still had a part-time job waiting tables," Sawaya says. "I decided to keep on that path."
Sawaya has been in the restaurant business for over 20 years and is a certified Sommelier. Sawaya worked for the world renowned Broadmoor Hotel and many other fine establishments before buying his own restaurant. He believes what is most important is making sure the diners have a good time. Sawaya is completely dedicated to his business and doesn't mind working 24/7.
Ravenous chef, Roberto Lainez has been preparing appetizing dishes for close to seven years and Sawaya says he is incredible.
"I can pretty much do what I want here, making my own twist on the food," Lainez said. "If someone comes into the restaurant and wants something a little different than what is on the menu, I try to remain open to their ideas."
Lainez is from New York and started his career there. He said he has always enjoyed trying new restaurants to see what other chefs are making and still enjoys going to new places.
Sawaya moved to Sacramento from Boulder Colorado after he bought Ravenous in August 2011. Sawaya likes the fact that Sacramento is in the heart of good wine. He said the Pocket is a great neighborhood and the people are friendly.
"This is your restaurant," Sawaya says. "It's Pocket's fine dining in a relaxed atmosphere and people don't have to drive too far."
A specialty offered by Ravenous is the endless mimosas for $10 when ordering an entrée for Sunday brunch. The signature dish at Ravenous is the risotto. There is a different risotto every day in addition to the fish of the day. Arctic Char and Barramundi are a couple of the chef's favorites. There is a European influence in most of the dishes prepared. Ravenous changes their menu each season to provide the freshest ingredients in their food.
"I love it!" says Karen Waring, a Pocket resident for 22 years. "This place stands up to any restaurant downtown."
Waring said it's nice to have a restaurant so close that serves gourmet food. There's a good wine selection and Waring said it's also a nice place to just order appetizers and wine with friends.
Ravenous believes in supporting small businesses and buys everything locally. As part of their wine selection, they carry Scribner Bend wines, a local winery from Clarksburg, Bella Bru bakery breads, produce from Produce Express, which are all the local farms with an 80-mile radius and their meats from Preferred Meats out of Oakland.
A native of Sacramento, Skip Lee provides the art on the walls at the restaurant. The art adds warmth.  Sawaya wants people to feel cozy, like they are at home.
"I feel like I'm entertaining folks every night in my dining room," Sawaya says. "Great music, great food and great wine."
"Over the years I have learned the importance of beginning with the freshest ingredients, preparing them with care, and serving them with love so that people do not just have a good time at a restaurant, but they felt like they were treated like family."
Sawaya highly recommend reservations.
Ravenous Café is located at Pocket Road and Greenhaven Drive.
The hours are as follows: Thursday through Sunday dinner 5-9 p.m.; Tuesday through Friday lunch from 11 a.m. to 2 pm., Sunday brunch from 10 a.m. to 2 p.m. and Saturday dinner (no lunch) 5 to 9 p.m. (Endless mimosas for $10 with purchase of entrée).
Ravenous is closed Mondays. The restaurant will serve a five-course prefix menu on New Year's Eve for $75 per person. Reservations are required. Visit  http://www.ravenouscafe.com/ or call 399-9309 for details.