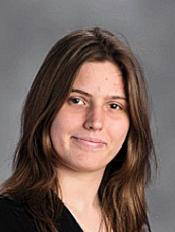 Health Professions High School salutatorian, Adrianna Gabellini, is headed to UC Berkeley.
The following is a statement from principal Marla Clayton Johnson about the class of 2015.
"I am so proud of the accomplishments that our HPHS Class of 2015 can boast. They exceed our very high academic and behavioral expectations by becoming Powerfully Prepared for College and Career! We were impressed as we have watched the Class of 2015 grow and transform into Responsible Citizens and Independent Critical Thinkers through the work they do with our industry partners and within their own communities. They engage in unique opportunities and step outside the box as they move towards becoming Determined Lifelong Learners. And after multiple integrated unit projects, presentations and Senior Project Defense Panels, they have proven to be Excellent Communicators! Good luck Jaguars!"
The following students received the Health Professions High School Diploma of Excellence which is 250 credits including college courses and 100 hours of community service
Ethan Chu
Kristine Naidu
Arturo Nambo
Karina Rios
Nou Thao
Angela Nga Tran
Alissa Vang
Izza Jan Villarino
The following are this year's graduates from Health Professions High School:
Miguel Acuna-Silva
Carmen Maria Del Lopez
Gabriel Martinez
Joaquinangel Aguinaga
Isaac McClinton
Anthony Arevalo
Kimberly McFall
Sean Aiken
Bella Moody
Ashlee Barcklay
Nkayla Morris Barnes
Yaritza Benitez
Samantha Munoz
Kameron Brown
Kristine Naidu
Nicolas Castle
Arturo Nambo
Ethan Chu
Tyler Olynick
Zoe Corralejo
Martin Ortiz
Pablo Flores
Martin Perez Mendoza
Ivone Fortier
Chioneso Riddick-Drew
Domingo Fraga-Gomez
Karina Rios-Lozano
Adrianna Gabellini
Christopher Silva
Alexis Gibbons
Unaisi Tawake
Michael Halley
Nou Thao
Joanna Hernandez
Nga Tran
Jocelyn Hernandez
Alissa Vang
Alfredo Jaime-Perez
De'Marques Johnson
Vicente Vicente
Iselma Letourneaux
Izza Jan Villarino
Kenneth Williams
Health Professions High School is located at 451 McClatchy Way.