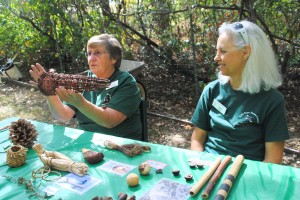 At the Effie Yeaw Nature Center, a staple of promoting outside activities and education, people can come and learn about the animals, trees and insects that call our region home.
At the annual Nature Fest on Sunday, Oct. 6, families learned about safe and healthy outdoor recreation. From lessons on fly-fishing to Maidu demonstrations, information on the health of the creeks, and of course, live presentations featuring bats, a bald eagle, a kangaroo, a raccoon, the community awareness event was a fundraiser for the center that has free weekend programs for anyone looking to learn more about the native creatures.
A bit about bats
"People say bats are flying mice, but they are more closely related to a dog than a rodent," said Corky Quirk, the founder of NorCal Bats, a local bat rescue, who brought along four bats, each of which came in for different reasons from different places.
Through out the greater Sacramento area, bats can be found living in trees, buildings, the causeway, under bridges. "You don't have to go all that far to see large groups of bats flying out," as Quirk said.
None of these bats she demonstrated can fly outside of their cages. All injured, some cannot fly at all. "Some can only for a lack of a better word, glide," Quirk said.
A pallid bat was injured in a roofing accident in Napa; one of the big brown bats came into care in Tahoe with a wrist injury; the other big brown bat she brought in was just a pup that was living in a palm tree. The owner was afraid of bats and had the tree cut down while. And the fourth bat, a Mexican free tail, was injured by a cat.
While the pallid bat is a species of concern in California, especially in Sacramento due to pesticide use, Mexican free tails and big brown have learned to live with humans.