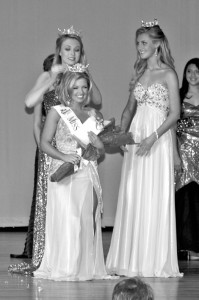 San Juan Unified School District teacher Ashley Newman, 24, was crowned Miss Sacramento County at the 62nd Annual Miss Sacramento County Program held on Saturday, Feb. 9 at the New San Juan High School Theater.
Newman is working on her teaching credential through California State University, Sacramento. She is a graduate of the University of California, Davis, where she received her Bachelor's degree in communications with a triple minor in English, history and writing.
Ashley teaches English at El Camino and coaches two high school speech and debate teams in the Yuba-Sutter area. Ashley enjoys working with teens on an educational level, but is particularly passionate about mentoring these young adults. As a volunteer for Big Brothers Big Sisters and a strong advocate for teen mentoring programs, Ashley is currently helping to start a non-profit organization that deals with mentoring youth-at-risk.
"I think the judges chose her because she is such a joy to be around," said program director April Smith.
"She radiates confidence and her resume is incredible.  She is currently teaching English at El Camino High School for the teaching credential program through Sac State, but she also mentors and teaches kids in juvenile hall.  She is also establishing her own non-profit program, Dream Builders: Empowering Youth.  She sets goals and accomplishes them and that really makes her amazing.  She is a young woman who you just know will achieve anything she sets out to do," Smith said.
At a young age, Ashley was introduced to ventriloquism by a member of her church. After years of being fascinated by the talent, Ashley began practicing for hours in front of a mirror and began studying the routines of various famous ventriloquists.
Now, as a self-taught ventriloquist, Ashley enjoys entertaining audiences with her puppet, Granny Mildred. As Miss Sacramento County, Ashley is especially excited to perform ventriloquism when she visits the Children's Miracle Network hospital of Sacramento.