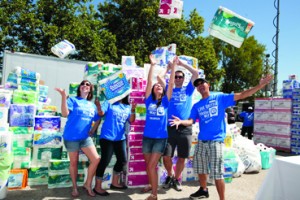 United Way California Capital Region is asking the community to spare a square by donating to its 6th Annual Toilet Paper Drive on June 12 that helps local nonprofits offset the cost for this staple item, including two East Sacramento nonprofits. Local nonprofits spend anywhere from a few hundred to thousands of dollars a year on toilet paper – money that could be invested in programs changing lives.
Sacramento Life Center, whose primary medical clinic and headquarters are located in East Sacramento, spends $1,300 a year on toilet paper between its primary clinic and its two Mobile Medical Clinics. Thanks to the Toilet Paper Drive, Sacramento Life Center will instead be able to provide the 2,000 women and teen girls they see each year with 80 free pregnancy testing appointments, 70 free STD testing appointments, 40 free ultrasounds or 25 free well woman exams.
TLCS Inc., also based in East Sacramento, spends $7,520 a year on toilet paper through its interim housing program for people with psychiatric disabilities who have been homeless. Instead, the nonprofit will be able to provide food for a month for all 113 residents.
Last year's drive raised 229,485 rolls of toilet paper and this year's goal is 240,000 rolls.
"We all take toilet paper for granted, but our nonprofit partners sure don't," said Stephanie McLemore Bray, United Way president and CEO. "At a dollar a roll, this drive will help more than a hundred local nonprofits save $240,000. Every dollar counts, and so does every roll. Together, we can make sure nonprofits have the resources to do what they do best – change people lives."
United Way's Toilet Paper Drive will take place 7 a.m.-7 p.m. on June 12 at the Cal Expo main entrance, 1600 Exposition Boulevard in Sacramento. Residents also can donate toilet paper online at  www.yourlocalunitedway.org/tp-drive. For updates, visit facebook.com/uwccr or follow @unitedwayccr and #tpdrive on Twitter. Senior Gleaners, a Sacramento nonprofit, will store the toilet paper and help distribute it the following week to many of United Way's 160 certified nonprofit partners in Amador, El Dorado, Placer, Sacramento and Yolo counties.
Partners in United Way's Toilet Paper Drive include FOX40, Sac-Val Janitorial Supply, Clear Channel Media & Entertainment, Clear Channel Outdoor, The Sacramento Bee, Senior Gleaners, Cal Expo and River City Printers.
For 90 years, United Way California Capital Region has actively worked to address the community's most pressing issues, now focusing on innovative solutions related to high school graduation rates, household financial stability and obesity. United Way's team of nonprofits, businesses, donors and volunteers have formed the Live United Movement to provide positive, measurable results on these issues through United Way projects: STAR Readers, $en$e-Ability and Fit Kids. Community members can give, volunteer and advocate in support of the causes they care most about, benefiting United Way and hundreds of nonprofits in Amador, El Dorado, Placer, Sacramento and Yolo counties. United Way is an independent, local affiliate of United Way Worldwide. For more information, visit www.yourlocalunitedway.org.