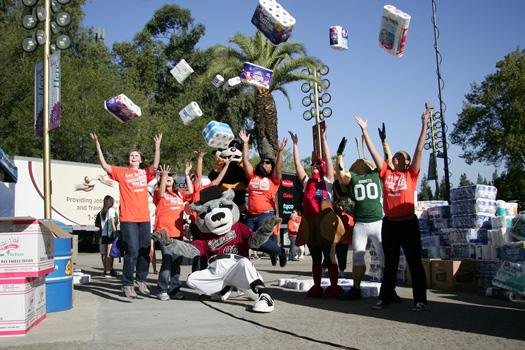 Two Arden-area nonprofits will benefit from United Way California Capital Region's 5th Annual LIVE UNITED Toilet Paper Drive on June 13. United Way is asking local residents to "spare a square" and help local nonprofits wipe out the cost for this staple item.
Local nonprofits spend anywhere from a few hundred to thousands of dollars a year on toilet paper – money that could be invested in programs changing lives. Sacramento's Volunteers of America spends $20,000 each year on toilet paper, which would pay for five months of meals for every man, woman and child in its family shelter.
Atkinson Youth Services, based in the Arden area, spends $7,920 each year on toilet paper between its six group homes, six foster families and a school for children with varying disabilities. Thanks to the Toilet Paper Drive, the nonprofit can give toilet paper to foster families, pay for extra activities for kids in the group homes and provide a summer activity for the school.
"The savings allows us to spend money on direct services to our children instead of purchasing toilet paper," said Jeanny Rapp, public relations representative for Atkinson Youth Services. "One of our foster parents spends $40 a month on toilet paper. She is grateful to United Way's Toilet Paper Drive, which allows her to spend her money on taking care of her six children instead of buying toilet paper."
The Discovery Museum in the Arden area spends $550 a year on this needed staple. Thanks to United Way's Toilet Paper Drive, the museum can funnel that money into two scholarship outreach programs that give 60 kids the chance to experience hands-on science in their classrooms. Many teachers in underserved schools do not have the resources to offer their students a field trip experience to learn core curriculum science. The museum offers 10 different "Science on Wheels" programs, bringing hands-on science experiences to the school.
"All of our children deserve a solid foundation and inspiring experiences to encourage them to pursue rewarding and meaningful careers," said Susan Douglas, Discovery Museum's director of public programs. "The dollars saved on toilet paper will allow the museum to deliver two scholarship programs, bringing exciting science center programming right into the classroom."
The drive will take place 7 a.m.-7 p.m. on June 13 at the Cal Expo main entrance, 1600 Exposition Boulevard in Sacramento. Residents also can donate toilet paper online at  www.yourlocalunitedway.org/tp-drive. For updates, visit facebook.com/uwccr or follow @unitedwayccr and #tpdrive on Twitter.
Last year's drive raised 177,451 rolls of toilet paper and this year's goal is 190,000 rolls in celebration of United Way's 90th anniversary. Sac-Val Janitorial Supply will donate one roll for every three rolls collected.
"It's amazing the expenses nonprofits face that people don't think about," said Steve Heath, United Way president and CEO. "Nonprofits work magic with their budgets to make a positive difference in countless lives in our region, but there's only so much they can do. Donating toilet paper is a great way to join together and ensure more money goes toward vital programs that change people's lives."
Foodlink, a Sacramento nonprofit, will store the toilet paper and help distribute it the following week to many of United Way's 148 certified nonprofit partners in Amador, El Dorado, Placer, Sacramento and Yolo counties.
Woodland United Way also will hold a toilet paper drive on June 13. Toilet paper can be dropped off at the Heritage Plaza on the corner of Main Street and Second Street in Woodland. For information on the Woodland drive, call (530) 662-3633.
Partners in United Way's Toilet Paper Drive include FOX40, Sac-Val Janitorial Supply, Clear Channel Media & Entertainment, Clear Channel Outdoor, The Sacramento Bee, California Emergency Foodlink, Cal Expo, AT&T, The Golden 1 Credit Union, River City Printers, Plumbers & Pipefitters Local 447, Association of Plumbing Mechanical Contractors and Mechanical Contractors Association.
For 90 years, United Way California Capital Region has actively worked to address the community's most pressing issues, now focusing on innovative solutions related to high school graduation rates, household financial stability and obesity. United Way's team of nonprofits, businesses, donors and volunteers are working together to provide positive, measurable results on these issues through United Way projects: STAR Readers, $en$e-Ability and Fit Kids. Community members can give, volunteer and advocate in support of the causes they care most about, benefiting United Way and hundreds of nonprofits in Amador, El Dorado, Placer, Sacramento and Yolo counties. United Way is an independent, local affiliate of United Way Worldwide. For more information, visit www.yourlocalunitedway.org.