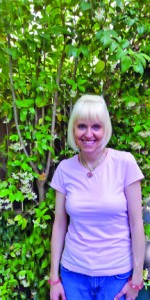 Set in the early 1960s to late 1980s, "What Becomes a Legend Most," a new book by Pocket resident, Kathey Norton, follows the story of Cassie Hamilton, a singer and rock musician. The book details her past as a sexually abused child, her time spent on the road with a British heavy metal band, bad relationships, her struggle to overcome drug and alcohol problems, her fight against sexism and the attitude during that time period that female musicians could not compete with male rock musicians, and her rise to the top and all the positive and negative aspects of fame. This book is for anyone who loves music and enjoys reading about the lives of musicians.
Intrigued by the lives of musicians and having always wanted to be one herself, Kathey said writing the book was her opportunity to live out a little fantasy of what it would have been like to have been a woman fronting a rock band in the 1970s and '80s when women were still not respected as musicians, or taken seriously by their male musician counterparts or the music industry in general. In an interview with the Pocket News, Kathey discussed more about the impetus for writing the book: "I'm fascinated by the lives of musicians and the fact that some of them don't have any boundaries or set limits for themselves when it comes to living life. It has always amazed me that they can venture out to the very outer edge of what society considers the norm and have these incredible experiences that most of us can't even imagine, and if they live to tell the tale, all the better."
Kathey said the inspiration behind the book came about after listening to Lou Reed's song called "What Becomes a Legend Most." "I started thinking about that song and it translated in my mind to a woman who had ambitions of her own, but she lost them along the way and now just feels very used up by the male musicians who pass in and out of her life."
Listening to a lot of music when she writes, Kathey actually sees everything like a movie in her head. She said she knows exactly what music she would have in each scene and how she would shoot the scene. She said she knew how to write plays in the 80s, but didn't know how to write screenplays so she wrote novels instead, always thinking she would eventually learn how to write screenplays and direct the films for her own books. She said she would still like to do that and learn how to score the music for the films, too. She's adapted screenplays for about three of her novels.
"I'd love to get this book to director Cameron Crowe. I've even written a screenplay that is a sequel to the original 'Dirty Harry' film, but so far I haven't had any luck getting it to Clint Eastwood. I'm such a fan of that series and really wanted to write one last movie to tie up that entire series. If he could just read my screenplay. It would be awesome!"
"What Becomes a Legend Most" is Kathey's first book to be published, but the fourth novel she said she has completed. "I hope to get the other novels published, too. It's a very writer thing to say and it almost makes me cringe to say it, but I feel like I owe it to all my characters to have their voices heard and their stories out there. They spent many, many years in my head and kept me company on many lonely nights, so I think it's my responsibility to give them an opportunity for others to either love or hate them. They're all very flawed in one way or another, but I love putting characters into conflict and seeing how they respond to that."
The book's now availability is a long time coming for Kathey who wrote the draft in 1989, but unfortunately due to her mother's declining health, her writing took a back seat. Her mother was diagnosed with Alzheimer's when the budding writer was in her early 20s, just as she started getting poetry and articles published – a time when she could write a novel every three to six months. "When (Mom) got sick, it changed everything, and as her primary caregiver, I had to juggle working full time, taking a full-course load at college, and caring for her, so the things that fell by the wayside were my ambitions to be a writer and desire to improve my music skills enough to start my own band."
But fast forward, in 2010, Kathey decided to dust off all her old manuscripts and take a fresh look at her body of work and start trying to reawaken the writer in her that was apparently in some type of coma during all those years caring for her mother.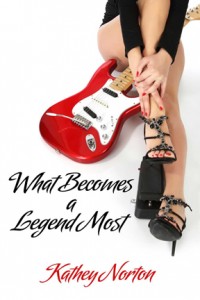 Kathey grew up in Downtown and also lived all over Midtown, when there were only a few restaurants there and not the scene that's there now. She lived across from New Roma Bakery and Washington Elementary.
Reminiscing her childhood, Kathey said: "In the early '70s, the Sacramento City Unified School District decided to bus poor and minority kids to Caroline Wenzel (Elementary). So, being a poor kid paid off for me because I was given the opportunity to attend a wonderful elementary school. The bus ride every morning into the Pocket area was cool because there were a lot of open fields, but for all of the new houses that were being built, it seemed like they all had swimming pools. It was a different reality than I was used to, but I loved the school and had great opportunities there.
"I remember that Mr. Bone was the principal and he was so kind to my mother and me. When I broke my thigh during first grade, he made sure the school provided a private tutor to me. My mother couldn't afford to do that, but he made that happen and I am very nostalgic about Caroline Wenzel. I also attended Theodore Judah Elementary, Sutter Middle School, and Sacramento High, where I was so shy I couldn't look anyone in the eyes, and I went on to earn a bachelor's of arts in communication studies and a master's in government from CSUS (California State University, Sacramento)."
Kathey now works for the State of California as a manager in the policy division and used to be a marketing director for a private law firm and loved it. She was laid off at the end of 2007, and she said that made her realize that she needed to find employment with more job security.
"I'm very lucky to work with very dedicated people and who allow me to be the crazy writer, aspiring musician chick. I sleep only two hours a night, so I can fit in all my creative interests around my work schedule."
Kathey has an aunt and some cousins in Sacramento, but "that's it," she said when asked if she has family in the area. "Both of my parents and one of my older brothers passed away. I have another older brother who lives in Oklahoma, and he sounds like he's from Oklahoma now even though he grew up in Sacramento, too."
Kathey is a strict vegetarian and is active in animal rights issues and politics. "I really care about the Pocket area and I have a friend who calls me the 'Pocket Area Activist.' I've toyed with the idea of running for District 7 City Council one day. "Councilmember Fong has been so nice and patient in putting up with all of my complaints and issues over the years. I want to thank him for that. Rick Jennings doesn't know what he's in for with me."
Kathey really loves this area and enjoys walking around the neighborhoods. When she first moved to the Pocket, it felt like the country to her after having grown up downtown. "I have learned to appreciate the peace and quite, and I enjoy petting all the dogs in the neighborhood. I may not remember your name, but I'll definitely remember your dog's name. I really love the idea of Nextdoor.com. We have a very active group here in the Pocket and we don't always agree on everything, but it's great that we discuss issues that affect our community. I'm also taking voice lessons and guitar lessons with the idea that I'm still going to start that band that I never got to start. So I apologize in advance to my neighbors who will have to listen to my garage band one day very soon. I refuse to let that dream die. It's just something I have to do before I leave this Earth."