More than 10,000 people from all over the state crowded the streets near the State Capitol downtown to celebrate the heroic acts of Anthony Sadler, Alex Skarlatos, and Spencer Stone despite a hot and smoky Friday, Sept. 11. The young men, on vacation in Europe to celebrate National Guardsman Skarlatos's return from his duty in Afghanistan, stopped a potentially lethal attack on a train in France.
Intense community pride permeated the day and all of the events' attendees. A parade of the men's family members, representatives from Del Campo and Rosemont high schools, Sacramento State, Mayor Kevin Johnson, city council members and legislators marched down Capitol Mall and gathered at the Capitol. The excitement of the rally was punctuated with bursts of confetti and a large American flag hanging over the Mall.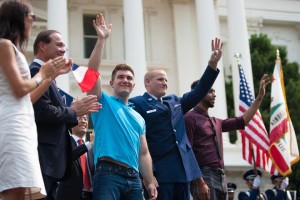 Photo courtesy of Youzhi Ma, The Epoch Times Hometown heroes Alex Skarlatos, Spencer Stone and Anthony Sadler wave to their fellow Sacramentans at the parade on Friday, Sept. 11.
"It was not a surprise, nor was it an accident that of the hundreds of international passengers on that train that it was three Americans who acted with such courage," Sacramento Mayor Kevin Johnson said in a speech in a rally on the steps of the state Capitol building. "And it was not a surprise nor was it an accident that these Americans were Sacramentans."
Mayor Johnson awarded the men keys to the city and legislators broke from intense last minute legislative negotiations to give them a state resolution. The men had been awarded France's highest honor, the Legion of Honor, a medal by President François Hollande in France and the San Francisco French Consulate attended the Sacramento rally, saying "We will never forget what you have done." Local celebrity Jackie Greene played "the oldest song he (knows)," "The Star-Spangled Banner," for the crowd.
Many friends and family members came to show their respect and support. Three years-long friend of Anthony Sadler and Sacramento State student, Alex Vieira, said: "When I saw the news, I thought, 'Oh my God; that's Anthony." Vieira said regarding the incident, "He was just really humble about it," and emphasized Sadler's focus on the others' actions.
Les Simmons, Sadler's "adopted uncle" who's known Sadler for most of the young man's life, said he expected Anthony to do something heroic.
Simmons's wife Angela said, "We're so grateful because heroes don't always survive and because when something like this happens, there is always an overall overflow impact."
Spencer Stone's cousin, Paige Esku, 22, said the festivities and the response to the heroes' feat felt "overwhelming. I didn't know how big a deal it was going to be. At first when I heard what happened, I was relieved to hear that he was okay and then after it sunk in, I felt proud."
All three heroes went to Del Campo High School and the school and its students had a strong presence at the parade and rally. Del Campo High junior Maria Oderton said about the event, "It's really cool. I love everything about the day. It's great to have something like this to unite the nation."
Sacramento State alum and City Councilmember Eric Guerra "Having a (Sacramento State) Hornet honored like this shows what Sacramento has to offer and inspires us to want to be thinking about the greater good."
As the festivities wound down, Sadler said, "I feel overwhelmed by all the support. I love being from Sacramento."