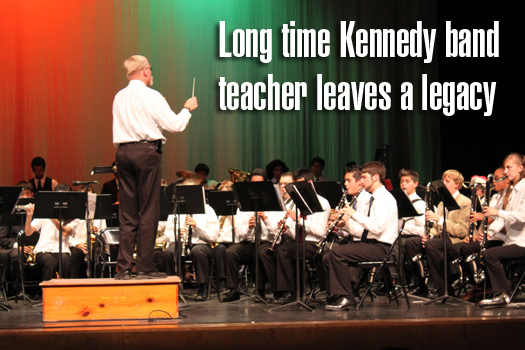 By MONICA STARK
After 26 years, Kennedy band teacher George Miles is calling it quits. But before he leaves his position, he has one last show he hopes alumni come see. It's a combined concert with Sutter Middle and Leonardo da Vinci students on May 16 at 7 p.m. in the JFK Auditorium.
Miles has had generations of students and some have gone into teaching and other music fields. He harbors mixed emotions about his retirement as he has fond memories of his career. The Kennedy band has played at the tree lighting ceremony for Governor Brown; he's taken students to Hawaii, Florida and other places closer to home like Disneyland.
"I love to make music and I will miss that. And I will miss the kids," Miles said. "When you are teaching kids to make music, there is a lot of collaboration and personal investment both ways and it's something you share with the kids. People who haven't done music, they don't really understand … that musical connection. That's not something you can describe, something you can't put into words. It's just something you do together," Miles said.
But while he will miss making music with the kids, he also feels like it's time to move on. "I am old enough," he said "and marching band gets to be physical. It's been hard in recent years to keep up with it."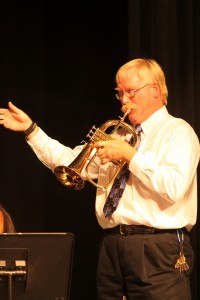 Originally from Illinois, Miles studied at Northern Illinois University for undergrad then continued on to Western Oregon University, which was then called Western Oregon State College. "When I was in Oregon I thought I was going to stay in Oregon but I heard about an opening down here and interviewed. I ended up being really impressed with what I saw and came here instead," he said.
Twenty-six out of the 34 years he's taught have been at Kennedy. Previously, he taught for five years in Oregon and two years at an Indian reservation in Illinois.
Miles looks forward to having more time to play music with friends. A trombone player, Miles used to get frequent requests to play with various groups, but often had to turn them down because of work commitments. Also, he has been putting off traveling to Europe, but adds that unfortunately his wife Sheryl isn't ready to retire. So, he said, he'll probably have to wait a year or two before he does that.
Sheryl teaches music at Caroline Wenzel and comes to Miles's band room during her lunch to teach drumming. Sheryl also travels all summer with the Concord Blue Devils as the band's manager.
Miles said the Kennedy band has about 85 students, which fares quite well in size compared to other bands. "There are bands much larger but they are in areas that are densely populated and they have an elementary program which we no longer have," he said.
"When times get tough, you can tell what they value. Haven't seen as much money as we used to," he said. Besides paying Miles' salary, he said the district provides $250 for repairs and supplies. "That was about it," he said. "Everything else was provided by boosters or stuff I've had to buy out of my pocket," he said. Some of those things included drum sticks, drum heads – "all kinds of stuff," he said.
Though Miles will be sorely missed, Jeremy Hammond, the band teacher at Sam Brannan will split his time between teaching at Kennedy and teaching at the middle school. Miles speaks highly of Hammond. Miles said he has spoken to Hammond a lot about the personal connections he has made with students before or after school and that splitting time between the two schools may make that difficult for Hammond.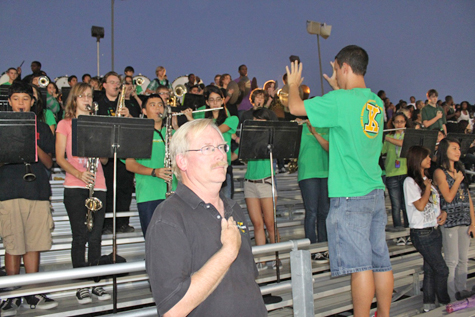 "When you are a teacher, you make a personal connection. You get to talk before or after school, but with a split (schedule), you give up a lot," he said. "That's something Jeremy and I have talked a lot about."
For those who may be interested in music but have not had the opportunity to play, Miles has words of wisdom: "I would just say get in there. You know — old school: try." He said the district is fortunate in that they have a lot of instruments. For students who can't afford to buy own instruments, the school has some for them. "I think for a lot of kids it's one of the bright spots in the day … it's one of the classes you really get to look forward to," he said.
Miles has brought such joy to many students and families over the years and several of them had such nice things to say about the beloved teacher:
Drummer Alex Pfiefer said: "Mr. Miles is and always will be one of the greatest music instructors I have ever known. With him, you can always tell he understands and loves the music because of the benevolence he has towards the piece that he is teaching.  His striving to improve the band as a whole is always apparent due to the support he gives to each individual band member.  But, when those members are irresponsible, the gloves come off and his iron fist comes down and establishes order with irrefutable leadership that everyone should take note of."
JFK senior Joseph Barrett has been in the marching band for four years. To him, Miles has done such a great job and is very committed to his work. "He keeps us motivated and inspired to thrive musically and educationally. His ever-funny jokes he cracks in class are sure reminder of his awesome personality. His best trait is that he really cares about us all in the band. I would say what really makes the JFK band is Mr. Miles. Without him, the band won't be the same. I will miss him greatly. He is a great role model to all of us," Barrett said.  Barrett has played the clarinet for almost 10 years and will go to Sacramento City College with plans to transfer to Sacramento State University or Chico State to work towards a history major. He wants to teach history in high school.  
Barrett's brother, alumnus Brian Barrett (former band drum major) said: "One memory in particular is seared into my mind in regards to Mr. Miles. The memory is of a day when the schools power went down and as a result the band room was in complete chaos. Mr. Miles stood there playing half-notes on his trombone in a chromatic scale like it was any other day. That is Mr. Miles at his core, turning chaos into order through music, the results are always magnificent."
Joseph and Brian Barrett's father, Alan Barrett, has been involved in the band since 2001 and is former band booster president. Alan Barrett said: "George and Sheryl Miles have had a positive and dynamic impact musically, enriching the lives of thousands of kids for over two decades in the Sacramento area. Many of George's students have gone on to major in music and teach themselves. I would like to thank George for his tireless devotion over the years, especially in teaching all three of my sons about the importance of music and a good education."
editor@valcomnews.com