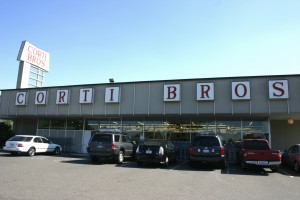 Corti Bros. has been the longest term tenant in this large structure at the southwest corner of 59th Street and Folsom Boulevard.
This summer, the 68-year-old Corti Bros. Italian grocery store will celebrate its 45th year of operating in a building at 5810 Folsom Blvd. in East Sacramento. But few people today realize that this structure had an existence prior to that time.
The building was constructed in 1951 to house a supermarket known as Grand View Market.
Associated with that building in its early days was a Grand View Market sign, which is mentioned in the May 19, 1951 edition of The Sacramento Bee as costing $1,500.
The structure was completed by the fall of that year.
A full-page advertisement for the Grand View Market was featured in The Bee on Wednesday, Oct. 4, 1951.
The advertisement mentions the store's then-upcoming grand opening and opportunities for customers to win grand opening prizes. Those prizes included the grand prize of a 1951 model Westinghouse refrigerator and the second prize of a 1951 model Westinghouse washing machine.
Grand View Market opened the following day and offered specials throughout the weekend.
Among those specials were a 10-pound sack of Gold Medal flour for 89 cents, a one-pound can of MJB coffee for 79 cents, a dozen large, Grade B eggs for 64 cents, ground beef for 55 cents per pound, four pounds of Watsonville apples for 25 cents, two pounds of bananas for 25 cents, two medium size avocados for 23 cents, a bundle of broccoli for 17 cents and cucumbers for 2 cents each.
Grand View Market was founded by Joseph C. "Joe" Yee (1901-1979), and the store's original manager was Delbert Mar.
At the time that Joe began operating Grand View Market, he had already established himself as a successful Sacramento grocer.
As early as 1939, Joe, who resided at 1501 W St. with his wife, Rose, was operating Independent Market at 1630 11th St., and another grocery store at 1600 G St.
His grocery experience also included running Grand Central Market at 701 16th St. and Grant Union Drive-In Market at 3700 Rio Linda Blvd. in Del Paso Heights.
Grand View Market's grand opening was held during the week beginning with Sunday, Oct. 21, 1951. The store's original hours of operation were 8:30 a.m. to 10 p.m. every day.
A week later, the store once again lowered many of its prices for its "Autumn Festival" sale.
Another feature of the store was its inclusion of Don & Lou's Fountain eatery, where one could purchase a fresh strawberry sundae for 29 cents or a hamburger and milkshake for 55 cents.
Grand View Market made front page news on Nov. 26, 1951, when The Bee reported that 14 clerks and a salesman were locked in a walk-in refrigerator.
The holdup lasted about an hour, and the gun carrying intruder, who had entered the store through a skylight prior to the business's opening, eventually escaped with $350 in petty cash.
In an update to that holdup, The Bee reported on Dec. 26, 1951 that the Sacramento Police Department had been notified that James M. Rudolph had admitted to robbing the Grand View Market, as well as Stop-N-Shop market at 6001 14th Ave. on Oct. 24, 1951 and the Fruitridge Manor Pharmacy at 5611 Stockton Blvd. on Nov. 27, 1951.
On Jan. 30, 1954, Grand View Market held a benefit breakfast as a fundraiser for the family of grocer Lawrence E. Hall, who was fatally shot inside his grocery store at 1828 East El Camino Ave. in North Sacramento on Dec. 1, 1953. The breakfast, which cost 50 cents per person and raised $125, was served by members of Sacramento Boy Scout Troop 1.
It was also in 1954, when Grand View Market offered its customers an opportunity to win a 21-inch Westinghouse deluxe model television set. The winner's name was drawn on March 26, 1954.
The 59th Street and Folsom Boulevard building survived a fire during its early years, as was indicated in the minutes of the city council meeting of June 16, 1955. Included in those minutes were the words: "Communication from Don N. Yee, manager of the Grand View Market, expressing appreciation for the excellent work performed by Chief (Peter F. Mangan, Jr.) and his men during a recent fire at the market was received and ordered filed."
By 1957, Simeon L. Pipkin (1897-1973) and Gladys I. Pipkin (1904-1972) were operating Roy and Gladys' Fountain Lunch restaurant inside Grand View Market.
That eatery was still in business at that site in 1962 when George Quan, Sr. opened George's Food Market.
That market evolved into a location of the Giant Foods chain, which operated during the 1960s and 1970s.
A city building inspector's card, dated Nov. 30, 1962, documents a contract for the construction of a Giant Foods sign at 5810 Folsom Blvd. by Ad-Art Sign, Inc. (2417 Cormorant Way, Sacramento) at a cost of $2,500.
At its height, the Giant Foods chain had its East Sacramento location, as well as stores at 5341 Auburn Blvd. in the Foothill Farms area; 5747 Watt Ave. in North Highlands, and 223 D St. in Broderick (a former area of today's West Sacramento).
During the summer of 1970, Corti Bros. moved to its present site, replacing the Giant Foods Market at 5810 Folsom Blvd.
The last existing Giant Foods supermarket – the Broderick store – closed in about 1979. And that store's final owners were Richard H. Quan, George H. Quan, Jr. and Margie D. Quan.
Corti Bros., which began its history at 912-914 8th St. in 1947, relocated to 3195 Folsom Blvd., across the street from Spurgeon's Cleaners and about a block west of Philipp's Bakery, in 1952.
Corti Bros. eventually grew to become a chain of four stores. But today, Corti Bros. has only one location – its East Sacramento store.
In 2008, Corti Bros. was faced with a major dilemma when its building lease ran dry and the store was not offered a new lease.
Furthermore, the building's landlord had made arrangements for the then former, now current Raley's Chief Executive Officer Michael J. Teel to lease the structure.
Teel intended to open the start-up gourmet market, Good Eats, in the building.
But due to the community's love for this popular, historic Italian grocery store, many people in the city rallied to save the store at this location, and Teel and his business partner, Michael Ashker, eventually terminated their plans for the site.
In commenting to The Sacramento Union in September 2008 regarding the large crowd that attended a Sept. 3, 2008 rally in support of his store, Darrell Corti said, "The turnout for our rally was quite heartening, so we must have been doing something well."
As a result of the strong customer support of the store, Corti Bros. was able to renew its lease at its longtime site on March 19, 2009.
And today, the tradition of Corti Bros. lives on, as the store retains many longtime customers while attracting new customers, thus continuing the prosperity of this longtime popular Sacramento business.