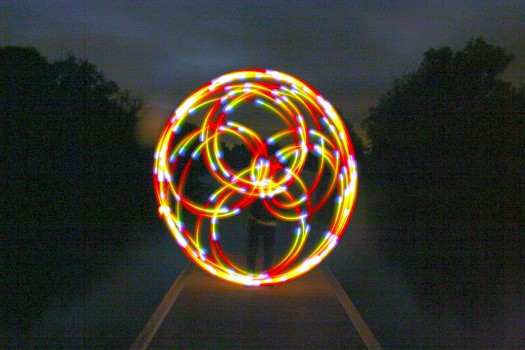 On a warm and Delta breezy evening, psychedelic colors illuminated the Sacramento River with their warmth and coolness, spinning out of control from the careful hands of two friends – Ryan and Nate.
Finding comfort in nature, they practice swinging these tethered weights, also known as poi, until the flow of the rhythmical patterns solidify into Celtic-shaped knots.
"It kind of just flows. You make a big circle, then a small circle, and a small circle, small circle, big circle. It's like a pattern. So if you go at the right pace, it never really stops at any point. It's Zen-like and a little bit mindless," Ryan said.
Mindless, perhaps, but their minds are transfixed. The hardest part, Ryan said, is just letting go and allowing the tear-drop shaped, silicone vessels expose the programmable LED lights that changed from solid pinks and blues to rainbow and strobe.
While speaking about his progression into the art form known as flow, Ryan said: "I felt the more I let go and just let it happen, it feels more natural and it flows. I guess that's why they call it flow because it flows out of you versus trying to manipulate it yourself."
On another evening, Ryan was there spinning poi as his best friend hula hooped to the sound of waves crashing from the speed boats cruising up and down river.
With effortless control, the hula hoop traveled up and down her body, dancing around her arms, neck, chest and waist, as time seemed to stand still, and as the music of the night, reverberated through portable speakers connected an iPod.
Always interested in fire dancing, Ryan said he found poi through some sleuthing around on the internet. "I saw fire dancers doing it and I thought, 'wow, that's really cool. But how do you get to that point? You can't just practice with fire.' So I found a tutorial online that taught me how to make sock poi."
Starting with old knee-high socks, Ryan filled them with rice to make a ball and twirled them around for about a week and a half, but that's all it took. "I was just hooked; I couldn't put it down. I thought this is something I could get into, so I just started to do some research." About five or six months ago, Ryan found the website, www.flowtoys.com, where he said he bought his poi. "I had them for a good month and I was on the fence about it, but then I just fell in love with it, and I really haven't stopped since."