The two of them have undergone surgeries over the last few years – Gus got a hip transplant after falling from the scaffolding of the fourth story of a Clarksburg building he was remodeling, and his dog Bandit has needed prosthetic knees.
"It's a therapy you just can't pay for," Gus said. "I'm amazed there aren't more people down there. I am a river person. I love the current and the water. It seems to heal me."
Gus grew up in Tahoe Park and spent many summers swimming in the American and Sacramento rivers. He was a member of a water ski club in the "old days." And as he takes in the beauty of nature today, his appreciation of the Sacramento River cannot be overstated.
In three days after the Fourth of July, Gus, his brother and sister-in-law picked up 100 pounds of trash off the beach of Garcia Bend. More recently, he saw a woman about his age and who, like him, was at the river picking up trash. When they met, they hit it off and began working together to clean the beach.
After the Fourth of July clean-up, Gus approached the beach at Garcia Bend only to find a beautiful surprise, "I love Sac" carved in the sand with a heart around it and the date, July, 20, 2014.
Upon seeing the goodness of the garbage picker-uppers, the director of Kovar's approached Gus and explained the community service requirement for those striving to become martial art black belts. So, a group of Kovar's kids came to the river to help Gus out. "There was a piece of a boat we found and so my Kovar's people – there were eight of them – we really scoured the beach good and they had found (the boat) and I had seen it before way up in the bushes. They found it and drug it, so I went yesterday and I cut it in half and drug it up."
And, in his humorously entertaining way, Gus gave himself a nickname for the kids to refer to him as, Basuro Burro (garbage donkey), which he expressed in a loud and quick tone, as if he was to follow that up with a karate move.
"The legendary Pocket samurai is all things," Gus said matter-of-fact about his nickname, as he toured Chicory Bend, looking for trash there. "There's not much garbage here. I'm a little disappointed," he said on a pleasant July afternoon.
For Gus who enjoys swimming in the river, having a cleaner beach is not only more inviting for himself, it's an opportunity to give back to Mother Nature and to others who come to enjoy the peaceful river.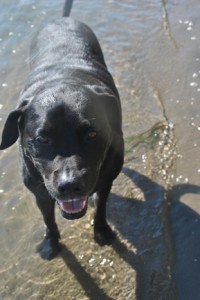 "It's very humbling," Gus said. "When a nice family shows up, it's clean. It's totally a different beach when it's clean and I swim in the river. I can't swim in the garbage. The water itself flows clean. It is a great water source. It's a beautiful place to be."
Describing his routine in an interview with the Pocket News, Gus said he keeps the bags right at 50 pounds. "Not more than that. Then, I drag it up to the top of the levee. I leave it there. When I have three, four, five (bags), then I get my bicycle. I ride the bike down only 100 yards to the gate where you enter the park. One of these bags fills the garbage cans."
To protect his hands from small shards of glass, Gus brought a rake to clean the glass out of bushes and shrubs, as his drive to clean the beach not only has been an aesthetic issue, but a safety one as well. "I focus on glass. I really worry about glass. Hopefully, when we find glass, it saves a trip to the emergency room for a kid."
Besides paper and plastic trash, fish hooks and "lots of diapers" have had their unsightly share of would-be pristine real estate. But for Gus, the one with the happy-go-lucky attitude, making a game out of diaper and fish hook collections, has helped make the clean-ups enjoyable for not only himself but for those he's had help him. "As gross as it is, it's that rewarding. Whoever it is who picks up glass or fish hooks, gets a prize."
A rolling stone at heart, Gus said he's "been traveling all the time- – you know all my life. I'm here now," but, he said he's looking to buy property in the Feather Falls area near Marysville. That means he's hoping you, dear reader, can help keep Garcia Bend clean. Ideally, Gus hopes just one person is out there who can stop by the beach daily for routine maintenance.
As he told the kids at Kovar's and folks he meets when he's out there cleaning up the beach: "The river is a really special place. It's been here 1,000 years. It's a very special part of our existence. It doesn't come into focus until garbage is cleaned up. You can hear the birds, the wind ruffling through the trees. I say it's in your pocket and it is a jewel and you might as well take care of it."
The healing powers of the Sacramento River rejuvenate Gus Sand who enjoys swimming at Garcia Bend with his dog, Bandit.