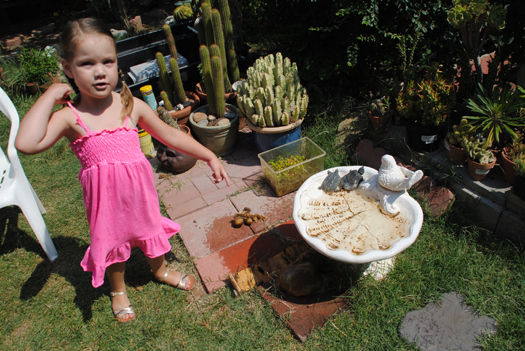 It was 11 a.m. on a pleasant, not too hot Monday morning on Starlit Circle. Felice Rood had visitors – two children and their grandmother came through the side gate of her home in the Pocket. Grandma Marilyn Flynn was holding a very badly beat up red-ear slider turtle they picked up at the SPCA on Bradshaw Road. She and Rood quickly examined the shell. " She's nasty," they said. "Gotta get the shell better," Rood said.
Meanwhile, the children went on exploring, visiting the turtles that are now residing in Rood's suburban backyard.
It was just another day 'At The Bunker'.
"I try to help one and all with their problems," Rood says.
"My home is a hotel, hospital, hospice, orphanage and maternity ward all for turtles and tortoises and there is no charge although if people want to donate, the money goes into the Sick Turtle Fund," she says.
Rood said she thinks she may be the only legitimate turtle and tortoise rescue in Sacramento, with a rubber stamp of approval from the California Department Fish and Game while others who have turned into "hoarders" who don't end up adopting out any of the turtles that live there.
Rood says she doesn't know how many turtles she has since the population changes daily. Monday was a case in point and in fact, two more were added the previous Friday — a box turtle and a Russian tortoise because the children had grown and the parents did not want to care for the creatures any longer.
Rood says she adopts the homeless turtles to people with outdoor ponds where they live happily ever after.  "Oh, you can't release non-native turtles into the river because they interfere with the wild population of natives," she says.
Her backyard is really serene loaded with lots of water, plants, grass and snacks for the turtles.
Rood doesn't keep any turtles in the house except for babies in the winter. "Turtles and tortoises are wild animals and should never be in fish tanks indoors. Outdoors they remain healthy and active and not depressed surrounded by glass from which they cannot escape," she says. Her mantra – "Aquariums are for fish and fluorescent lights are for potted plants."
Rood says she's lucky enough to have built a greenhouse a long time ago to house her African leopard tortoises over the winter since they do not hibernate. The box turtles, Russian tortoises, Greek tortoises are allowed to hibernate outside along with all of the water turtles in their ponds, she says. Only critters from warmer climates must be kept warm all winter.
That turtle Flynn brought in did look really bad off, I agreed, after the rescuers left. "It looked like it had been in a drainage ditch," Rood said, adding that it could take about a year to heal completely. Just a little TLC, clean water and a peaceful atmosphere with plenty of sunshine is all it will need to heal the wounded shell and beat-up belly.
Rood said she has always loved turtles from the time she was very little and the only pet she was allowed to have was a tiny turtle in a plastic bowl. "They never lived too long.  There was no information available," she says.
When Rood moved to California from Dayton Ohio in 1971, she had several box turtles with her, including a tortoise named Brutus.
"I did find Brutus a mate and everything was fine until one day 'Nero' became ill and no matter how hard I tried, I could not get any information or help with his care and he did die.  This was in 1977."
At this time T.E.A.M. was formed, Turtle and Tortoise Education Adoption Media in Los Angeles and Rood became a Sacramento representative, approved by the Fish and Game.
"I was able to take in homeless turtles and tortoises and find them good homes and I am still doing this today," she says.
Rood later learned what happened to Nero; it was kidney failure. "He drank too much. He was always drinking," she says.
In 1981 Rood was urged to start a club.  "Never having belonged to a club, I made this one up," she says.
The Sacramento Turtle and Tortoise Club dues have always been $2 a year and there are no officers.  "It's a friendly club and nobody is ever elected to do anything which is what makes it so popular," she says. There are more than 800 members and a huge Facebook page, which is "great fun and very informative."  The club has four seasonal meetings a year and discusses problems pertaining to that particular season. They also have the annual Turtlerama, which is coming up on Aug
. 17 at Belle Cooledge Library. It's a club event that educates the public and where members display their pets.
Rood hopes to continue her efforts for as long as she's able and she appreciates the greens some of the supermarkets save for her and also the friends who collect snails for the box turtles and deliver them to her doorstep regularly. "They make my life so much easier!" she says.
Asked if there's anything to add, Rood warns: "Raccoons are a terrible threat to our turtles, please be on guard, everyone." She said they bite a turtle in the middle of the night, turn it over so it can't go anywhere and let it bleed to death. Then the owners will come to see it in the morning completely shocked when they ask Rood about what could cause such a tragedy and she tells them. The Tuesday when I was over visiting her, she said she ran outside in the early morning when her motion sensor and alarm went off. But it was just a cat.
If you go:
What: Turtlerama will include live turtles and tortoises, a turtle boutique, free plants with any donation, adoption information, lectures, educational displays, free admission
When: Saturday, Aug. 17 from 11 a.m. to 4 p.m.
Where: Belle Cooledge Library (South Land Park Drive and Fruitridge Road)0