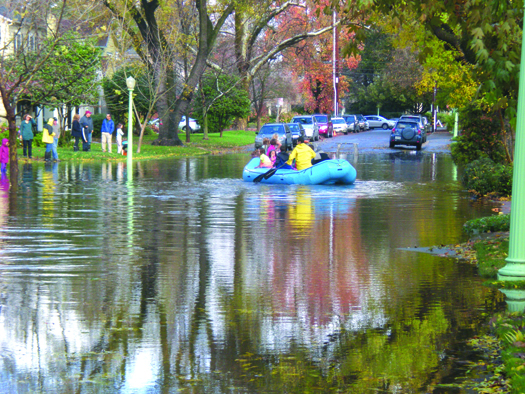 While the drenching rains of early December left many in our area perturbed, the problem was more pronounced for members of East Sacramento who saw storm drains overflow or in some cases not drain at all, causing spontaneous lakes to sprout in residential areas.
The flooding of several areas on Dec. 2 brought to the forefront the problem of unsatisfactory storm drains and sewer lines in East Sacramento, according to the McKinley East Sacramento Neighborhood Association (MENA).
According to Deane Dana, President of MENA, the storm caused not only the overflow of excess rainwater, but also a backflow of sewers into people's water.
"East Sacramento used to have a combined sewer/drain system (and may still in some areas)," Dana said in an email. "This resulted in overflow and backflow issues and also left neighborhoods with combined systems with contaminated water in homes and yards."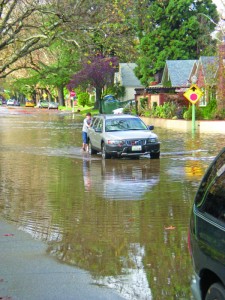 In order to fix the problem faced by numerous East Sacramento residents, MENA hopes to meet soon with city officials, including councilman Steve Cohn, city engineers and the city manager to begin discussing a massive re-engineering process for the area's drains. The meeting has been requested with the city officials, but a date had not been set as of press time.
The replacing of storm drains across the entire affected area would be a very expensive process, according to Dana, and the project is expected to take place over a "10 or 20-year period" if approved, according to MENA.
Dana said that the drainage system is just too old to function properly anymore.
"I am aware of active flooding for over 30 years from 39th Street to McKinley Park," said Dana.
This area runs adjacent to Burns Slough, which according to Dana collects large amounts of excess water and leaves during particularly lengthy downpours. The slough is another area of concern to Dana because it "was the path that the great flood of the 1800s took in inundating downtown Sacramento. The topography hasn't changed a bit. It is a good example of homes being built without adequate safeguards or in the wrong place."
Dana said that many homes along the slough route experienced basement flooding, home flooding, or were "surrounded by a running stream" on Dec. 2. Compounding the problem was the failure of a water main beneath D Street on Jan. 5.
"Persons experiencing flood damage have been encouraged to contact councilman Cohn's office concerning damage claim forms," said Dana.
"This is clearly a problem of deferred maintenance of our aging infrastructure. A plan needs to be implemented and shared with city residents," said Dana.
He also shared that residents feel local government has been dismissive of the problem.
"We're trying to open the dialogue (with city officials)," said Dana. "I've been involved in three years of active discussion."
Dana hopes that rather than allowing the building of new homes in active flood zones, the city will work to fix the flooding problem itself.