Note: This is part two in a series about and related to Hubacher Cadillac.
A large piece of property lies vacant at the northwest corner of Howe Avenue and Fair Oaks Boulevard. But there was a time when the site was a very active place.
The property was for many years associated with the name Hubacher.
Elmer Hubacher took over the entire operations of the old J.J. Jacobs Cadillac dealership, about two blocks south of the Sacramento Memorial Auditorium, in January 1966.
Hubacher, who served as a naval aviator in World War II and the Korean War, had already been a partner with Jacobs for two years when he purchased Jacobs portion of the company.
Prior to working with Jacobs, Hubacher had become a veteran Cadillac employee, as he had been associated with Cadillac since 1947. He worked as a salesman before becoming a zone manager.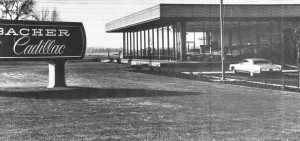 Hubacher Cadillac opened at 1 Cadillac Drive at the northwest corner of Howe Avenue and Fair Oaks Boulevard in 1972. / Photo courtesy of Jacobs family
The Sacramento Bee, in an article in its Jan. 8, 1967 edition, recognizes the then-recent official establishment of Hubacher Cadillac, Inc. through the signing of an agreement between the Cadillac Motor Car Division and Elmer Hubacher.
During the previous month, Hubacher had begun to unofficially refer to his business as Hubacher Cadillac.
An early 1967 advertisement for the company refers to the "credo of Hubacher Cadillac," as follows: "A progressive sales philosophy, personal and satisfying service policies, a sincere interest in serving you and a deep concern for your satisfaction in America's finest motor car."
Hubacher would eventually move his business to the aforementioned corner of Howe Avenue and Fair Oaks Boulevard.
On Dec. 15, 1970, The Sacramento Union reported that Hubacher Cadillac would be relocating to that site.
The article mentions that a 45,000-square-foot building would be constructed on the property, which had been acquired from the Commons Development Co.
It was also recognized in the article that Hubacher also purchased additional land on the south side of that property.
The same article notes: "Sacramento architect Harry Devine, (who was related to the Jacobs family through marriage), said the building will feature colored concrete, expansive use of glass and will house showrooms, offices, parts and service facilities with parking service spaces for 63 spaces."
As mentioned in the previous article of this series, the reason for Hubacher's relocation to this north area site was due to the company's insufficient space at its previous referred to downtown site.
At that time in the company's history, that site, which was the location of the company's main sales center, was one of six Hubacher locations.
Another reason for the company's plan to move to the Howe Avenue and Fair Oaks Boulevard site was based on a survey that showed that 70 percent of the company's customers were residents of the Fair Oaks area.
Another statistic revealed that this north area intersection received more traffic than anywhere else in the county, besides freeways.
In addition to the main structure, other Hubacher buildings would be built at this north area site.
The 1970 article mentions that one building on the site would house an automotive museum that would feature agency-owned cars, including a 1904 Cadillac and a 1959 Eldorado Brougham custom.
A reference to Hubacher Cadillac in the March 12, 1972 edition of The Union notes that the completion of that dealership was scheduled for August 1972.
Among those who were then associated with the dealership at its 1501 L St. location were Elmer Hubacher, president; Stanley Hindsley, secretary-treasurer; Hilary T. Martin, general sales manager; Alfred E. Marwick, used car manager; and Jesse B. Vinson, service and parts manager.
Hubacher Cadillac, which eventually became known as Hubacher Cadillac & Land Rover, Inc., remained in business at 1 Cadillac Drive, at the aforementioned northwest corner of Howe Avenue and Fair Oaks Boulevard, until 2010.
Elmer Hubacher, who was a member of Del Paso Country Club, the Sutter Club and the Rotary Club of Sacramento, died during the previous year.
The old Hubacher north area property was sold for about $7.1 million to CVS pharmacy last December.
James Teare, of Terranomics, was the broker who represented CVS.
In a very brief interview for this article, Teare said that although a CVS store will be a part of a future shopping center at that site, he could not make a comment regarding what other stores might be located in that center.
"There are other stores going in. That is public knowledge," Teare said.
Mike Luca, vice president of the CBRE, Inc. brokerage firm in Sacramento and one of the brokers who was involved in the sale, also spoke about the property for this article.
"We sold the property at the end of last year," Luca said. "We had the property on the market for over three years. It sold to CVS. We did not represent the buyer. We only represented the seller.
"The city sold them a 1-acre piece of property that's actually the true hard corner of Fair Oaks (Boulevard) and Howe (Avenue). And then the rest of (the property) was the Cadillac dealership. They bought that also. The buyer didn't close until they knew they would be approved (for the site).
"There will likely be additional occupants on that corner, but I do not know who those are. There have been rumors of a (grocery) market, but I can't confirm any of them.
"Obviously, they tore the whole (Cadillac) building down, and the Cadillac dealership is no longer there. It will be all new construction, new buildings. Before that, the dealership was closed for three or four years before the property actually sold. So, it's going to turn a dead corner into something a lot more vibrant, and it will be a nice development."