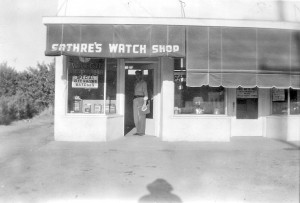 Sathre's Watch Shop, which was later renamed Sathre Jewelers, is shown in this c. 1950 photograph. / Photo courtesy of the Sathre family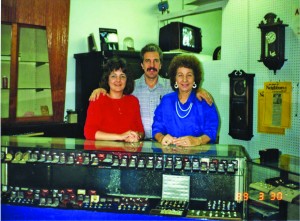 Left to right, Vivian, Chuck and Mary Sathre stand inside Sathre Jewelers in this 1989 photograph. / Photo courtesy of the Sathre family
Editor's Note: This is part two of a two-part series about the Sathre family and their former Carmichael business, Sathre Jewelers.
Among the early post World War II businesses of Carmichael was Sathre Jewelers, which debuted as Sathre's Watch Shop on April 1, 1947.
The business was originally located in a 10-foot by 10-foot space in a furniture store on the west side of Fair Oaks Boulevard, just north of Marconi Avenue.
Ron Sathre, whose parents, Ray and Mary Sathre, were the proprietors of that business, said that he believes that his father was Carmichael's first jeweler.
"I think that's the case," Ron said. "Later on there was a jeweler by Crestview Shopping Center, plus there was another one down by Marconi Avenue and Fair Oaks Boulevard."
An advertisement in the Feb. 25, 1953 edition of The Sacramento Bee recognizes Sathre Jewelers as "Carmichael's oldest and most complete jewelry service."
The business's address at that time was 2944 Fair Oaks Blvd.
Altogether, at separate times, Sathre Jewelers had five locations on the same side of Fair Oaks Boulevard.
In speaking about his family's longtime connection to Carmichael, Ron said, "Robert Davis, my dad's brother-in-law, his family had been in Carmichael for approximately a half-century (by 1947). So, his family had owned some property around there. And over at Palm Drive and Fair Oaks Boulevard, they had a couple of little places. They're both there today and one is an antique shop. The first one on the right side on Palm Drive, that's the antique shop, where my mom and dad stayed with my aunt and uncle when they first moved to Carmichael (in 1947). And they stayed in the back room, which was an add-on room. And Mom complained about the leaky roof. So, when it rained, they got rained on."
Ron, who has a brother named Chuck Sathre and a sister named Vivian Sumner, recalled being raised by his mother while his father ran the store.
And in further speaking about his mother, Ron, who graduated from La Sierra High School in 1967, said, "She talked about having to go into Sacramento and buy supplies. They would go buy supplies for a dollar, dollar and a half in Sacramento and come back and sell them in Carmichael for 50 cents or 75 cents more to make some money. And that's how they got into the wholesale end of things. Mom did multitasking before multitasking became popular.
"So, they had started out on a shoestring, basically. Just the two of them. That was in 1947, and I came along in July of 1949."
And today, Chuck is carrying on the tradition of his father through his love of working on and collecting old clocks.
Vivian, a Carmichael resident, was born in January 1956 and graduated from La Sierra High in 1974.
The Sathre kids played an important role in the business, Ron explained.
"We would have to come over and put things away at night," said Ron, who now resides in Rigby, Idaho. "On Saturdays, we would have to go over and help my dad open up the store and then close in the evening. And, of course, that interrupted our social (activities), and we didn't want to do that. We wanted to get paid, and my dad would say, 'Well, how much am I charging you for your room? How much am I charging you for your food?' And it would bring reality to our faces pretty quickly. So, we would often say, 'Ok, you got us. We like eating for free and we like having a place to sleep.'
"So, they were excellent parents. Mom and Dad taught us with their upbringing of good, Norwegian-German stock. You work hard, you play hard, you do the right things for the right reasons and you'll get your appropriate reward."
Ron, who joined the Army in 1970, said that his father was a very well respected businessman.
"My dad would bend over backward to help people," Ron said. "If people couldn't get off work until 6:30 (p.m.) or so – he would normally close at 6 (p.m.) – he would stay open until they got there. Conversely, in the mornings, he would get up early if someone needed to pick up a watch or their ring or whatever. So, he was very customer service oriented. Everybody loved my dad.
"I remember people sending their items to him for repair. They would move to Iowa, they would move to Florida, they would move to Massachusetts. And because they trusted my dad and nobody else to work on their wedding ring or their watch or their necklace or their clock, they would send it out to my dad to get fixed. And he would mail it back to them. So, that's the kind of personality and customer service that my dad provided."
Vivian added that her father would also make house calls for such large items as grandfather clocks.
Furthermore, Vivian said, "My parents were very supportive of the community, and very active in organizations. And they instilled a strong work ethic in us as kids, and my mom and dad could fix anything."
Ron fondly recalled how his interest in auto racing had an influence on the business.
"One of the things that was interesting about Sathre Jewelers was I really got interested in cars in about 1965, 1966," Ron said. "They had a West Coast NASCAR race out at the old fairgrounds, and they would be here in October. So, I said, 'Hey, Dad, we ought to do something with that so that we can go to races and bring in business and so forth.' And with that, I got connected with the guy who put on the races, and we began selling tickets for this West Coast NASCAR stockcar race at the fairgrounds. So, that brought customers in, plus I think we got a couple of free tickets to do that. And we also had our business mentioned on the radio as a ticket outlet."
In another moment during the business's history, Chuck and Ron began collecting coins through their involvement in the Boy Scouts.
That hobby led to the creation of a business venture known as Sathre's Coin Corner.
In commenting about that experience, Ron said, "We saw what a business could turn into, and my mom and dad were always interested in business opportunities. So, we started selling coins. We called it Sathre's Coin Corner. My dad actually gave up a 3-foot-wide by 4-foot-tall rotating showcase for us to put the coins in. So, we bought and sold coins and made some money doing that. My mother would buy coins from people walking in. Back then people would go up to Reno or Lake Tahoe and come back after they had won on the silver dollar machines, and pay for things in silver dollars. A win-win (situation). Some of those silver dollars are worth $18 or $20 a piece today, and back then the average silver dollar had a face value of $1."
While Ray handled most of the duties of Sathre Jewelers, Mary established her own business.
And in commenting about that business, Ron said, "My mom got into the rental business on our property at 6124 Stanley Ave. They built a two-story building, rented the top part out in about 1960 or so, and then they built the bottom part and rented that out. And then in 1961, we went across the street and built a duplex, where we all grew up the other half of our lives. A couple of our first renters were 2nd Lt. Jerry O'Halloran and his wife, Linda. They lived there from May 21 to Dec. 1, 1960. (Jerry) was in the area for bombardier training at Mather Air Force Base.
"My mom was business smart to see the value of having rental properties, so that it would supplement their income. They could go do some of the things they wanted to do, while giving people nice and affordable places to live. So, my mom was in the rental business from about 1960 until she died.
"My mom was working all the time. As they say in German, hausfrau, (or) housewife or house woman (in English). My mom was an outdoor woman. She was watering, hoeing the garden, building, painting, mowing lawns. You name it, my mom was out there working."
As for Sathre Jewelers, the business continued to serve the community until its closure in 1989.
Although Ray died at the age of 71 in 1989, and Mary died last February, their legacy remains strong in their longtime hometown of Carmichael.