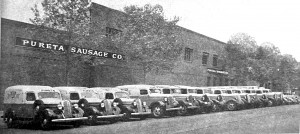 The Pureta Sausage Co. at Alhambra Boulevard and D Street is shown in this early 1930s photograph. Photo courtesy of the Lance Armstrong Collection
Editor's Note: This is the first article in a series about sausage factories that operated in Sacramento.
The largest sausage manufacturer in the capital city was the East Sacramento area's highly successful Pureta Sausage Co.
Prior to reaching that status, Pureta was a much smaller operation.
The business was established in a 40-foot by 80-foot building at 316 31st St. (now Alhambra Blvd.) by Alfred Zehnder, Joseph Reichmuth and Herman Zimmermann in 1926.
All of those men resided in different areas of the city, with Zehnder living at 2004 E St., Reichmuth at 4477 G St., and Zimmermann at 3031 D St.
Pureta Cash Market, which was owned by the same people who owned the Pureta Sausage Co., was also located at 3031 D St.
The market began operating at that address after spending its initial three years at 322 Alhambra Blvd. The store continued to operate at its Alhambra Boulevard address until about 1938.
The Pureta plant initially included 10 employees and two delivery trucks.
Pureta was one of the four Sacramento sausage manufacturers mentioned in an article in the Sept. 26, 1931 edition of The Sacramento Bee.
The city's other sausage manufacturers at that time were Claus & Kraus at 1700 I St., Made-Rite Sausage Co. at 3352 or 3353 2nd Ave., and the Western Meat Co. at 806 6th St.
Those plants were mentioned in the 1931 article as then making between 1.5 million and 2 million pounds of sausages per year.
Another portion of the 1931 article notes: "With the slaughtering and meat packing business, the capital city's third ranking industry in the value of output, the sausage division has been enjoying a remarkable growth in the past two or three years."
Pureta underwent address changes from 316 Alhambra Blvd. to 320 Alhambra Blvd. in about 1933, and to its final address of 324 Alhambra Blvd. in about 1936.
The 1937 city directory describes Pureta as "wholesale dealers in fresh meats, mfrs. of high-grade sausage and meat products."
By 1940, the plant was jointly owned by Zehnder, the company's president and general manager, and five other Sacramentans, George E. Wurster, A.C. Jacobs, Joseph F. Enos, Anton Holly and Frank Linggi, Jr. The latter three men resided in East Sacramento.
At that time in its history, notes an article in the Feb. 23, 1940 edition of The Sacramento Union, Pureta's Sacramento plant was recognized as "one of the most modern (plants) of its kind on the Pacific Coast."
Pureta had then grown to a company with 110 employees, 27 refrigerated trucks, five cars for salesmen, and branches in Redding, Chico, Modesto, Oakland and Santa Rosa.
With its growth, Pureta had expanded to offer its products throughout the state.
Beyond its obvious product, the Pureta Sausage Co. processed meat products such as frankfurters, bologna, salami, smoked bratwurst, liverwurst and head cheese.
In regard to frankfurters, the 1940 Union article mentions that the total number of that product produced by the company each year could line, end to end, a distance of 1,800 miles.
One of Pureta's most popular products was its skinless frankfurter, which was introduced by the company in 1937.
In an attempt to further describe Sacramento's extensive Pureta operations, the 1940 Union article notes: "The plant itself contains much more than might be guessed just by looking at is (sic) red brick exterior. With its massive refrigerator rooms, elaborate sausage kitchen, in which like other departments only stainless steel comes in contact with the meat, rows of smoke houses (sic) and meat grinders, it easily lives up to its name as a leader in the business."
Although it was no Winchester Mystery House, Pureta was very much in the practice of having structural additions made to it Sacramento plant.
Construction on three additions of the local plant was completed during Pureta's first five years in business.
The Sacramento building had grown to twice its original size by 1940.
Additionally, a second story was added to that structure for offices, employee residences, and a garage for its steam plant and storage.
On July 28, 1941, operations began in Pureta's seventh addition to that plant, a $75,000 building with 13,000 square feet of floor space.
New machinery in that manufacturing department, notes an article in the July 20, 1941 edition of The Union, could handle 2,000 pounds of bulk meat in 10 minutes and 96,000 pounds of meat per working day. The meat was ground into sausage or 71 other kinds of meat products.
The business had by then increased its workforce to about 140 employees and also expanded its truck fleet to 33 vehicles operating in the Central and Northern California areas.
By 1957, Pureta was employing as many as 200 people during its peak seasons.
It was also at that time that the company had 50 trucks and during an average month,
handled about 2 million pounds of meat.
An article in the March 18, 1957 edition of The Union recognizes Pureta as the manufacturers of "sausages, frankfurters, sandwich meats, bacon, ham and similar products, and wholesale meats to distributors in this area."
Another expansion of Pureta's Sacramento plant is mentioned in the Nov. 15, 1959 edition of The Union.
Under a photograph of pre-formed walls being lifted into place at the site is a caption, which notes that the company's refrigerated storage and processing facilities would be increased by more than one-third of its size.
The caption also mentions that Pureta then had branches in Chico, Yreka, Fresno, Modesto, Vallejo, San Jose and Santa Rosa, and was distributing its products in Northern California, Nevada and southern Oregon.
Pureta's continued success was evident in 1963, as the company then expanded into the San Francisco area.
Leo Ricketts, Pureta sales manager at that time, was quoted in the May 24, 1963 edition of The Bee as saying, "This (expansion) represents a milestone for the firm, as it will provide a new outlet for our products, which will help us maintain and possibly increase the employment level in our Sacramento plant (which then employed 225 workers)."
Among the many employees of Pureta were John Henry Glettig (1896-1959) and Fred Otto "Freddie" Grosklos (1934-2015).
Glettig, who became employed as a sausage maker for the Tastee Sausage Co. at 915 17th St. in about 1936, was working for Pureta as a sausage maker by 1942.
In July 1959, Glettig retired from Pureta due to health issues, and died about four months later.
Grosklos, who was born in Holtenau, Germany, immigrated to Sacramento in 1953.
During the same year, Grosklos acquired work at Pureta as a meat cutter, a job which he maintained for about 15 years. He next operated Freddie's Gourmet in West Sacramento from 1969 to 1991.
Pureta, which was last under the direction of its general manager, William J. Snyder, remained in business at its original location until about 1969.