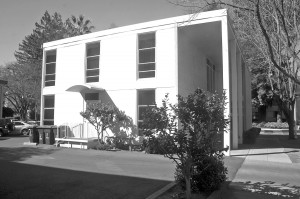 The Nichi Bei Times Sacramento office was located in the Taketa Building at 400 O St. The present tenants of the structure are Nisei Barbershop, Coico Medical and optometrists Ernest Takahashi, Kenneth Sakazaki, Kristen Sakamoto and Katrina Gallardo. / Photo by Lance Armstrong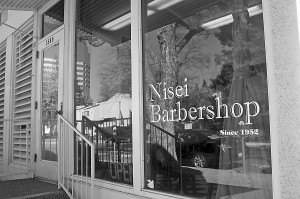 Nisei Barbershop is located in the Taketa Building at 1505 4th St. / Photo by Lance Armstrong
Editor's Note: This is the final article of a 13-part series regarding historic Asian districts of Sacramento.
Sacramento's historic Japantown, as previously mentioned in this series, certainly lived up to the "town" portion of its name, as it grew to include many establishments, including banks, grocery stores, fish markets, drugstores, tailor shops, shoe repair shops, laundries, furnishings stores, employment agencies, book and stationery stores, photography studios, printing shops, churches and even a motion picture theater.
And about 87 years before Valley Community Newspapers published its first newspaper, Pocket News, a Japanese newspaper office opened in the Japantown area.
Nichibei Shimbun
The first Japanese newspaper office in that area was a branch office of the San Francisco newspaper, Nichibei Shimbun, or the Japanese American News.
That newspaper was first published on April 4, 1899, and its Sacramento branch opened at 1004 4th St. in about 1905.
Nichibei Shimbun was operated in San Francisco by its founder and editor, the Suibara, Niigata prefecture, Japan-born Kyutaro Abiko (1865-1936), who immigrated to America in 1885.
Prior to becoming involved with Nichibei Shimbun, Kyutaro operated a laundry and restaurant at separate times, graduated from the University of California, Berkeley, and assisted in the founding of the first Japanese Methodist Episcopal Church in San Francisco.
Kyutaro also purchased Soko Nihon Shimbun (San Francisco Japanese News) in 1897.
Two years later, that paper merged with another Japanese language newspaper, Hokubei Nippo (North American Daily), and the combining of those papers led to the aforementioned founding of Nichibei Shimbun.
The Sacramento office of Nichibei Shimbun had been relocated to 1225 3rd St. by 1907, at which time K. Yamasaki was that paper's Sacramento editor and manager.
G. Kaihara took over the editorship of the paper's Sacramento branch in 1908, and relocated the paper to 1216 3rd St. about a year later. Kaihara remained the paper's editor until about 1915.
From about 1910 to about 1914, the Sacramento branch of Nichibei Shimbun had its office at 1216 3rd St.
The paper's final Sacramento branch office, which was located at 1414 4th St., opened in about 1915.
Other editors at the publication's Sacramento office were N.S. Sazitani (about 1916 to about 1920), Bunjiro Takeda (about 1920 to about 1933) and Frank J. Miyagawa (about 1933 to about 1941).
It was during Takeda's editorship that Nichibei Shimbun began including an English section with its other pages.
According to the 1930 U.S. Census, Takeda, who was born in Japan on Jan. 1, 1885, immigrated to the United States 15 years earlier, and was able to speak English by 1930. He is listed in that census as a newspaper agent.
Takeda's World War I draft registration card, which is dated Sept. 12, 1916, mentions him as then-working as a bookkeeper at the Japanese interpreters business of his cousin, M. Takatsuji, and Charles R. Vaughan at 1214 3rd St.
During that time in Takeda's life, he was residing with Takatsuji and Vaughan at the aforementioned address of 1214 3rd St.
It is also noted in the 1930 census that Takeda was a short, stout man with half gray hair and brown eyes, and that he was not an American citizen.
News of the May 5, 1936 death of Kyutaro was received at the Sacramento branch of Nichibei Shimbun, and it was learned that his wife, Yona Abiko, would be taking over the paper.
The 1939 city directory recognizes Frank J. Miyagawa as residing at 1414 4th St. with his wife, Tayeko "Taye."
Among Frank's activities in Sacramento was judging entries in the Sacramento County Spring Flower Show at the State Fair grounds at Stockton Boulevard and Broadway on April 26 and 27, 1941.
Two months later, Frank was involved in collecting monetary donations from local Japanese residents for the United Service Organizations' drive.
Well known in American history is the date of Dec. 7, 1941, when the Japanese attacked Pearl Harbor.
A day later, The Bee published an article that included the following words: "The United States Treasury today directed the seizure of the business (sic) of all Japanese nationals in Sacramento and the Federal Bureau of Investigation began a systematic roundup of Japanese aliens.
"On the list were F.J. Miyagawa, 48, of 1414 Fourth Street, correspondent for the Japanese American newspaper in San Francisco, and Giichi Aoki, 66, proprietor of the Aoki Music Company at 1223 Fourth Street. They also were booked in the city jail on suspicion of being enemy aliens."
It was not discovered during research for this article whether Miyagawa's forced departure from Nichibei Shimbun's Sacramento office marked the end of that office's operation.
However, it was only a few months later when the Japanese evacuation caused the closure of the entire operations of the publication.
Nichi Bei Times
Following the war, a new Japanese daily newspaper, Nichi Bei Times, was founded by former Nichibei Shimbun staff members, with the first edition of that paper being published on May 18, 1946.
Included among the founders of that newspaper was Kyutaro's son, William Yasuo Akibo.
The paper was a daily publication for the majority of its years, and it was printed three days per week in Japanese and one day per week in English during its final three years of existence.
In about 1952, a branch office of Nichi Bei Times opened at 1226 4th St., at the former site of the photography studio of Kenneth Kuroko.
The editor at that branch of the paper was Noboru R. Shirai (1907-1985), who resided with his wife, Akiko May Shirai (1908-2004), at 431 Capitol Ave. (now Capitol Mall). The couple eventually lived in a home two blocks south of William Land Park.
In addition to his involvement with Nichi Bei Times, Noboru was interned at the Walerga and Tule Lake camps during World War II. And the latter experience led to his writing of the book, "Tule Lake: An Issei Memoir."
Noboru, who emigrated from Japan in 1934 and was a member of the Japanese American Citizens League, remained the editor at the paper's Sacramento branch for more than 20 years.
Because of the Capitol Mall redevelopment project, in about 1962, Nichi Bei's Sacramento branch was relocated to the Taketa Building at the address of 400 O St., Suite 202.
The branch would remain at that location for many years, and Nichi Bei Times ceased operations in the fall of 2009, at which time it was Northern California's oldest Japanese American newspaper.
Shortly after the closure of that paper, former Nichi Bei Times staff and contributing writers founded the Nichi Bei Weekly in San Francisco's Japantown.
Nikkan Shinsekai
Another Bay Area Japanese newspaper, Nikkan Shinsekai (Japanese Daily New World), had a branch office in Sacramento.
According to a University of California, Berkeley library record, Nikkan Shinsekai was a daily newspaper, which was first published in Oakland in about 1896 or 1897.
The same document notes that the publication was relocated to San Francisco in September 1906.
In the 1907 San Francisco-Oakland directory, Nikkan Shinsekai is recognized as having its main office at Geary and Polk streets.
A Sacramento city directory, published the same year, includes a listing for the paper's Sacramento branch at 224 ½ L St.
Additionally, the same listing refers to the publication's Sacramento editor at that time as Sadazi Fudita.
The following year's Sacramento city directory refers to R.T. Murakami as the paper's local editor and manager.
By 1910, Nikkan Shinsekai, which was published in English and Japanese, was operating its Sacramento branch at 1313 3rd St. under the management of G. Washizu.
And from about 1911 to 1913, the Sacramento office of the paper was located at 224 M St. (now Capitol Mall), and in charge of that office during that time was H. Tanizawa.
The Sacramento branch ceased operations in 1913, and Nikkan Shinsekai was last published in 1932.