Tom Myers' love for history and photographs is shaping into something fantastic – for him and the Greater Sacramento Area.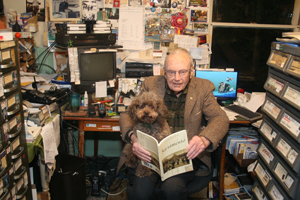 Tom Myers, a nationally renowned commercial stock photographer and author, has published a book documenting Sacramento's rich history through postcards dated from 1905-1925. (Photo courtesy Tom Myers Photography)
Myers, a nationally renowned commercial stock photographer and author, has published a book documenting Sacramento's rich history through postcards dated from 1905-1925. "Postcard History Series: Sacramento" from Arcadia Publishing, features 213 historical black-and-white postcard/photographs.
This book would be the publishers 19 title documenting the history of the Sacramento area.
"Tom is an ideal author for a pictorial history in the fact that he's an experienced photographer whose work is already highly respected by locals," said Teresa Simmons, Publicist for Arcadia Publishing.
It took Myers six years to collect the rare, decades-old postcards. He has more than 600 vintage cards bundled in a black binder he keeps in his Land Park office. His new book, brings to life the history of the city's early years showcasing postcards such as symmetrical rows of historic buildings off of K Street, acres of undeveloped land, Sacramento bathhouses, McKinley Park, early farmers and even the fashion line of the time. Almost all the postcards he features in the book have writings on the back. He describes the writings as a form of "story telling."
"Postcards were cheaper to use then it was to make a phone call back in the early 1900s. The mailman would make four deliveries a day, explains Myers. One card from 1913 reads, "I'll be in late tonight on the 'L' train. Meet me around 6 p.m."
That would be mailed around ten in the morning and the person would get the postcard by the afternoon and show up in the evening."
Myers knew the postcards were special the moment he saw them – a feeling, he jokes, that is often shared by collectors such as himself. He has spent hundreds of dollars amassing his collection, countless hours reviewing old blue prints at the library, walking up and down the busy streets of Sacramento, but nothing compares to the expense he endured learning how to "Google."
"I learned how to Google because of this book," joked Myers. "I hate the computer, but I like to Google."
At 84 Myers continues to work out of his home which he has turned into a photography museum. Along with his wife Sally and son Jeff, all photographers, Myers continues to live and breathe what he loves to do, photography. For more than forty-five years his stock photos depicting everything from the California agriculture to the deserts of New Mexico, have appeared in National Geographic, Newsweek, National Wildlife, hundreds of educational books and magazines, and Hallmark cards.
He has more than 600,000 slides all cataloged in banker-made cabinets out of his home in Land Park.
"The slides we have are different from what the photo agencies have. We have more natural appearing scenes," he said. "Some slides start at $1,500 and go up from there."
Myers first venture of documenting history was when he was shipped to Korea in the 1940's. There he took snapshots of his combat engineer unit, the 45th Infantry Division. "I always had a camera around my neck, not for the Army, just for me. I took photos of tanks hitting mines, military personnel in camps, and the unique scenery. It's just so easy to forget what came before us, but it's important to remember. Everything we face today, we have faced before."
Those 600 "permanent" photos of the Korean War he took now sit in an archive at the Smithsonian in Washington D.C. Myers started taking photos with a manual 35mm Canon, 45 years later, he is still using a Canon, but to help keep up with the times, he's using a digital.
E-mail Elizabeth Valente at reporter@valcomnews.com.