Thoughts of riding his bike on the greenbelt, walking to Bear Flag Elementary School and being a member of Greenhaven Lutheran Church bring a warm smile to Stephen Becker as he recalls growing up in the Greenhaven-Pocket area.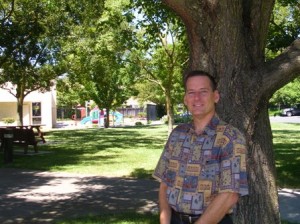 STEPHEN BECKER grew up in the Greenhaven-Pocket area, and is now the associate pastor at Greenhaven Lutheran Church. / Valley Community Newspapers photo, Susan Laird
Becker, who recently began serving as the associate pastor at Greenhaven Lutheran Church, is excited about being back home.
"I want to grow the gospel here by reaching out to the community," Becker said. "I want to emulate a Christ-like life."
Becker's parents, Heinrich and Meta Becker, were among the first Lutherans who worshiped at Greenhaven Lutheran Church in the early 1970s. They immigrated to the United States from Germany in the 1950s.
The Beckers settled in Sacramento, buying a home on Lake Shore Drive. As neighbor Sue Vitiello recalled, it was a great place to live and the Beckers had an impeccable home and yard.
Vitiello said she remembers Stephen as being a warm, friendly and happy individual. She said it is no surprise to her that he became a pastor.
"Stephen played with my kids and they were either here for dinner or at Stephen's for dinner," Vitiello said. "They were always playing outside and the rule at the time was when the street lights came on, the kids came home."
Nick Spallas lived next door to Becker and said the whole Becker family was friendly.
"I have remained friends with Becker," Spallas says. "He is a thoughtful, giving individual. I had a brain aneurysm the end of June and Becker visited every day at the hospital. If he finds out you need something, he's there for you."
Becker said he began his journey to becoming a pastor while attending St. Peters Lutheran Church in Elk Grove. It was 2001 and Pastor Darrel Deuel encouraged Becker to take some extension classes that were being taught there through the American Lutheran Theological Seminary of Minneapolis, Minnesota. Becker said he already had his bachelor of arts degree in English from Sacramento State, so he decided to work on a masters in divinity degree.
A few years into the program, the American Association of Lutheran Churches, which governs the seminary, decided to shut the program down. Becker realized after spending almost four years taking classes, that he wanted to continue his studies but was not able to move out of the area at that time. Becker said Rich Eddy, who was the senior pastor at St. Peters, ensured Becker there were alternatives.
Becker said he found a program he could enroll in through the Trinity Theological Seminary of Newburgh, Indiana. He explained their program was set up as combination distance education, with weeklong trips to the seminary three times a year. Becker said this is how he spent his vacations and vacation money and still thanks his wife and children for making the sacrifice.
Becker finished his Master of Divinity in 2007 with honors and immediately started working on his doctorate through a scholarship program with Trinity.
He graduated with a PhD in Christian education this past May. While attending school, he worked full-time as a software consultant for a grocery supplier. Ten days before his ordination, Becker said he was laid off from his job.
"I don't believe it was a coincidence," Becker said. "God provided me a means to make it through all these years of education and raising my family. I have to think I have been ordained and called to Greenhaven as a part time minister."
Becker said he has never felt more at home and comfortable at Greenhaven Lutheran Church.
"I attended youth group here. I was confirmed here and my wife Vanessa and I were married here by Pastor Bill Plath."
"One of my goals is to reach out to Kennedy High School," Becker said. "I am thinking of a possible after school program or maybe motivational speaking. I plan on talking to the principal, Chad Switzer, to see where we can help."
Greenhaven Lutheran Pastor Dan Buringrud said he thinks it is pretty cool for the community to have one of their own come back full circle in this way.
"I can't imagine anyone being a better fit with me than Steve," Buringrud said. "Our strengths mesh together very well."
Becker, married to wife Vanessa for 20 years, has twins, Stephen Jr. and Ingrid. Becker said his family is involved in hosting full-year exchange students from Germany. His second exchange student, Annika, arrived here a week ago. He said this provides an opportunity for Annika to learn about American culture and his children to learn about German culture.
"Annika is treated as a family member, not a guest," Becker said. "When you take in a student, you make a friend for life."
Becker said he and his family are visiting the town of Jembke, Germany in August and will meet Annika's family. He found out her family lives only about four miles from where some of his relatives still live today.
"While in Germany I have been given the opportunity to preach at St. Georg's Cathedral, where my parents were married," Becker said. "People in the congregation remember the Beckers. I am truly looking forward to this."
Becker said he is excited to be serving Greenhaven Lutheran and looks forward to serving the community.