Angelina Seda is 87 years old and lives in Kenya. Eight of her nine children have died, one is bedridden and she is raising an orphan grandchild with no money and no income. But thanks to local relief efforts from Solar Cookers International, Seda says she can eat hot food now and her life has improved for the better.
Headquartered in Sacramento, SCI facilitates humanitarian and environmentally focused partnerships around the world through a database of connections. As an umbrella organization to numerous groups that try to spread solar cooking worldwide, SCI helps facilitate partnerships.
As in Seda's case and that of other women around the world, solar cooking is about women's issues. If a woman doesn't have to spend hours a day walking to collect firewood, she could use that time growing crops for her family, or spending time with her kids, visiting her relatives or starting a business, Solar Cookers International Executive Director Julie Greene, said during an interview in the backyard of her Pocket area home.
Greene's advocacy with solar cookers began after she read a Parade article about SCI's involvement with a Jewish World Watch refugee camp. The inspiring article led her to buy one of the low-end SCI solar cookers, a Cook-It. With it, she did demos for her kids' classes, which among things like learning more about the organization made SCI to become her favorite nonprofit for many years.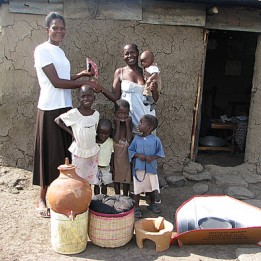 Greene loves her job because she feels like what she does matters. "I am lucky because I get to talk to people directly. John said to me (he's our partner in Kenya), he said for you, in the States, it's for emergencies only but for us, it's a matter of life and death. I think of that almost every day," Greene said.
Greene said a lot of the work SCI does not only educates people on how to solar cook but also how to find materials, which are natural to the people's environments. "What happens if something breaks? There needs to be enough knowledge, enough materials," she said. "And in places where there are no stores, people are always looking for cookers that could be made of local materials such as cardboard and foil," Greene said.
The array of issues solar cooking impacts spans the gamut of women's, health, poverty and the environment.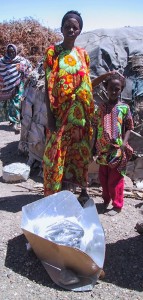 Women's issues
Besides the mere time savings a woman has for other things when cooking with the sun, their own personal safety is guarded, explained Greene.
"Women who are in refugee camps and are in a hostile environment, in some places where they leave the camps and walk 20 or 30 kilometers to collect firewood, they are raped, attacked or beaten as a warning to anyone else that they cannot take the scarce trees. 'We don't have enough for us.' It's understandable. People want to protect what little they have," she said.
Similarly, for those who live in the desert and rely on finding twigs for firewood, having thousands of refugees from the camp collecting the twigs that the local people cannot even find, this causes a lot of tension.
"So to be able to provide a woman at a refugee camp with a solar cooker means she's safe," Greene said.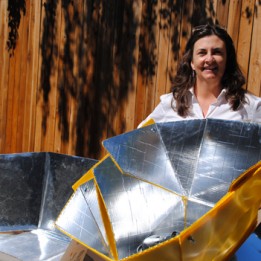 Health issues
Besides helping to prepare food, the solar cookers have been used to pasteurize water.
In 72 water samplings in Kenya, 52 of them had E. coli, so SCI representatives taught people how to pasteurize water in a Cook-it. "It kills Giardia. It kills cholera, Hep A and rotavirus and all these things we are really familiar with," Greene said.  "We've been told the children stop complaining that their tummies hurt," she said. Many people in Kenya believe that water is a gift from God and therefore drink from swamps and streams.
Environmental issues
With depleted forests in Kenya due to increased population, many of the indigent would focus on the environment if their needs weren't so great. "So if (SCI) can provide people with these (solar cookers), there are so many benefits," Greene said.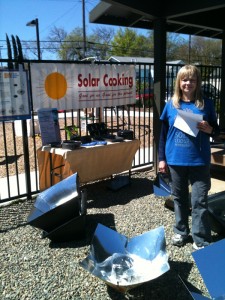 Come see for yourself
SCI is currently getting ready for its annual Shine On! gathering at Sierra 2 on Aug. 14 and the general public is welcome to come celebrate the global importance of solar cooking. There will be plenty of food, wine, music, cooking displays, and more. If you are a supporter or simply want to know more about the importance of solar cooking, join SCI at the Sacramento Sierra 2 Community Center on Aug. 14.
Solar Cookers International is headquartered in Midtown at 1919 21st St. Suite 101
Sacramento, 95811. For more information, visit www.solarcookers.org
IF YOU GO:
WHAT: Shine On annual SCI gathering (open to the public)
FEATURING: Dinner, wine, sun-baked desserts, Girl Scouts solar cooking display, silent auction, solar cooker sale. Monica Woods, News10 Meteorologist will MC. The event will also feature Julie Greene and Allart Ligtenberg, inventors of Trekkers' Cooker backpack used at the summit of Mt. Everest
WHERE: Sierra 2, 2791 24th St., Sacramento, 95818
CONTACT: 452-3005
WHEN: Wednesday, Aug. 14, 5:30 – 8 p.m.