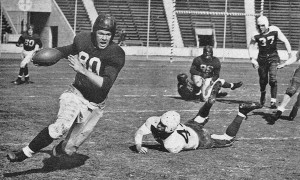 When McClatchy opened its doors in September 1937, Sacramento was truly a small town.
Sutterville Road was the southern end of Sacramento, the Land Park Zoo had opened 10 years earlier in 1927, Sacramento Junior College had just moved from Sacramento High to its new site on Freeport Boulevard and the Sacramento Metro Airport sat among the fields of rural Sacramento.
In 1937, Land Park began to take shape, and the Land Park Plunge on Riverside was the place to swim. Holy Spirit Church wasn't built until 1940.
It would be 10 years before Hollywood Park and Vic's Ice Cream would open, and 30 years before Greenhaven was begun.
The Solons played at Edmonds Field where Target is today, and a three-bedroom home on Teneighth Way would cost the new owner $11,000.
As the second public high school in Sacramento, McClatchy was built for $800,000 in 1937 as part of Franklin Roosevelt's Public Works Administration.
The style was classicized modern and was named after the editor of the Sacramento Bee, C. K. McClatchy. The first prinicipal was Sam Pepper, a great sports fan, who truly bled "McClatchy red" for 25 years.
Notable graduates include Supreme Court Justice Anthony Kennedy, Congressmen Bob Matsui and Xavier Becerra and judges Ron Tochterman, Morrison England, Art Scotland, and Tani Cantil-Sakauye as well as author Joan Didion.
McClatchy sports
As a new high school, it took about three years before the sports teams could compete with the powerful Sacramento High School Dragons who had dominated the valley for the previous 30 years.
But by the end of 1949, McClatchy High School and its great athletes would replace the Dragons as one of the truly great athletic high schools in California.
Thirteen Hall of Fame athletes and two coaches led the surge with baseball and track being the two strongest, while football and basketball peaked at the end of the decade.
Four outstanding coaches led the Lions: George Bican* (football), Chauncey Wilson (basketball) Cliff Perry (baseball), and Jack Mauger* (track).
Some of the early great athletes included Larry Manuian (Sacramento Smokies fame), Bob Libee, Ted Latona, Bob and Gene Geremia, Ted Forbes, Ernie Maskovitch, Burt Bonomi, Jack Burgess, Nick and George Stathos and golfer Billy Ogden, Jr.
Norm Greenslate*, a major league prospect in baseball, would head off to fight in World War II after being named all-city in 1941-42.
George Vernatchi, former long-time principal at Rio Linda High School was the first pitcher to beat Sac High 8-3 in 1942.
He talks about sitting in the library the day after the game, when the librarian, a notorious Dragon fan, came up to him and in an accusing tone, said, "Are you George Vernatchi? Mr. Pepper wants to see you immediately!"
All the way down to the office, Vernatchi kept thinking, what did I do now? When he got there, Pepper shook his hand, and said, "Congratulations, George. You are the first pitcher to ever beat the Dragons. Great job!"
The following year Vernatchi would pitch McClatchy's first no hitter and lead the Lions to the championship game where he lost in 12 innings to Christian Brothers 1-0.
Early 40s football
Perhaps the greatest athlete of the early 40s was Fred Wristen, who excelled in football, basketball, baseball and track.
He scored a touchdown in McClatchy's first victory over Sacramento by a score of 13-6 in 1939. Wristen went on to star in football at Nevada Reno and was all-conference.
George Bican arrived at McClatchy in 1943 as football coach and led the Lions to their first undefeated season in 1944.
The Lions were led by running back Roy Sules*. Ed Sprague, Darwin Farnsworth, Wes Busch, Don Aldrich, Charles Anderson and Ernie Johnson were other outstanding players.
In 1945, McClatchy again went undefeated in the north before losing to Modesto for the title. 1946 would be another strong year building to 1947 when McClatchy beat an undefeated Sacramento team on Thanksgiving Day 35-14 for the title.
Led by Del Rasmussen*, John Pappa*, Curtis Rowland, Leon King, Tony Geremia*, Vern Sampson*, Tiger Orr and Bill Burns*, the 1947 football team is considered one of McClatchy's greatest teams ever.
McClatchy baseball
When Cliff Perry arrived as baseball coach in 1946, McClatchy would begin a 10-year period of excellence topped off with 80 wins over four seasons, 1950-53.
In 1947, the Lions won 18 of 24, and the 1948 team led by Roger Osenbaugh*, Jim Westlake and Ray Nieto, beat Sac High 3-2 for the title.
Osenbaugh, the valedictorian, would go on to play at Stanford in 1951-52 and then with Westlake on the Sacramento Solons.
The decade ended when the 1949 baseball team led by Tony Stathos, Bud Farley, George Timme and Earl Rose had to share the Sac-Joaquin section title with the Dragons.
McClatchy basketball
Basketball in the 1940's was dominated by the defensive style of coach Chauncey Wilson.
In 1942, the team beat arch rivals Sacramento 21-16. Pete Peletta* would lead the area in scoring in 1945 as the champion Lions went 16-1.
The Lions were on their way to another great season in 1946 ending the first half with their sixth straight win over the Dragons 44-32.
However, top scorer Peletta graduated at mid-term and McClatchy ended up in second place.
Peletta would go on to coach at University of San Francisco and take the Dons to four consecutive NCAA appearances.
The 1948-49 teams were also hurt by midterm graduation, but the scoring and rebounding of Al Ricci* led the Lions over Sac.
Track and field
Track exploded during the 1940s under coach Jack Mauger, who started at McClatchy in 1937 when it opened.
He held the world record for left-handed pole vaulters for 26 years. The Lions started their remarkable run of victory years in 1943 with a conference title and second place at the Davis Picnic.
From 1943 thru 1949, the Lions were undefeated in dual meet competition and won the Sac Joaquin section title every year. During that period, they won the Lodi and Modesto Relays, the West Coast Relays in Fresno and the Davis Picnic.
Dick Balfour, whose 13-foot pole vault made him the best in California, and John Pappa* in the sprints, led the 1947 and 1948 teams to section titles and victories at the Modesto Relays.
The seven-year dual meet win streak was stopped in 1949 when the Lions lost a meet to El Cerrito.
Outstanding track athletes included Lou Montfort, Jerry Perich and Ed Casey in the pole vault, Bob Innis in the 110 hurdles, Ed Sprague in the 100m, Ray Schultz in the long jump, Ron Keskeys in the 200m, Nick Doudnik and Glenn Kingsley in the shot put, and Ray Biaggi Rudy Manriquez and Al Baeta in the distances.
John Pappa*, who went on to an outstanding coaching career, was unbeatable in the sprints.
"Jack Mauger was and remains truly the Dean of Track and Field in Sacramento," said Al Baeta, former runner and one of the great track coaches in the Sacramento area. "Not only did he have success at the varsity level but with B and C teams as well. Statistically, he is the winningest coach of all time in Sacramento."
The 1940s became the foundation for the 1950s and many more league championships in all four major sports.
The top 50 athletes and five teams from 1938 to 1962 will be recognized as part of McClatchy's 75th anniversary celebration held on September 20 at the Riverside Elks Club.
All McClatchy graduates are invited to attend and be part of the tall tales about their excellence as students/athletes at McClatchy.
For information go to restoretheroar.org.
*Hall of Fame Inductees
loscoombs2@aol.com