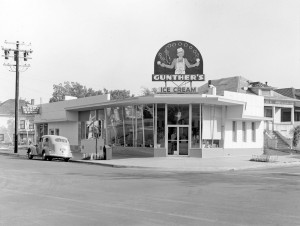 Gunther's Ice Cream parlor at 2801 Franklin Blvd. is shown in this 1949 photograph. Photo courtesy of Rick and Marlena Klopp
Gunther's Ice Cream, one of the city's iconic, old-time businesses, will host a celebration of its 75th anniversary with a variety of attractions this Saturday, May 16.
Food, giveaways, speeches, other amusements
The event, which will be held from noon to 4 p.m. at Gunther's at 2801 Franklin Blvd., will include meals of a grilled hot dog, drink, chips and dessert for $5. And a complimentary raffle ticket will be given to each person who purchases a each meal.
Raffle ticketholders will have opportunities to win one of four bicycles (two adult and two kids' bikes) donated by Mike's Bikes at 1411 I St., as well as various $25 gift cards throughout the day.
Scheduled to speak at the event are Mayor Kevin Johnson, and former Gunther's employees, Supervisor Phil Serna and Darin Gale, Yuba City's city director of development services.
Other special features of the day will include an appearance by Dinger, the Sacramento River Cats' mascot, music with a disc jockey, face painters, balloon art, temporary tattoos, bubbles, a magician and a photo booth that will include an image of "Jugglin' Joe," the ice cream scoop juggling character who is featured on the large, locally famous neon sign above Gunther's front door.
In commenting about the photo booth and the event, in general, Marlena Klopp, co-owner of Gunther's, said, "(The booth is) going to show the picture of 'Jugglin' Joe' and the neon sign, and when you stand in front of it, it will look like you're standing in front of the store. All the activities are complimentary. We are selling the hot dogs. We want to make it inexpensive for the customers, and just (have) a day to come out and have a good time."
During the event, the street will be closed on the north side of Gunther's, and a large tent will extend on 3rd Avenue from Franklin Boulevard to 30th Street.
And as for the shop itself, business will be conducted as usual during the hours of this special gathering.
As a tribute to the past, the business's employees will be dressed in Gunther's attire that will be reminiscent of the business's early years. The male employees will be wearing black pants, white shirts and black bow ties, while the female employees will be wearing dresses with black aprons.
Gunther's history
In addition to celebrating its 75th anniversary this weekend, Gunther's also has the notoriety of being the city's oldest continuously operating ice cream parlor.
According to information provided by the business's owners, Gunther's was opened in April 1940, and its original proprietors were German immigrant William H. "Pop" Gunther and his Kentucky-born wife, Iva Gunther.
Gunther's originally operated in a 12-foot by 40-foot business space at 3003 Franklin Blvd., at 5th Avenue, and in December 1949, the business was relocated to its current site.
In a meeting with this publication last week, Marlena and her husband, Rick, discussed a variety of details about Gunther's history and operations.
Marlena, who graduated from Bishop Manogue High School in 1977 and was married to Rick three years later, commented about the earliest years of Gunther's, saying, "They had some great glory days there (at the original Gunther's location). Back in 1940 when the Gunthers opened (their ice cream parlor), it was a booming business for them. It was before the bombing of Pearl Harbor. But there was a time when they were down there (at that location) that the butter fat and the sugar ration was going on. There were days when they couldn't even open that store (for) more than 10 days out of the month, because they couldn't get the product. They still had the customers. People would just come in there and bombard them, kind of like they're doing here (today). And so, when the rationing was lifted, they just started to boom again. And that's when they decided to open a bigger store. This (present store location) was an empty lot and Mr. Gunther set his sights on this site."
The business was later run under different proprietorships at various times.
After being asked how he became involved with Gunther's, Rick said, "I got started in the ice cream business at Shasta Ice Cream. (At that time), they had a little shop over here (on 21st Street, near) Freeport Boulevard by the railroad tracks. I started working there in 1963 when I was 16. I was living in Hollywood Park at 5640 Helen Way. I graduated from McClatchy (High School) in 1965. (William H. Gunther's son, Dick) Gunther died (at the age of 42 on March 15, 1967), and the guy who owned Shasta Ice Cream was an older gentleman (the aforementioned Wert Irwin). He was probably in his late 80s, so he wanted to close the place down. He told me to (seek employment at Gunther's), because (Dick) Gunther died and they needed a manager. So, I came here (to Gunther's) and started working here in 1969.
Rick eventually became a minority owner of Gunther's, and then during the summer of 1974, he purchased the business outright.
And after purchasing the business, he acquired his first delivery truck. That truck, which has since been restored, will be present at Saturday's event.
Marlena described Gunther's as a much different place than it was when her husband acquired it.
"When (the Gunthers) moved down here (to its present location), they did very well until the freeway went in and divided the town," Marlena said. "So, when Rick bought it, it was not a thriving business at all. But it has been built up since then."
Although Gunther's is presently a single location business, during part of its history, it had three other locations – 5001 Freeport Blvd., 1186 35th Ave. and 2870 Fulton Ave.
Gunther's story would not be complete without references to some of its many edible offerings.
Included on the parlor's menu are ice cream cones, sundaes, milkshakes, smoothies, fruit freezes (regular or with ice cream), Hawaiian shaved ice, ice cream cakes and pies and a wide variety of dipped chocolate items.
In addition to its sugary treats, Gunther's also serves a variety of sandwiches, and hot dogs and chili dogs.
Certainly, beyond its popular food, Gunther's has a longtime positive reputation with many people in and outside of Sacramento, Marlene explained.
"The biggest thing is the loyalty of the people of Sacramento, and the people who have been in Sacramento and have come back," Marlena said. "There are unbelievable stories. They'll be going some place up north and going down south to go to Disneyland, and they will have to make this their stop. And we hear those stories all the time. Even if they're not in Sacramento, they will always make their way back around (to Gunther's)."
And in speaking about the future of Gunther's Ice Cream, Marlena said, "We're hoping we can take it past 100 (years), and I believe that there are people here that can take it there."